In the month that sees the opening of a new solo show at the Victoria Art Gallery in Bath, plein air painter Peter Brown takes time out of his busy schedule to give us a glimpse into his life, his influences, and some stories from the street.
"Looking back at my college days . . .
. . . my best year of training was in Bath for my foundation course in 1985 where I was taught by David Atkinson, David Cobb & Jackie Harding. They were inspirational in kicking us out of the studio to work outdoors. My degree was at Manchester Polytechnic where I made some great friends, but after a comment of 'your paintings look like knitting patterns' (from one of the mainly absent tutors) I decided to become a modernist. I plugged away at this for my three college years and for two more in an old mill building in the Ancoats area of the city. The other piece of advice that sticks was from a visiting lecturer at Manchester who said (and it sounds so prescriptive), 'watch the edges'. We always talk about colour, tone but where and how they meet is so important.
I always wanted to go to art college but I knew in my head no one ever makes a living out of it. I assumed I was going to be an HGV driver. I still love driving (I usually do around 30,000 miles a year looking for subject matter). I worked from 6am—2pm for Mattessons Wall's in Trafford Park and would go to the studio in the afternoon for some serious painting of my modernist coloured squares. After a stint of teacher training in Greenwich, I got into fitting TV aerials. However I'm terrified of heights, so if you see any satellite dishes installed on the ground you can say, 'that's one of Pete's'.
"Pete the Street"
It's assumed my nickname 'Pete the Street' comes from painting on the streets, but it actually came about from selling my charcoal drawings from the pavement as I worked. I had been rejected from every gallery in Bath, so took to the streets to sell them direct to my eager public. Unfortunately I had rather overestimated the public's eagerness . . . After a few months, in the middle of freezing winter, my wife Lisa and her pal Fiona turned up and persuaded me to join them in an Irish coffee. When we were sitting in the warm bar with warm tummies, they tried to convince me to pack up for the day, but I insisted on going back. Ten minutes after returning, a lady asked if she could buy a drawing of Gay Street. I have never worked in a shop so I did not know what protocol was for actually doing the deal. (I have since learned you give them the picture and they give you the money). It was £45. I will never forget that feeling. Once you have done that, you realise that if you really want to make a living out of it, you can—it's just a question of man hours.
On the street people always say nice things—it's the polite default mode. The problem is you get used to it and sometimes I find myself unhappy with the progress of a picture and realise it's simply that no one has said anything nice. I always think I am rock-hard and don't worry what people do or don't say, but I really do. Of course painting has to come from yourself and you have to do what tickles you, not others, so to an extent I ignore the viewer. At our rare meetings at the New English Art Club I mop up as much comment from my colleagues as I can—not necessarily on my painting, but their comments on other's, and about painting in general. I am a total intellectual underweight in this society and I love listening to the opinions of my knowledgeable fellow members.
"Julia, Pete's been elected to the New English Art Club!"
This is going to sound like the party line but when I jumped back into art I had the New English in my sights, initially from my love of Sickert. I see my work very much in his shadow and that of Ruskin Spear who I love. I am also a huge fan of Parkes Bonington, Constable, William Nicholson, but I love looking at what my contemporaries are doing. Ken Howard and Tom Coates have clearly been big influences on my work, but I adore the work of fellow members such as Bridget Moore, Arthur Neale, Charles Williams, Paul Newland, Dawn Sidoli, the list goes on. I lust after their work at open exhibitions each year and have to watch what I drink as I get a bit too lustful!
I was elected to the New English Art Club in 1998, the year Ken Howard became president. Bob Brown had been very helpful encouraging me and helping me select work to put in. I remember his call the day after the AGM:
"Pete. It's Bob. You're in!"
I knew what he meant but couldn't quite believe it and had to get him to confirm I had been elected to the club. I was in the car, so I phoned Lisa at home who then told my mum . . .
"Julia, Pete's been elected to the New English Art Club!"
"Oh . . . Is that good?"
"Julia! It's the dog's bollocks!"
"Oh . . . and tell me, Lisa . . . 'The dog's bollocks'—are they good?"
"A huge history, but the club does not live in the past"
I have enormous respect for the club and its current membership. There is a huge wealth of knowledge here, as well as a great 'living history'. Members that were taught by and with Ruskin Spear, Peter Greenham, Carel Weight, Kyffin Williams—that have met Vuillard, Morandi that knew the Spencer family—that work in Orpen's studio . . . amazing stories.
We used to have committee meetings in a member's pad—at Diney's Pied à Terre in Maida Vale, David Parfitt's house in Strand on the Green overlooking the Thames, Ken Howard's Chelsea studio or Jason Bowyer's Steam Museum studio. At the last meeting, we met at our keeper, Charlotte Halliday's house in St John's Wood. I felt quite emotional turning up to the door, to put a vision to the address I had always seen heading the minutes. She showed us drawings of herself as a child by her father, the poster he did of Edmund Hillary, her beautiful north-facing studio and some absolute gems of her own. There was a James Gunn landscape, a delicious Peter Greenham portrait and to top it all we met her infamous cat Alexander.
Such a huge history, but the club does not live in the past. There is real passion for electing new members and encouraging young figurative painters. The history of the club leaves a great duty on the current members to guarantee a great future and I am really confident we are in a good place to do that. But enough about the New English, back to me!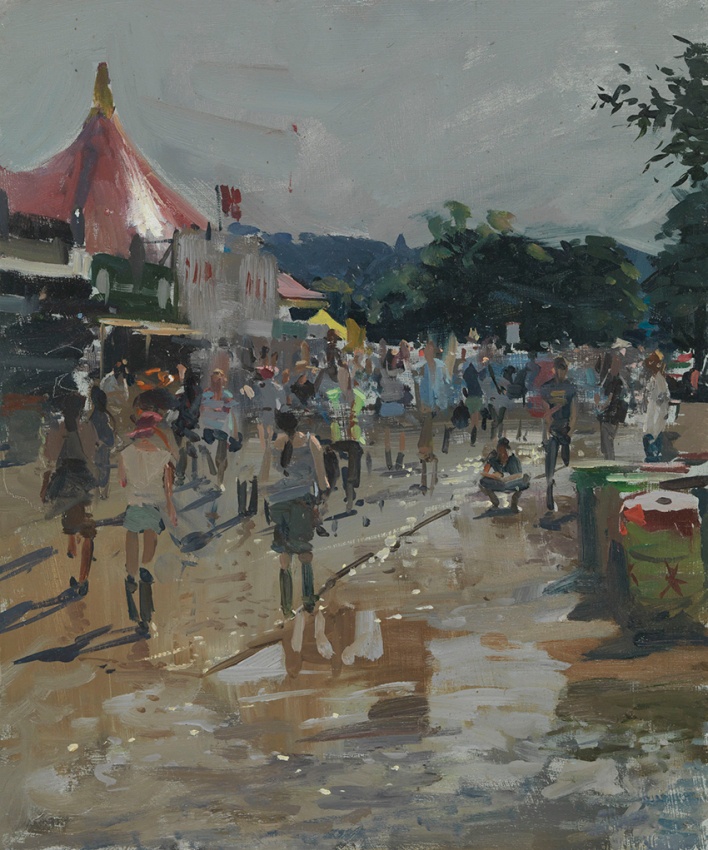 "The thing is, this view is good enough"
Earlier this year, I was lucky enough to be given a pass to Glastonbury festival. I painted it with my tent on Big Ground as my base. The first painting I did was 'Sun on Glasto mud towards Leftfield' . The mud was an absolute delight for me and the views were everywhere. First thing is scouting for the best view. This can go on for ever and you can never win. You can walk for hours, lose the light and your initial excitement, or you can settle too quickly and think 'I wonder if there's a better view round the corner?'. But I remember a don from a Cambridge College saying to me when I was painting a view of Emmanuel College, 'the thing is, this view is good enough'. And he was right.
The most practical thing to work on while travelling, particularly when you are in a tent, is small boards. I work on 2mm MDF well-primed with a sludgy 'what's left on the palette mixture' ground. This is a 12x10" board (my favourite size). As it is looking into the light I reckon you get a bit longer on it than if the sun was coming from behind your shoulder, so this I guess about two or three hours. It was a great start to Glastonbury—loads of people stopped and chatted. Inevitably I put three lads who'd requested in—the guy on his haunches and the two to his right.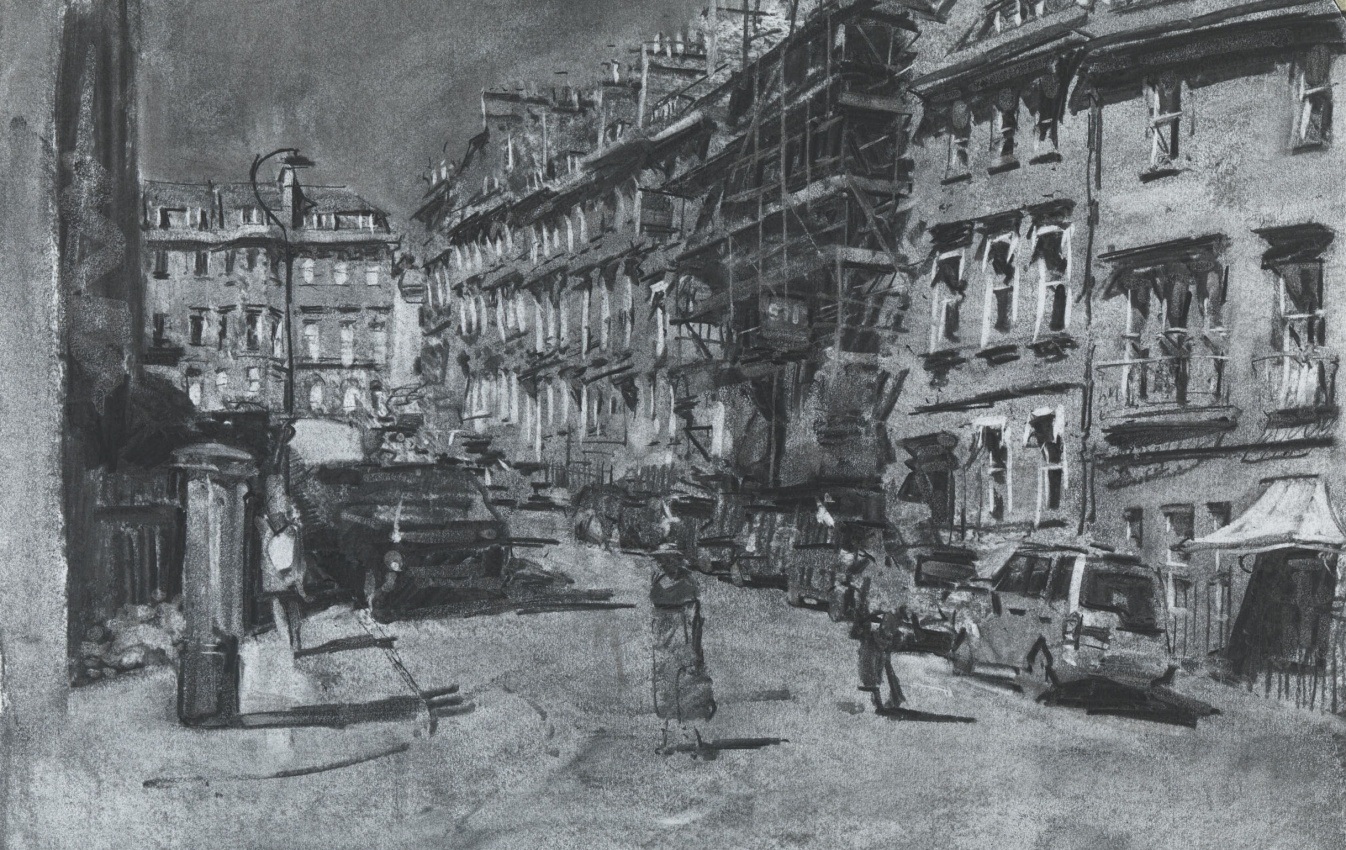 It's hard for me to single out favourite works. Mine always end up being the most unpopular in a show. It makes me laugh. Though if I had to pick one as being special to me, I would nominate my drawing of Russell Street in Bath. I'd not used charcoal in a while and it's the medium that got me back into painting three or so years after leaving college. This was drawn on a very hot day in Bath. You get a two, maybe three hour window with charcoal before your pores clog up and the sweat in your hands starts to make the charcoal unworkable (I draw with rubs, pats and smudges with my hands a lot). They are always drawn in a bit of a frenzy and I noticed after I had this photographed that the letter box is ridiculously tall. The figures could probably climb in like Alice in Wonderland! I have since changed the drawing. I tend to somewhat exaggerate tone with these to give them as much 'colour' as possible. They can be very hit and miss. In fact I'd just finished one this summer and it fell off the easel face down, clouds of charcoal dust wafting from all four sides—two hours to draw, half a second to destroy!
"It seems every day something slightly remarkable happens"
Anyone who paints plein air will have tonnes of stories of running away from stampeding cows, altercations with officials, losing paintings, collapsing easels . . . It seems every day something slightly remarkable happens. I was walking across Hyde Park recently and saw a woman basking in the sun with two rats running in and out of her bag. The event that most made me smile though was when I was painting the Cross Bath. I guess it was around 7.30am and the streets were quiet. I was painting away when one of the three workman who had just noticed me picked up a traffic cone and shouted armed police style, 'Put down the palette and step away from the easel!' I jumped three feet in the air and they rolled around in fits for five minutes.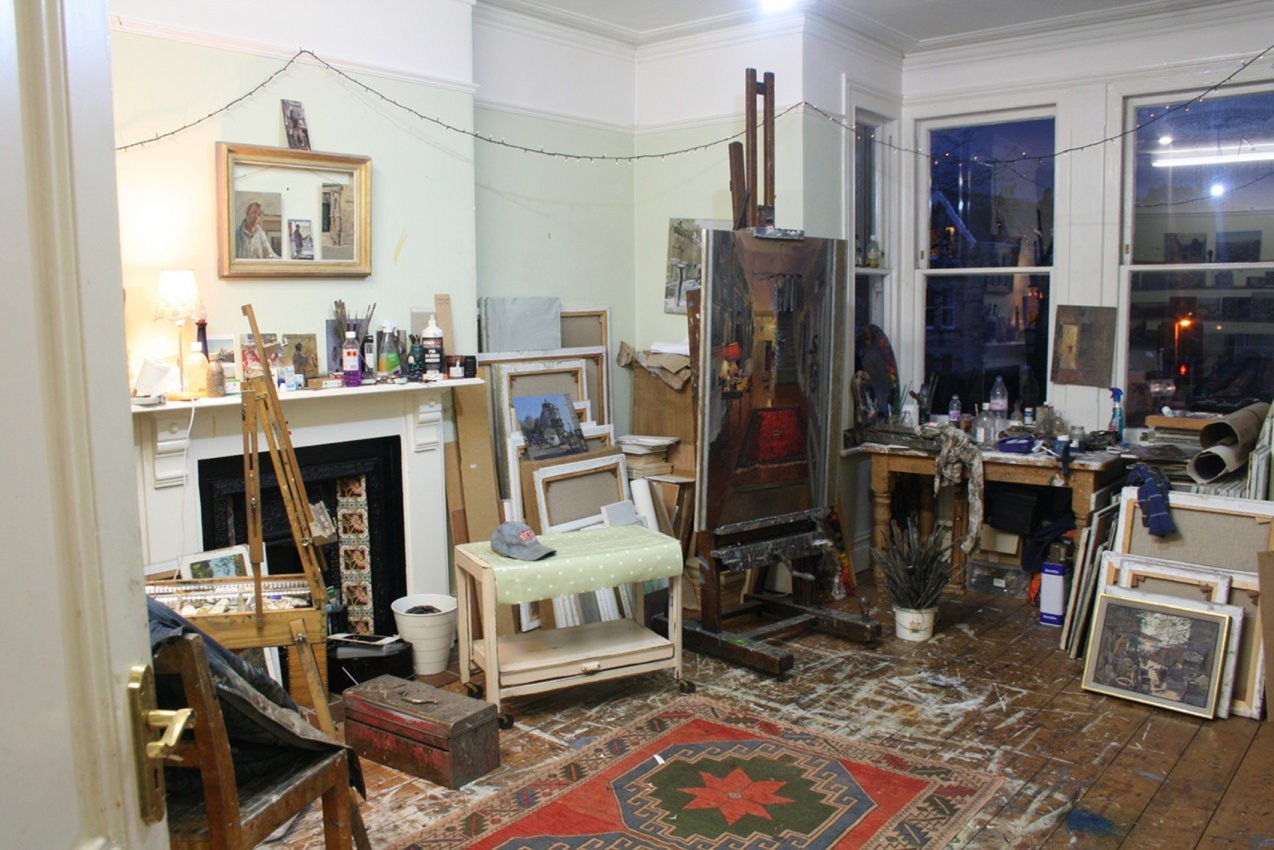 My life is dependent on the weather, so I don't have a set routine. I'm usually out and about, but I do have a room in our house that I use as a studio when the mood takes me. If I am working in London, I leave before 6am and usually work late. I am getting too old to commute everyday so I crash over on someone's floor. Last week as I was painting nocturnes, I slept in the van which meant I could paint til 11pm and was painting again by 6am. But that was a one off. If I'm abroad, I like to work for as long as possible from early in the morning through to 7pm because I want to make the most of it. But I have five kids and it's great to be able to sit next to Ollie or Toby as they crash the gears learning to drive in the 18-year-old Nissan Micra or watch the kids lose a rugby game or murder one of their musical instruments. I find I never do anything enough. I don't spend enough time with the kids. I don't paint enough. I don't draw enough. Like everyone else, life just seems to be chasing my tail. If I were more organised it would probably be a lot smoother but that's what I am—a bit of a state really."
December 1, 2016