Having recently returned from the USA, where she completed a 2-year masters at the New York Academy of Art, Tessa Coleman is back home in her Somerset studio where she took time out to tell us about her life, inspirations and painting process . . .
"I've drawn and painted all my life. My more formal artistic education started in my mid-thirties at Heatherley's and has carried on in fits and starts ever since—most recently with two years spent in New York doing a master's degree in Fine Art at the New York Academy of Art. Along the way I've variously done a degree in Pure Mathematics, worked at a variety of jobs from the menial (waitressing) to the cerebral (Japanese Fund Management) and brought up four children—both of the above and always emotional.
I remember my first sale was a large nude on an electric blue background that I did whilst still a student at Heatherley's. I sold it to a friend who wrapped it up and took it on a plane all the way to Hong Kong where it now lives on the Peak. I thought at the time if she liked it enough to take it all that way perhaps I should carry on painting for the time being. The same friend has been a loyal buyer ever since.
I was elected to the New English Art Club in 2010 with the support and encouragement of Saied Dai and Charlotte Sorapure, after winning the Club's Cecil Jospe Prize in 2009. I was totally thrilled and somewhat aghast when I heard that I had got in, and it has been a fantastic privilege being involved in the Club and getting to know such an inspiring and varied group of painters. Working in the studio is quite a solitary pursuit, and it is such a treat to get together with other painters who have similar preoccupations and obsessions which civilians sometimes find incomprehensible!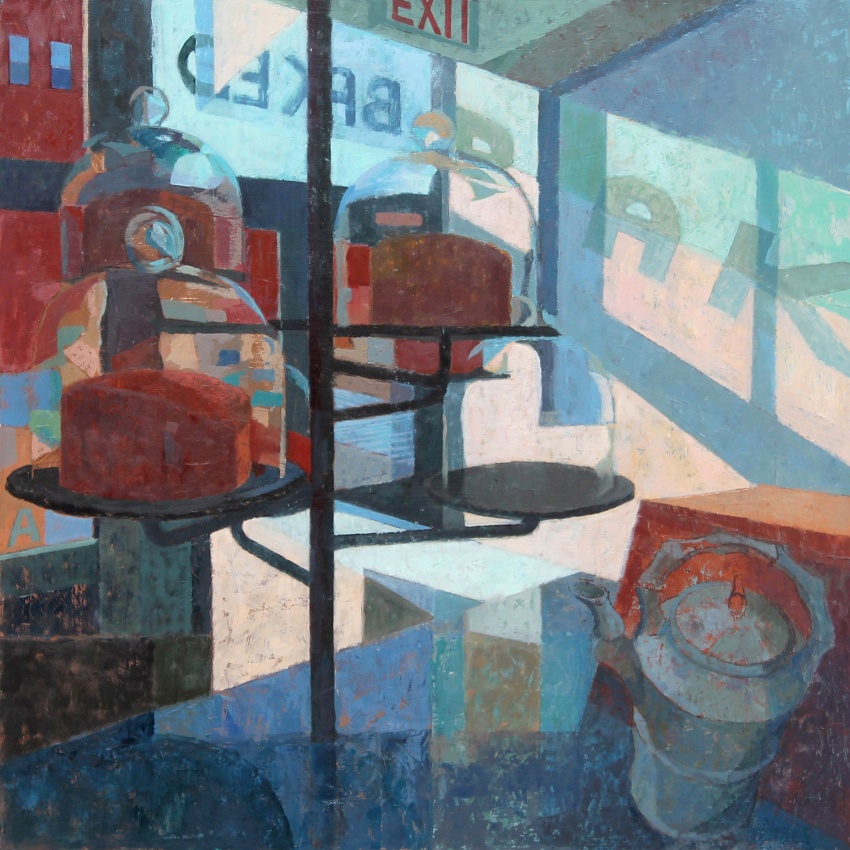 'Lemon, city or both'
My work is about finding the visual interest in the everyday world around me. My picture ideas come from many sources, but are normally visually led. They usually start with a glance that stops me in my tracks, often based on unexpected shape or colour juxtapositions. Some recent starts have included the unexpected pairing of traffic light and tree set against the distant skyscrapers, shadows thrown on a wall by a stag's skull, the mirror reflection of an eccentric Japanese teapot, a Manhattan city street seen through the windows of a cake shop . . .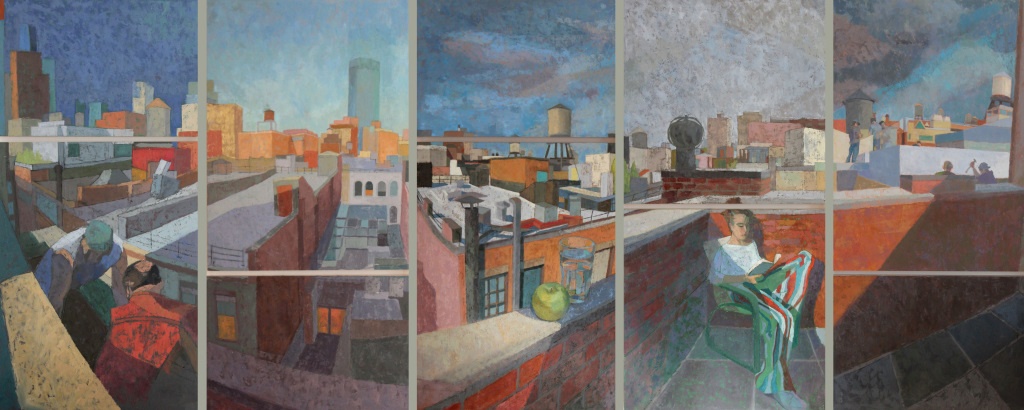 My subject matter can be close at hand, small scale, or vast and distant—depending on how I perceive my environment at the time. In other words: lemon, city or both. The vertiginous and unexpected perspectives I experienced whilst living in New York over the last two years led to a MA thesis paper that investigated perspectival systems and how to deal with spatial issues in new ways in my painting.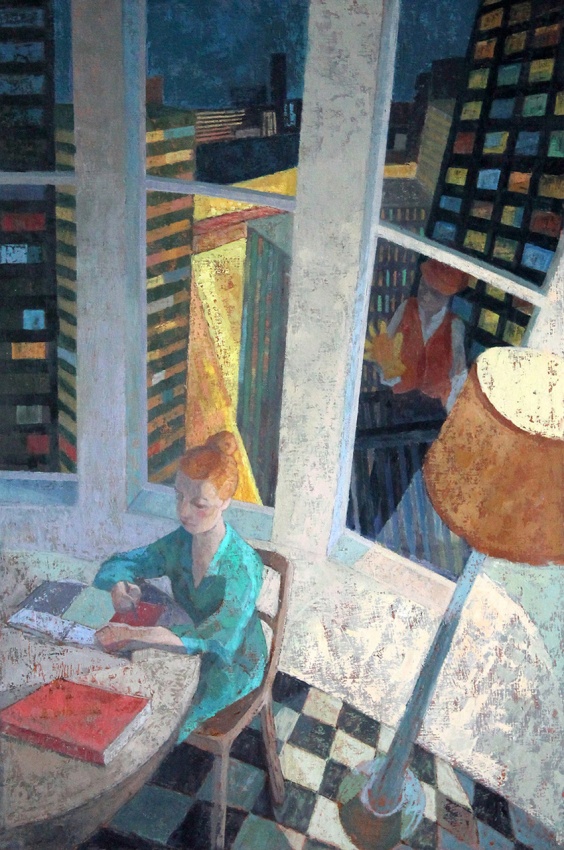 'The messy and unscientific painting process'
My idea of a perfect work day would involve the excitement of a new painting to start, solitude and silence in my studio, and a total delegation of all the boring stuff like childcare, cooking, emailing, etc. There's also quite a lot of dithering around that takes place in the studio too before I finally get to painting. I always tell myself that the dithering is a waste of time, but it seems unavoidable. Drawing is critical to my working process and is how I explore my ideas and develop my compositions. The structural and formal qualities of the image I'm developing are important to me, and a lot of the work is done in my head and on paper before I pick up my brushes. My first degree was in pure mathematics and geometric organization and pattern recognition are pretty deep-rooted with me. Once I've decided a colour and tonal palette depending on what qualities I'm trying to emphasize in the composition, I'll start painting. This is usually the best moment where anything is possible, but once I take the plunge options start to close down. I liken the messy and unscientific painting process to sculpting in shape and colour: endlessly kneading tone, shape and colour—responding to the picture as it takes shape, until things come together and the parts add up to an arresting whole.
The all too elusive goal is for the finished painting to stop you in your tracks and 'make one see the world anew'. I forget who originally said that but it's a good place to aim for. If it works as a window and as a wall, i.e. as paint and illusion at the same time that's good too! That said, and it sounds awful, but I don't really think about the future viewer too much when I am painting. I have a hard-enough time working to my own satisfaction without factoring in future strangers.
Recently completed works
A recently completed work A Room of One's Own gives you some idea of how I go about painting. The idea was sparked by a small black-and-white photograph I came across of a rather elegant self-contained woman in a large floppy hat. She struck me as a dead ringer for my idea of Mrs Dalloway so I used her to populate a painting about Virginia Woolf's books. I started by painting Mrs Dalloway in her hat on a multicoloured background.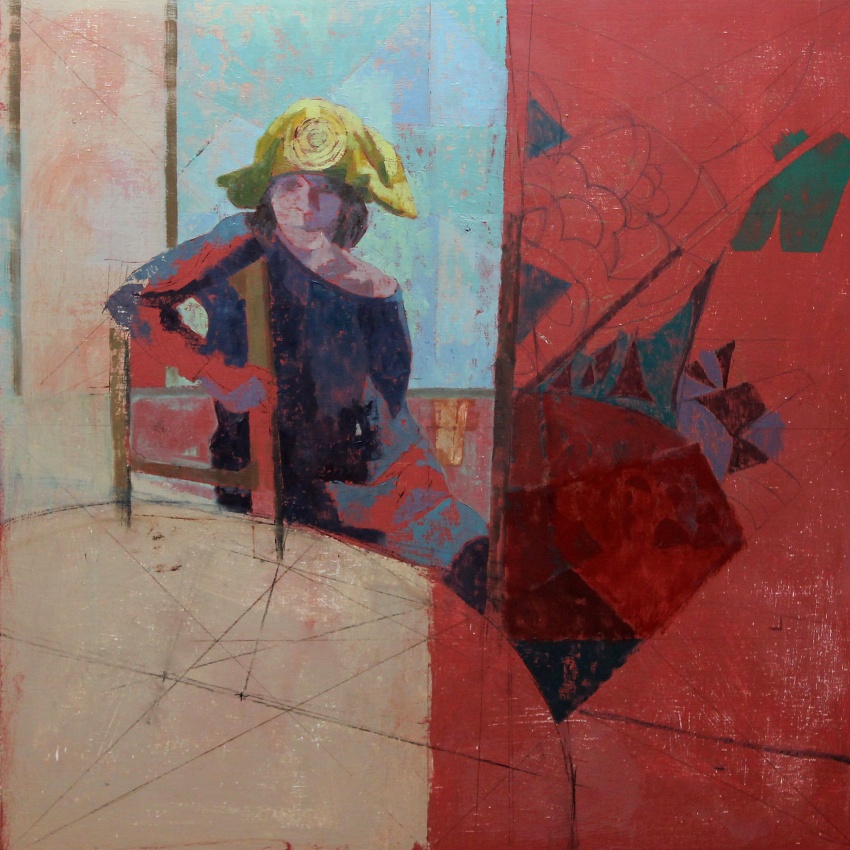 I then added a still life set-up in the foreground that contained references to her books, a Charleston style screen that I made up, and spent a while shunting around the various elements in the picture to produce an interesting composition that included the suggestion of an open door in the background to allude to Woolf's book A Room of One's Own. I started painting on a ground of several different colours, and left quite a lot of it still visible in the final painting and had a great time making the hat as yellow as possible.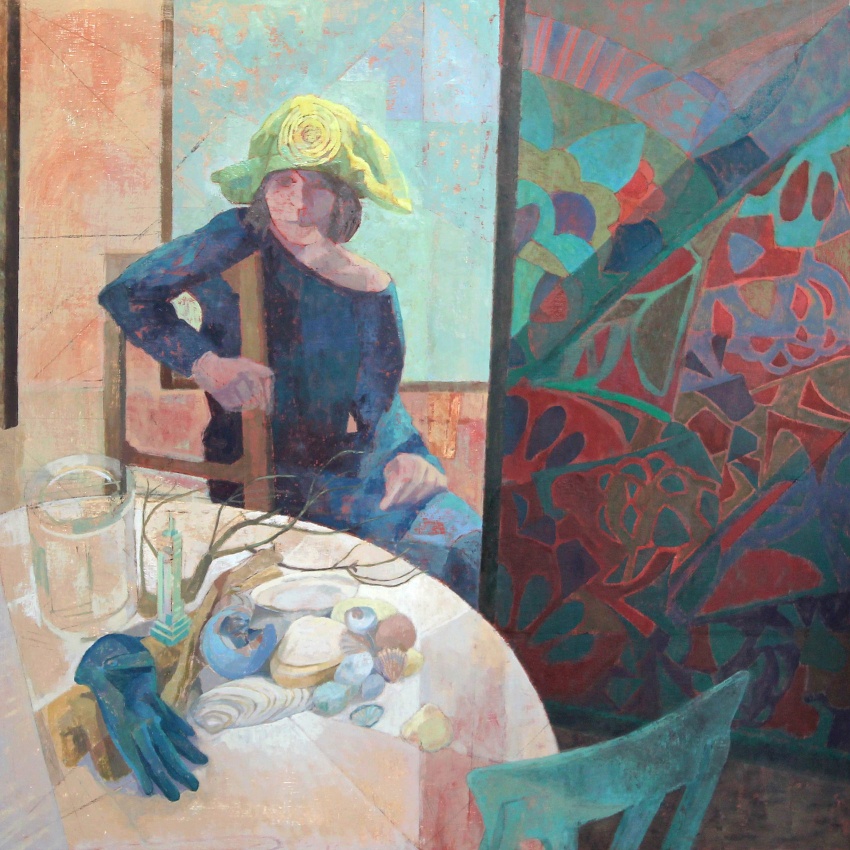 Another painting just finished since returning from New York that also involved collaging different elements together is Eggardon Hill [see gallery below]. The landscape in the painting was made from drawings done perched on a hillside down in South Dorset, whilst most of the foreground elements came from painting in my garden and drawing seed heads in a nearby field. I wanted to capture the sense of walking through the landscape with space receding in all directions, i.e. along the picture plane as well as directly from the front to the back of the painting.
Painting heroes
A list of painting heroes, some old friends and current crushes, both ancient and modern, follows to show you who guides me on the high seas, but any list is totally partial as looking is a lifetime's work.
Piero
Masaccio
Pontormo
Hugo Van Der Goes
Veronese
Vermeer
Tiepolo
Chris Ware
Max Beckmann
Michael Andrews
Leonard Rosoman
Carel Weight
Bonnard
Gerard David
Sangram Majumdar
Hope Gangloff
Velázquez
The Queen Mother's secret moustache
My grandfather and grandmother both painted and I spent large parts of my childhood in Italy as my parents lived in Rome and Naples for a time, and so looking at and thinking about pictures has been a big part of my life since childhood. If I had to pick a single moment when I first appreciated the magic of painting it was the following: I was about six years old and my grandfather took me to visit the studio of a painter friend of his called John Gilroy. It was a huge grand old studio in Holland Park with proper skylights, several large wooden studio easels and a lifetime of painting paraphernalia lying about. John was painting a portrait of the Queen Mother at the time, and I asked him to show me how he worked. So he very solemnly picked up a paintbrush and painted a moustache above her upper lip. I was horrified but he assured me that it was our secret and that the Queen Mother would never find out! He had me hooked with his magic and his wicked sense of humour."
Find out more about Tessa, and view more of her artwork, on her artist profile page. We also have a selection of Tessa's paintings for sale in our online shop.
February 1, 2017