December is here, so we're delighted to bring you a festive interview with New English President, Peter Brown. As he, Sarah Spencer and the committee start to get their teeth into planning the next five years for the club, Peter found time to tell us how much he loves this time of year, with examples of artworks depicting family Christmases and snowy landscapes - both his own, and that of fellow members and past masters . . .
The New English Annual Exhibition used to be around this time every year and I remember Ken Howard saying he saw it as the first Christmas party of the season. I think many of us were a bit gutted when it was moved to the summer. It just did not seem right viewing paintings in a summer heat. It does, however, seem to have settled very well into its new slot as our 'Summer Exhibition'. But enough about summer . . .
'Anyone who knows me knows I love snow'
As I write, it is a bizarrely mild autumnal day. It's very pleasant and we must not grumble but I'm afraid I want winter-proper to kick in now. Anyone who knows me knows I love snow, as I know do many New English members – those who indulge themselves in landscape painting. Snow transforms a landscape. It turns it on its head. Often the lightest part of the scene is now the ground; not the sky which can be leaden in comparison.
It's both a tonal thing – the stark darks against the white as seen in Bruegel's 'The Hunters in the Snow' – and one of colour when the sun comes; see Monet's 'The Magpie'. The carpet of snow becomes a new white canvas for the light to play on. My American friend Carl from Minneapolis finds it amusing how excited we get with the stuff. Trying to capture it is all a bit of a frenzy for me. I am keen to make the most of every last snowflake before it melts, and the scene is left soggy and brown.
'Snow day!'
When my kids wake up to what is now called a 'snow day', they know they'll be making snowmen and sledging with Mum or with each other, but not Dad who will be standing on the spot he found in a dark dawn when he set up awaiting the light.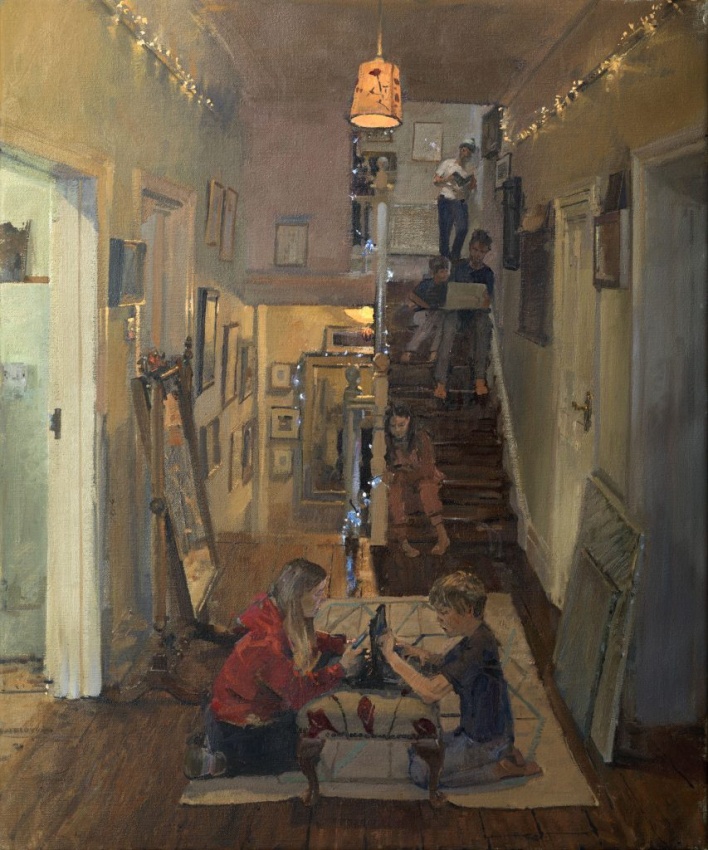 Snow or not, however, every year over the Christmas period I do a portrait of the kids and my wife Lisa in the house. (I use the term portrait loosely; my portraits are famous for being the back of a child's head a good four metres away). It's probably a bit corny but it is a great record for me.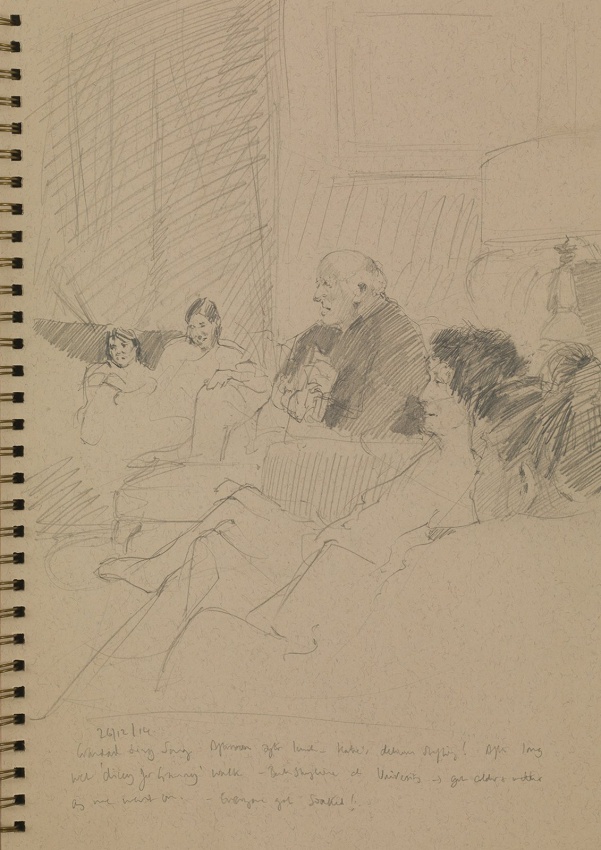 I also like to sketch moments over the Christmas period when I'm not desiccating the turkey. It's a good time to do this. People lounge on sofas as little cousins fly around trying to rope the older generation into taking part in their talent contest – a minefield to be avoided as inevitably you are the one responsible for someone's tears who did not win.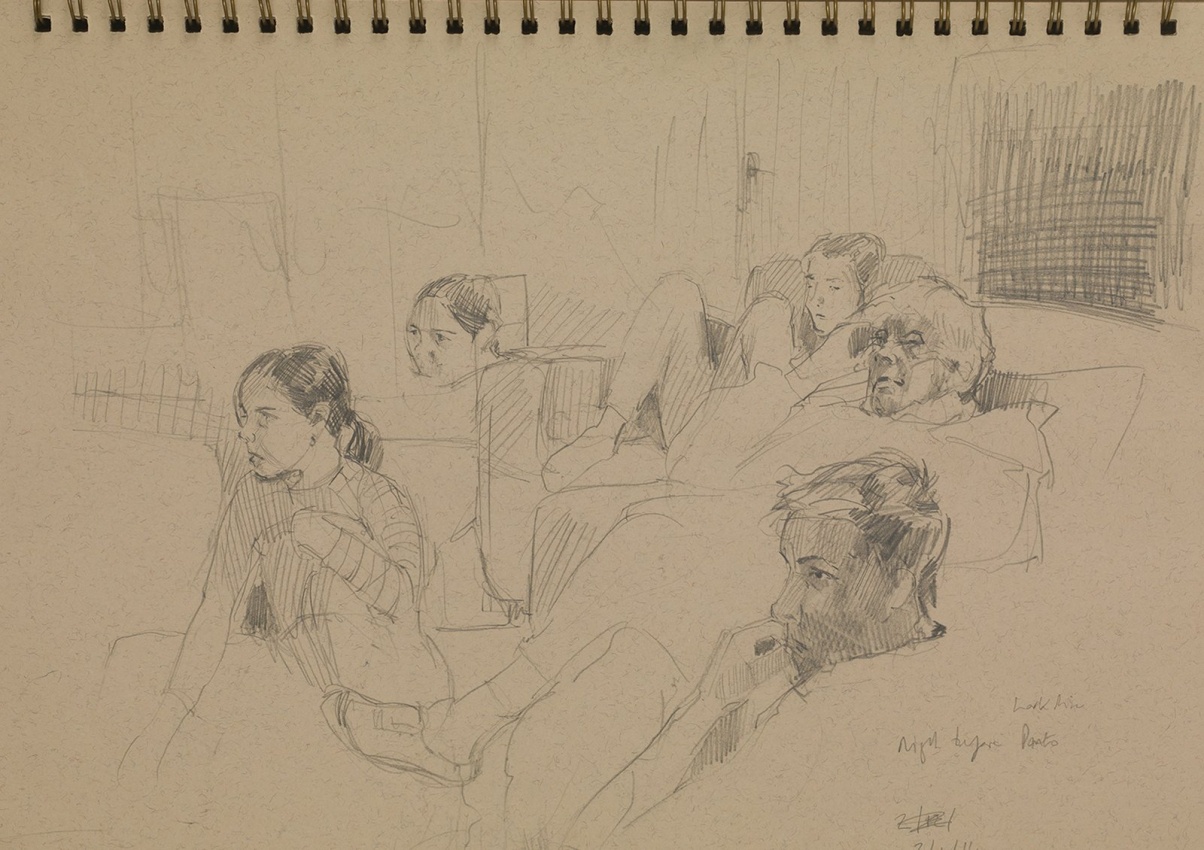 The family scene now has changed over the years – from Orpen's 1907 work 'A Bloomsbury Family' depicting the Nicholsons around the dining table, to Peter Greenham's study of a family watching television (below).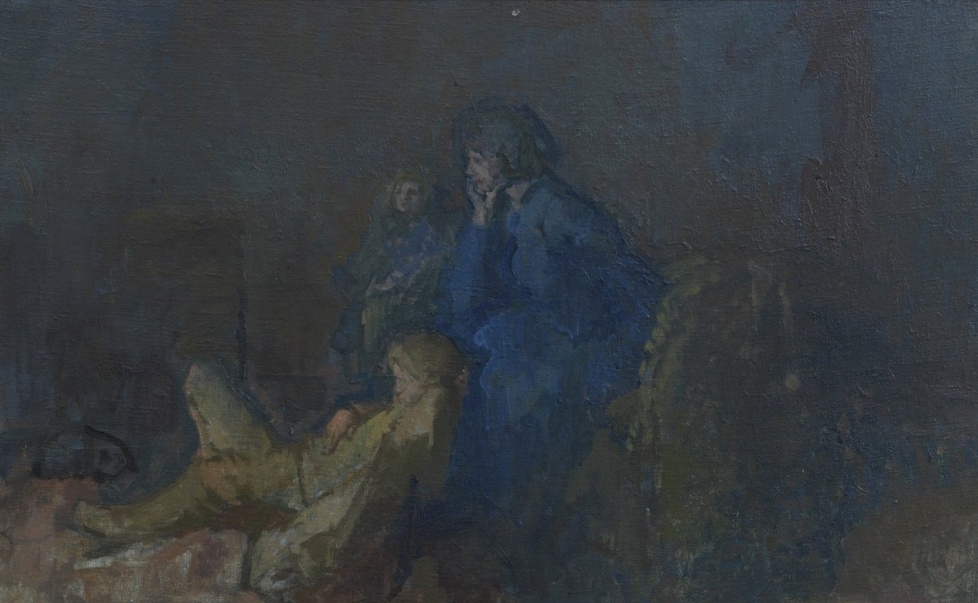 Peter Greenham CBE RA PPRBA NEAC RP ​, oil on board, 14 x 23 inches.
Now though, more often than not, the kids are not sharing a meal or a TV show but glued to their screens in their own social media worlds. It's not just the kids, however. At Grandad's 80th birthday in Ireland, as we all sat around the table, I was surprised to hear my sister-in-law (glued to her screen) note to my brother-in-law sat opposite (glued to his screen) that she had noticed on Facebook that he had now 'checked in' to Baltimore in West Cork.
I hope you all have a great Christmas – on screen, at the canvas, in the snow, or at the dinner table . . .

Yours festively,
Pete the (Quality?) Street
December 1, 2018