We were deeply saddened by the news that Jason Bowyer PPNEAC PS RP died on Sunday 17 February 2019. Jason was a key figure within the New English Art Club – Past President and Founder of the NEAC Drawing School. He will be greatly missed by his fellow members who considered him a great friend.
Jason Bowyer was born in Chiswick in 1957 to an artistic family. Son of artist William Bowyer and sculptor Vera Bowyer, he was surrounded by creativity as a child. He studied Foundation and BA Fine Art at Camberwell School of Art, then a Post Graduate Diploma in Painting at Royal Academy Schools. This was despite his childhood desire to be 'centre-forward for Fulham and England and to have lifted the World Cup'. Football's loss was most definitely the art world's gain, as Jason became a full-time painter but remained an avid sports fan.
Jason's art was entwined with family life with his wife Claire, a ceramicist, their son Leo, and his brother Francis – also a New English artist. Three generations of Bowyers would spend their summers in Walberswick where William and Vera bought a caravan in the 1970s. What with Francis and Jason's annual painting courses and the Walberswick vs Visitors Cricket Match which they took over running with the help of the family after William's death in 2015, the Bowyers have been a Walberswick institution for over forty years. The Bowyer brothers could often be spotted on their tandem cycling through the village.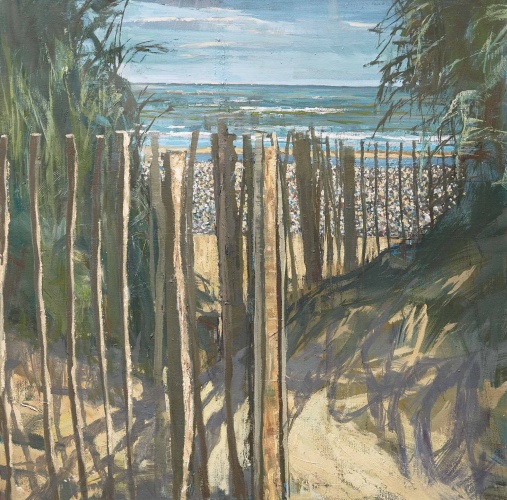 'Beach Fence' (oil)
Jason was member of Royal Society of Portrait Painters and the Pastel Society as well as the New English Art Club where, following in his father's footsteps, he became President from 2008-13. He was always at the centre of the club – a vocal and passionate contributor at committee meetings throughout the years. More importantly, he was a doer – in 1993, he founded the NEAC Drawing School which he always championed, fuelled by an obsession with drawing.
His exhibitions, articles and prizes are too numerous to list here, but you can find out more on our artist profile page, on Jason's website and we recommend that you read our interview with Jason from 2017 which gives an insight into his life, his work, his personality and why he was so loved by his family, friends and follow artists, some of whom have shared their thoughts and memories with us below . . .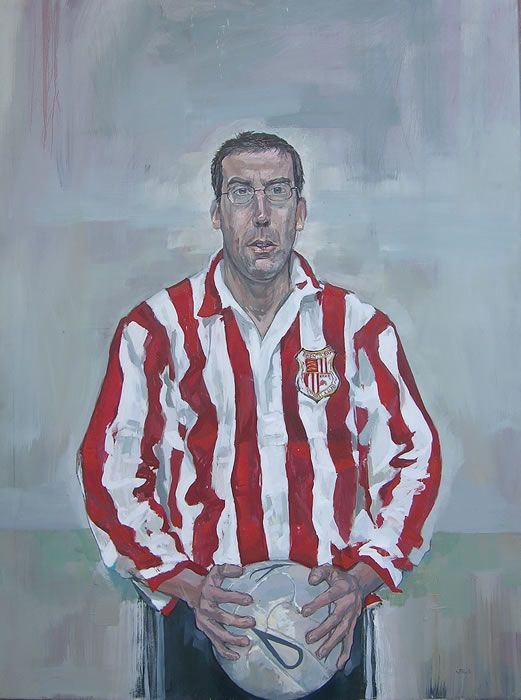 'Eamon Sylvester (The Offering)' (oil)
"My first acquaintance with Jason was receiving a postcard with a charcoal drawing of Leo as a baby, written in his unique curlicue script, congratulating me on becoming the New English Drawing Scholar. I met him later in the year and was delighted to learn that we were both fans of Fulham Football Club. I guess that combination of the two clubs: Fulham and the New English led us to become pals. We would always have a little discussion of the highs and lows or should I say woes of our team after committee meetings down at his studio in Kew Bridge Steam Museum where he painted such marvellous paintings of the museum workshop and furnace. I was always incredibly inspired by his work – grand in scale, half completed on the walls around us – marvellous beginnings that called out "paint me!"
"Every now and then we would meet for a drink and talk about painting and life. He would tell stories of his father and Ruskin Spear drinking in a similar pub decades earlier, or about when he was Artist in Residence at Fulham F.C. in the mid-80s making wonderful paintings of the fans on the terraces. He always looked the part at Fulham in his long black leather jacket and greying beard and black-and-white-striped scarf. I love that he painted himself with the scarf in one of his self portraits, capturing the marvellous Bowyer profile. He was a painter taken away at the peak of his powers. And he was a dear friend to so many of us. He steered the New English during his five years as President with skill and great humour. During those years he remained a great advocate for the importance of 'good drawing', by which I think he meant: intense looking and working through, finding rightness through adjustment and searching, drawing both describing mark making and placement within the act of painting and drawing in its own right as pencil or charcoal on paper. And it was fitting that the prize that was left in his father and mother's bequest at the New English Annual be for a drawing." Alex Fowler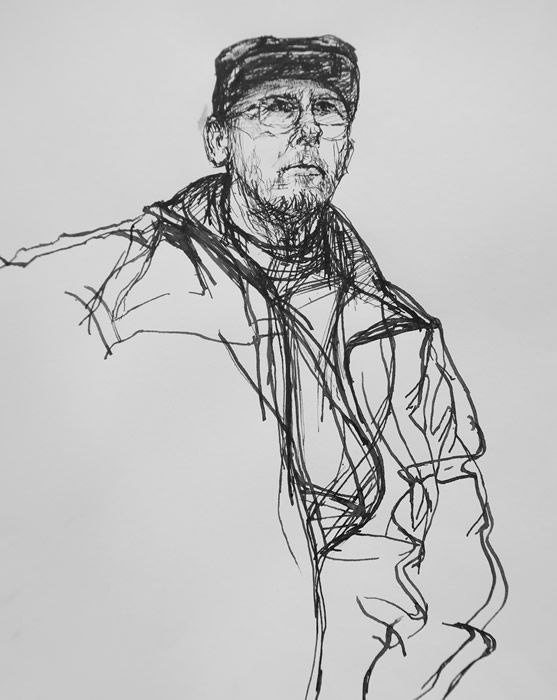 'Alan' (charcoal)
"I remember, as a nervous new NEAC member, being next to Jason in the line up to welcome HRH The Prince of Wales and Camilla, Duchess of Cornwall (then Camilla Parker Bowles) to the reception at Ken Howard's studio in South Bolton Gardens. Diana Calvert had given us the protocol on not referring to the Queen as 'your mum' etc, and when it came to it, I could barely look Prince Charles in the eye. As he passed on to Jason, I was astounded as he engaged the prince in conversation headlining the importance of drawing and asking him if he would be interested in supporting the NEAC Drawing School. All this in the space of a handshake." Peter Brown
"I shall miss Jason hugely as someone with great integrity, huge generosity of spirit, with a wicked sense of humour. I always looked forward to seeing him." Tessa Coleman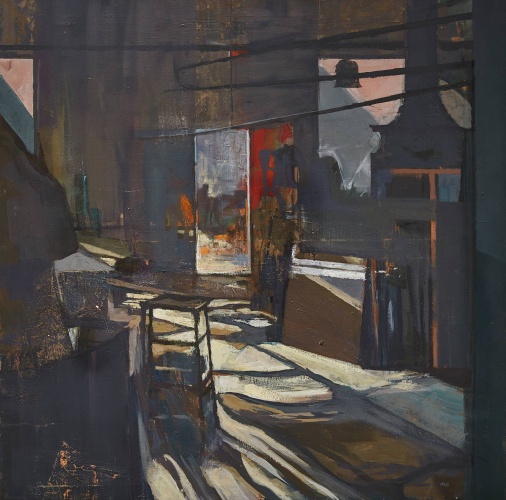 'Forge Light' (oil)
"My first real memory of Jason is going for a coffee on the Haymarket with him, after an Executive Committee Meeting about twenty years ago. We'd spoken before but never at length, and I was interested to find out more about him. It turned out that we'd both been at the RA Schools, and he'd been to Camberwell too, and I remember him saying that it was at the RA that he'd realised that he was allowed to enjoy painting, unlike Camberwell where enjoyment was forbidden. "He was about ten years older than I, a deep and self-assured voice in meetings, but never remotely arrogant. Just quite at home, and very committed to the Club. He was always scheming for the New English, even though he did once consider a complete change of its name, when he was in charge of publicity and finding it hard to get newspapers to take an interest. We had several hush-voiced conversations about this in pubs – "It's the name, Charles," he whispered, knowing the upset the idea would cause. "As soon as they hear 'English' they don't want to know. And then 'Club'. Might as well forget it!" "He was a person of huge integrity and great humility, and that is reflected in his paintings. They are of places where people do tough, honest, hard work; his portraits are straightforward, truthful, never flattering, evasive, smudged or fudged. For those of us who find these qualities difficult to achieve, he was an example. He was also cheeky, insightful, and the warmest of friends, and in lots of ways, for me he was the New English." Charles Williams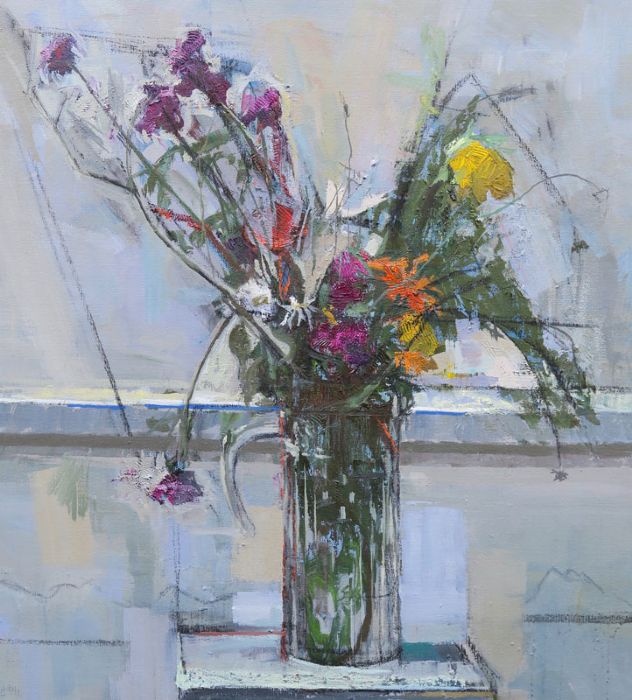 'Flower Structure' (oil)
February 19, 2019