Peter Brown's new solo exhibition London: the return (and accompanying free lunchtime talk) at Messums London is made up of 55 plein air pantings of London over the past year or two, as it entered and emerged from lockdown. As well as recording these events in paint, he also kept a diary that tells more of the story behind the paintings. We are delighted that Peter was happy to share some excerpts with us . . .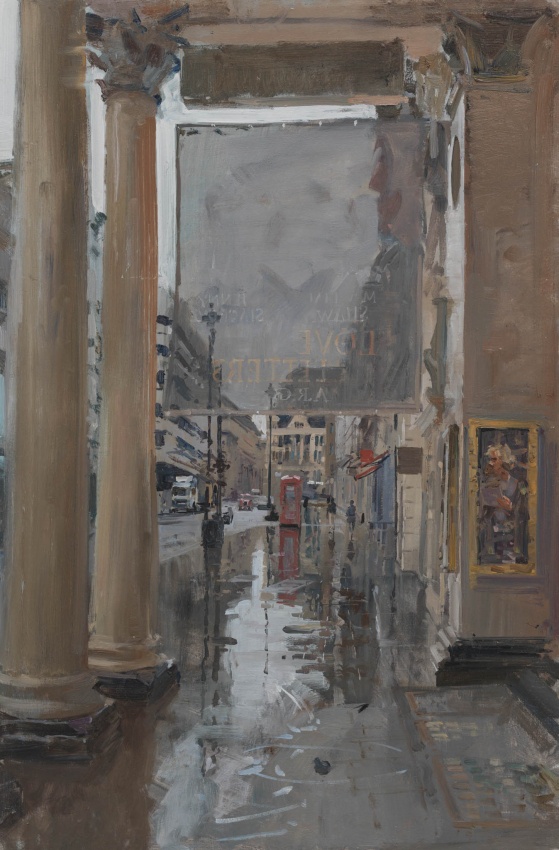 'Love Letters' Haymarket Theatre portico, 11.00am–5.30pm
Thursday, 25th March 2021
I decided to paint the amazing façade of Her Majesty's Theatre with its wonderful detailing. I set up across the road by the portico of the Haymarket Theatre. It was a shallow perspective and I found the drawing hard to nail.
I worked on it for an hour or so until it rained. Retreating under the Haymarket Theatre portico, I was intrigued by the view up Haymarket with its slick pavement, the top part of the view semi-concealed by the banner. So, I scrubbed out the attempts of Her Majesty's Theatre and worked on top pretty much for the rest of the day.
I guess 'Love Letters' which starred Jenny Seagrove and Martin Shaw never finished its run. When the theatres returned, the 'Love Letters' banner was replaced by 'Only Fools and Horses – The Musical'.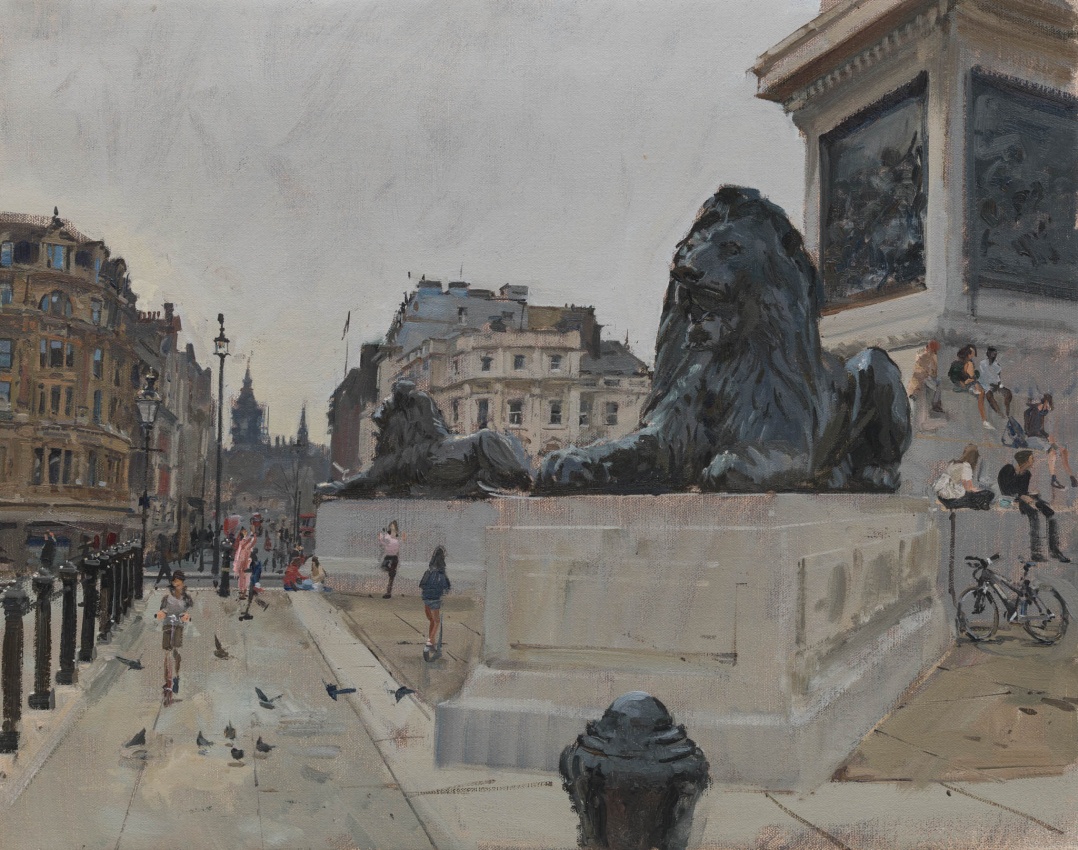 As London begins to emerge, Trafalgar Square, the Landseer Lions
Wednesday 31st March 2021
Checking the Met Office website, it promised cloud for most of the day with perhaps the odd appearance of sun, so I worked on a 20" x 25" canvas of the lions in Trafalgar Square and Whitehall. I find the bronze of the lions far more interesting to paint on a grey day.
There were a couple of kids running around on scooters: a brother and sister. The brother was in desperate need of a post-lockdown haircut. I asked them as they seemed very interested in the painting if they would like to be in it. They were very excited, and I told them to go and check with their mum if it would be OK. It felt bizarre that parents could let their children safely roam Trafalgar Square knowing they would always be in their sight without the crowds. They returned saying she had agreed.
I asked them to scoot around in the area within the bollards in front of me which they happily did. After five minutes or so, the mother turned up with another child in her arms. I said to her something about us all needing a haircut and she told me the beautiful little two-year-old girl in her arms with the long black hair was actually a boy.
I finished the two on their scooters and they left. As the day wore on the steps up to the monument became more populated and I had more subject matter to paint.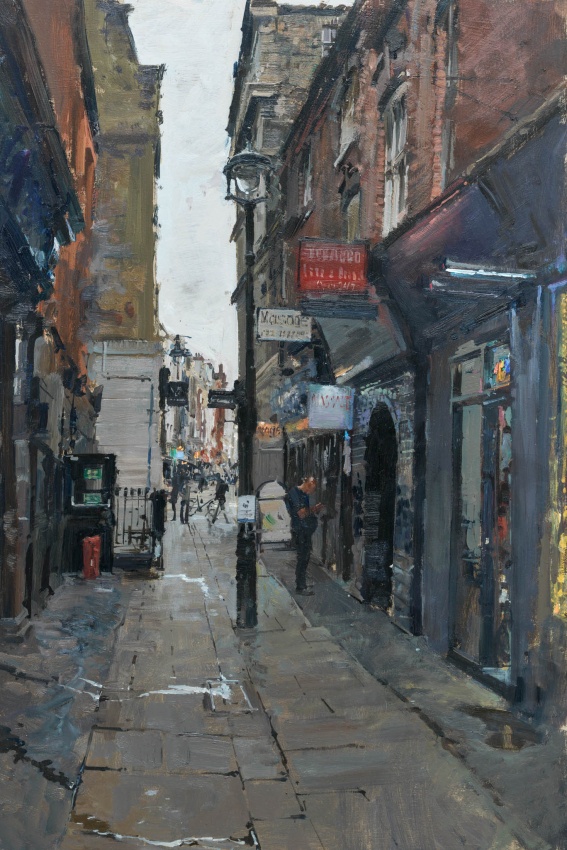 Tisbury Court to Old Compton Street
Wednesday, 25th August 2021
London was under cloud. I walked around looking for subject matter and was drawn by Tisbury Court, the alley that links Old Compton and Wardour Street to Rupert Street. It is dirty and dark with massage parlour signs the only light other than the dim neon signage, at the end coming from the glimpse into a lively Old Compton Street.
I was joined by a sex worker whom I guessed was ten or fifteen years older than me. We chatted. She told me how the area had changed in the last 40 years. Every now and then, as someone walked by, she'd briefly break conversation asking them "D'you wanna get off, love?"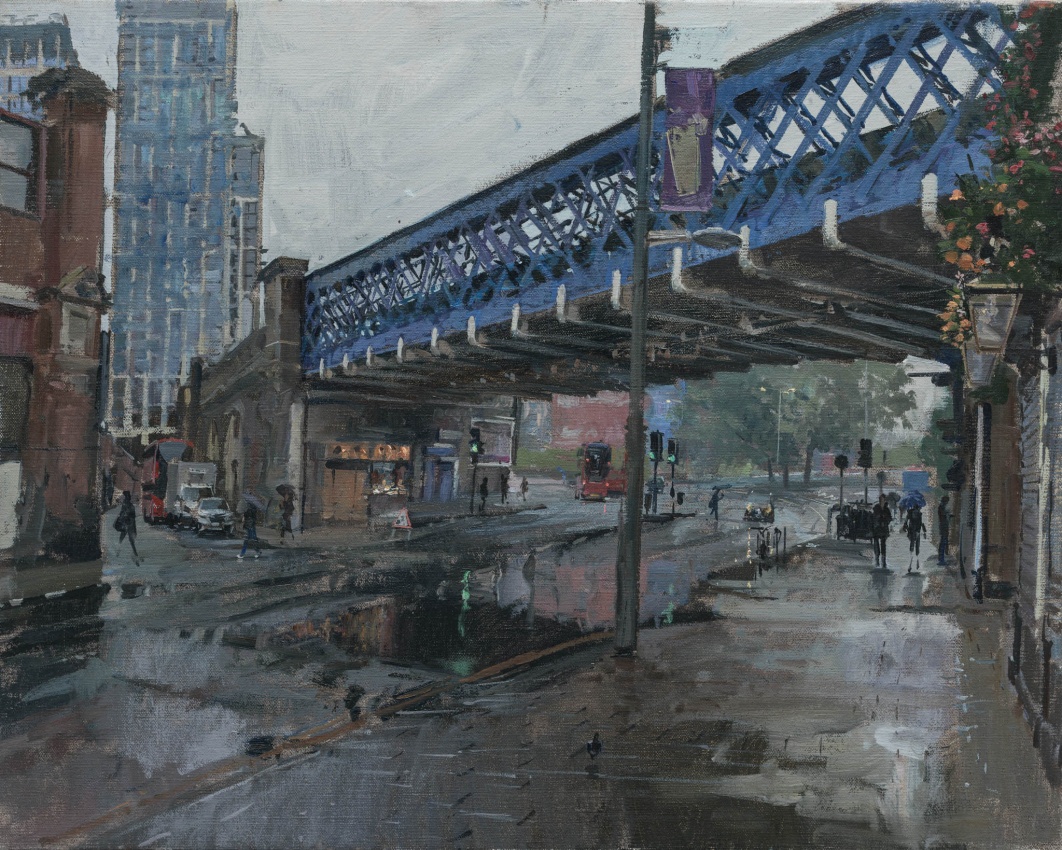 Monday 14th September 2021
Waterloo, Rain
Forecast rain all day, I knew where I was going. I headed to Waterloo to finish the painting of the railway bridge I had started at the beginning of all this in February. The trees on the roundabout were now in full leaf, the glow from the IMAX had changed colour, the flag on the lamppost was now gone, the traffic was busier, but it was close enough.
The problem with 'finishing off,' as Ken Howard always says, "is that is what you invariably do! Finish it off!" so I was wary.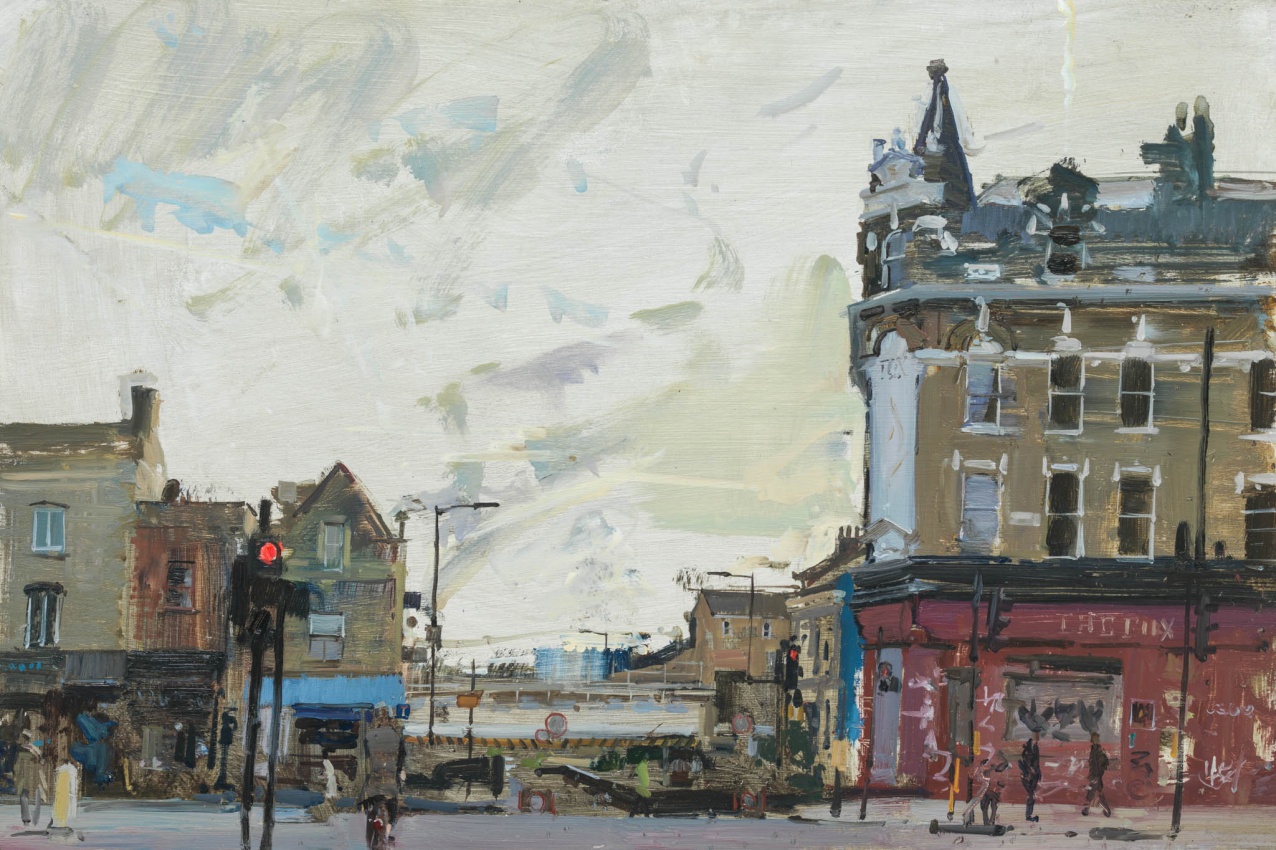 Monday, 11th October 2021
Middleton Road from St Peter's Way, The Fox
I left home at 5am and headed through London out to Shoreditch. I walked up and down the high street, as I had done years before, with the same result – not finding a view.
Grabbing a coffee and a pain au chocolate for the bargain price of six quid (the last time I try and support a small coffee shop!), I drove north towards Hackney.
I stopped in various places looking for views around Regent's Canal but ended up finding a wonderfully quirky view of Kingsland Road and the Fox Pub from over the way. It was an intriguing view with the road disappearing away from me as it dipped out of vision reappearing fifty yards later.

Autumn Afternoon, Southgate Road
After that, I headed into De Beauvoir Town and ended up painting towards a café over a zebra crossing. It was warm. The pavement tables were busy. The low autumn light spilled across Southgate Road.
Apparently, you don't get many street painters in Islington (apart from the brilliant Melissa Scott-Miller, of course!) and the response was quite remarkable. Total surprise from everybody that someone should be painting on the street. I struggled with the painting as the sun moved and packed up at six, heading home via Mother's.
Peter Brown's exhibition London: the return runs at Messums London until 22 April, and he will be doing a free lunchtime talk at the gallery at 1pm on Wednesday 6 April.
Find out more about Peter Brown on his artist profile page where you will also find a further selection of his original paintings available to purchase online.

April 1, 2022