Charlotte Halliday has been a New English Art Club member since 1961 and has been our Keeper since 1989. She works in pen and ink, pencil and watercolour, painting mainly architectural subjects. We asked Charlotte to cast her mind back to her childhood, education and influences to find out how her story began...
"My father was a portrait painter and throughout my childhood, I loved the smells of paint and turpentine and all the paraphernalia. I assumed that was what you did when you grew up. I went to the RA Schools straight from school and, to my dismay, discovered after the first term of obligatory drawing – from life and from the antique – that I did not want to paint: I needed the precision of a pencil or a pen. This was a very bad moment.
Fortunately for me, the Keeper of the Schools then was Henry Rushbury, the most distinguished topographical artist of his generation – heir to Muirhead Bone & Méryon – and he told me not to worry, but to go out and 'draw what you see'. Outside were buildings!
The Shell Headquarters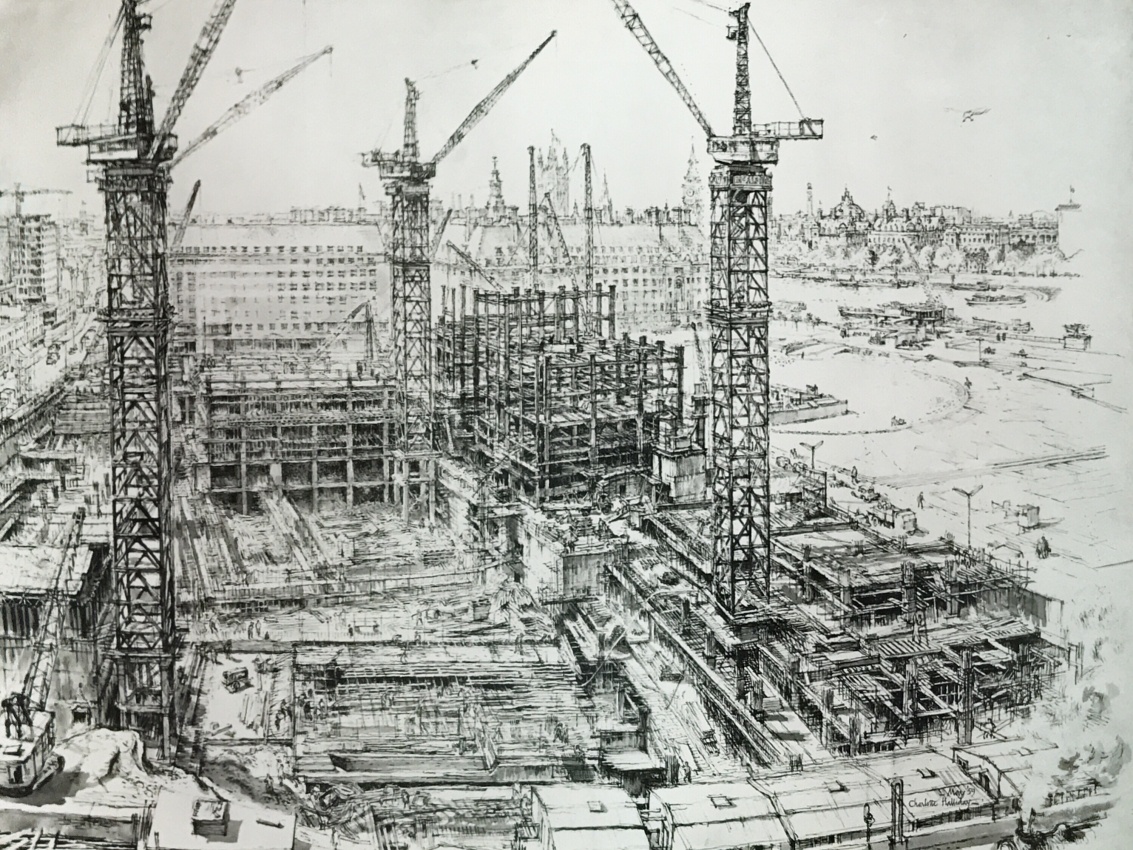 I was always intrigued by scaffolding, and a drawing featuring some was seen by one of the head engineers of the company that was constructing the Shell Headquarters on the South Bank. So I recorded various stages of the work they were doing – some of it for the first time – every few months between 1957 and 1959; being installed in some part of this vast double site either side of Hungerford Bridge, and producing sixteen pen drawings – about 18" x 22".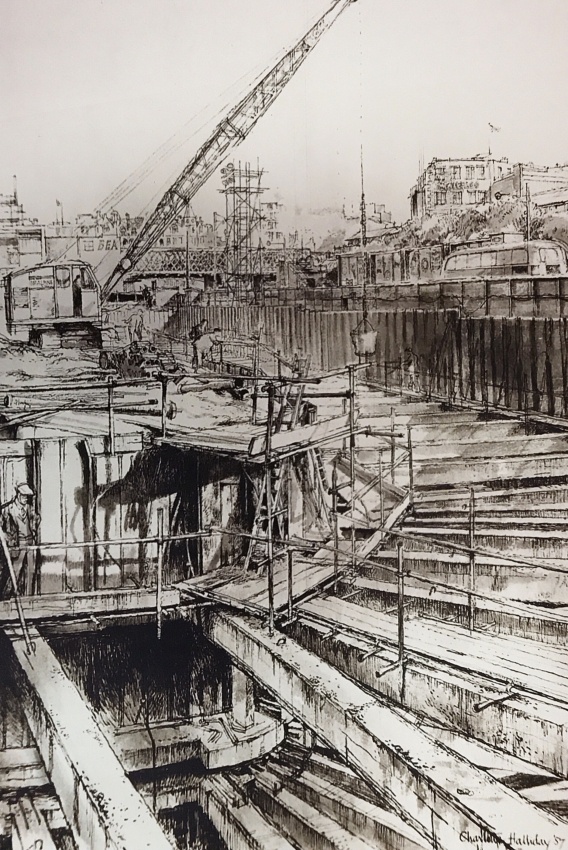 And Henry Rushbury was there to help me overcome technical problems. From the outset at the Schools, another crucial influence was Albert Richardson, who gave enthusiast lectures about architecture illustrated by slides of details which he'd drawn himself. More difficult to define is the influence, not less important, of Bernard Fleetwood Walker and of Peter Greenham.
And as for artists that I admire, where to start? Rembrandt always comes out top – his drawings say so much with so little. Turner, Constable (especially the sketches), Gwen John, William Nicholson...
Straight onto the page
Considering the process behind The Supreme Court, Parliament Square (a fairly recent commission that I am borrowing for my retrospective) I go straight onto the page – no preliminary sketches – pencil on toned paper, usually Turner's Grey; watching to see which time of day is going to produce the most interesting shadows. Then some colour, and a poster white – then more drawing, and so on... The best view of this building was from a porch of St Margaret's, Westminster, opposite. It had to be done before the plane trees were in leaf, so it was March and extremely cold. I had many layers of clothes on and must have looked like an out-of-work Michelin man. At one point, a young tourist left a passing group, nipped over and put something on the step beside me. It was a ten pence piece.
I made about half a dozen visits to the site, and although I will take snapshots of a subject like this for reference at home, I hate working from photographs. The process is so unsatisfactory.
Westminster from St Thomas' Hospital
I am also borrowing my watercolour drawing of Westminster from St Thomas' Hospital for my solo exhibition and I'm pleased to see it again as I feel that it has 'worn well' (some past work is an embarrassment!). It was commissioned by one of my oldest friends, a distinguished obstetric anaesthetist, when she retired from St Thomas' and was done from the obstetric department on the sixth floor – which was a cheerful place. It was June 1996: Westminster Bridge is being repaired, the Jubilee line is being extended and Portcullis House has yet to be completed.
A day in the life
I don't have a strict routine – I wish I had, as I am very easily distracted by other demands. I have a north-facing first floor room with two huge windows, which is light and cheerful all year round.

Crucial to me is my 'watercolour desk' (adjustable and extendable), so-called in an advertisement in a NEAC catalogue of 1932. I was ridiculously pleased to find the same one in Winston Churchill's studio at Chartwell!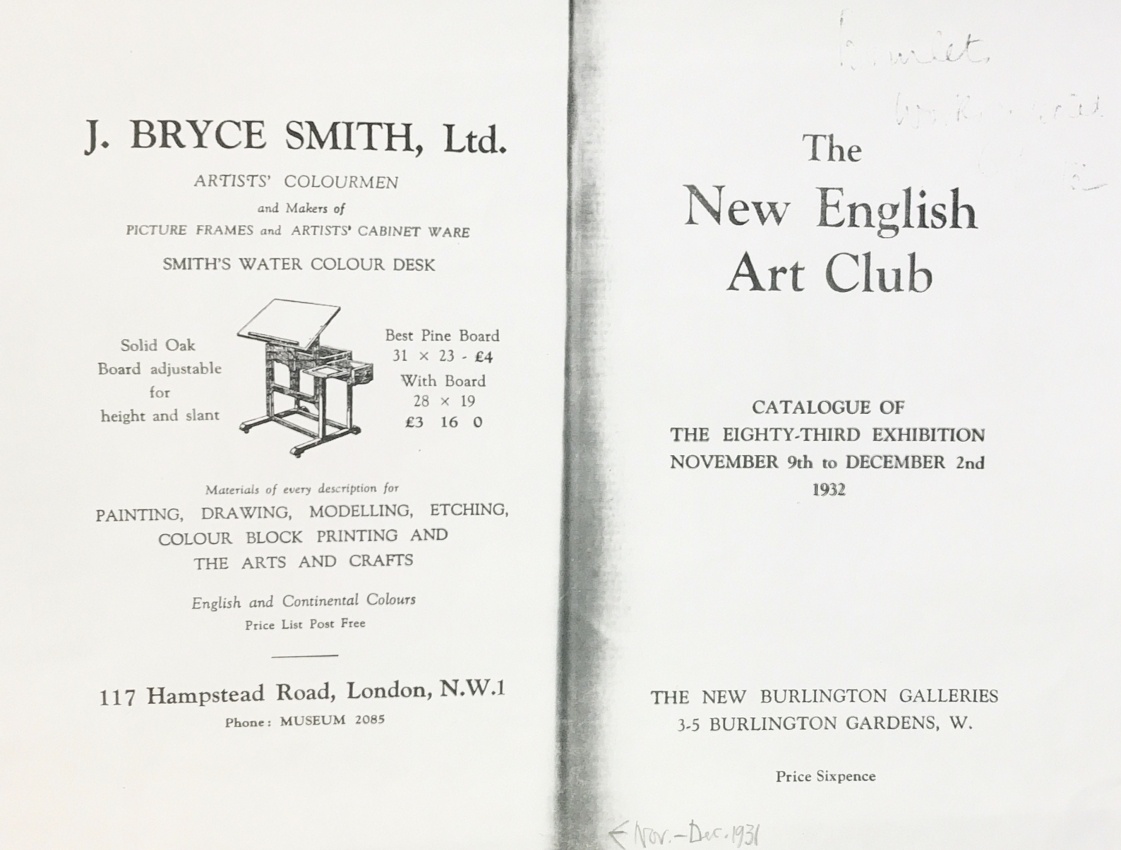 Artist? . . . or undercover gangster?
When you work out in the street, there are inevitable 'viewers'. Depending on the stage I'm at, they can be annoying, encouraging or even amusing. The effect of complements or criticism depends entirely on how much I respect the person delivering it – the latter can be hard to handle. When I was painting a house from my car once, with radio aerial up, I was challenged by a truculent resident who, with several neighbours, had decided that I was transmitting details of their comings and goings to a gang somewhere nearby.
Another time, Barclays Bank head office made me a splendid plastic gazebo on a first-floor roof and after a visit to check progress inadvertently locked me into it. I had a fairly hairy escape along the ledge at the front . . .
My first sale
The very first picture which I sold to a complete stranger was of a corner of Shepherd Market. I was in my third year at the RA Schools. A middle-aged man with a Guards tie and a bowler hat admired it and asked if it would be for sale. What was particularly important to him was a dormer window in an upper roof. (I subsequently decided that he must have had a liaison there). He commissioned two further views of the market.
On being a New English member
I was made an Associate in 1959 and a full member in '61, and it has been of immense importance to me, always. I became involved on the Executive Committee early on, when it was rather in the doldrums, and have therefore been part of its revival and seeing the wide recognition of its integrity.
Find out more about Charlotte Halliday on her artist profile page, where you will also find a selection of affordable original artwork for sale.
July 1, 2017