Jenny Wheatley tells us about her life, education, travels and technique, or - as she puts it - 'the roller coaster that is painting' . . .
"Sitting in my studio by the sea in Cornwall, on a crisp and sunny day at the start of December, I feel particularly fortunate . . .
Although I still feel as though I am just starting out, when one counts the years since leaving art school with a degree in Fine Art Printmaking from West Surrey College of Art and Design in Farnham, I have been a professional painter now for a full 37 years.
That seems a lot of paintings, a vast quantity of paint, and each new image a mixture of excitement, fear and angst – along with the roller coaster that is painting. Every new canvas or blank piece of paper is scary, and then a tussle of control and letting go until the piece forms some sort of conclusion. Having braved the starting, when to stop? There seems to come a point when one more mark would mean a whole new chapter, and perhaps the freshness of paint would be lost for the alterations that would turn it into something else. But then perhaps that new chapter will lead to a new discovery and a tangential move to a new approach – it seems a miracle that any painters I know are so calm and philosophical in the face of such uncertainty and inner-self exposure.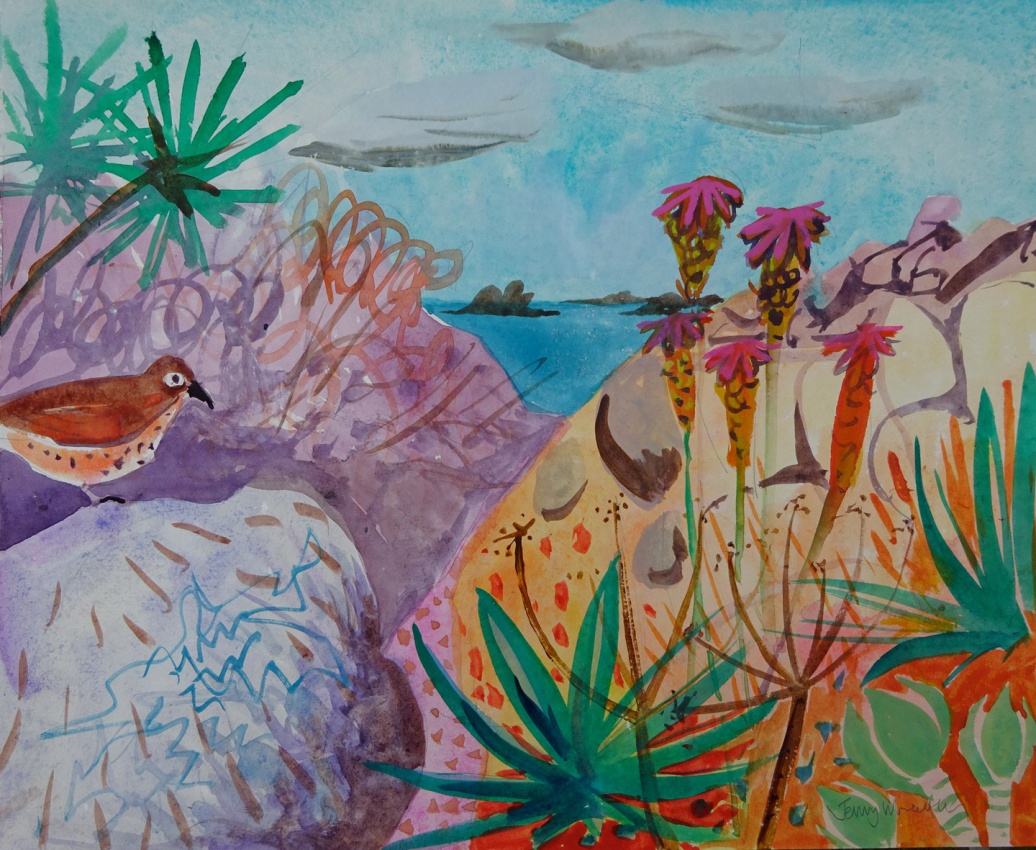 The terror of a blank canvas
It seems ridiculous that we can pass through our time on earth making life-changing and -threatening decisions every time we cross a road, drive a car, bring up a child, enter a relationship, and yet when faced by an inanimate blank surface we quake at the first marks that destroy that perfection, then spend hours and days trying to rebalance it. But we all know that it's not just that piece of paper, or that canvas that we fear, but the judgement of others over which we fret, but whose approval we secretly crave.
People often ask me if I am tempted to keep a painting with which I am particularly pleased, and my answer is always the same. No. My reasoning is that once I have completed a piece I have learnt from it what I need. Its usefulness to me has ended. The next painting and those that follow will each be a product of those that came before, and if I sell the painting I would hope that the recipient will gain pleasure and I will then be able to buy the next lot of materials to learn the next thing, experiment with the next mark, etc. The journey continues.
The painter vs the painting
I have also learnt over the years that it is not necessarily the painting with which I am most pleased that is always viewed by the onlooker as the most successful. A comment once made by an acquaintance/client and ongoing friend has stayed with me in every piece I produce. When I was shortly out of art school he used to buy my work regularly and it was inevitably the pieces about which I felt least certain that he chose. A well-renowned graphic artist himself, I was loath to tackle him about his choice, but one brave day I suggested that he might prefer one particular piece to various others. His answer was clear and, to me, profound.
He could see why I preferred the painting I indicated, but for him it looked like I had set out with a clear idea in mind and the painting had progressed to its conclusion without difficulty and was therefore pleasing to me. The paintings he chose, he said, were those in which it looked like I had struggled to take control throughout, and those with which there seemed to have been a continual battle, ending in an image over which I had just barely won the struggle. It is a conversation I have in my head with every painting I have done since and has been by far the most influential comment that has shaped the way I have worked thereafter.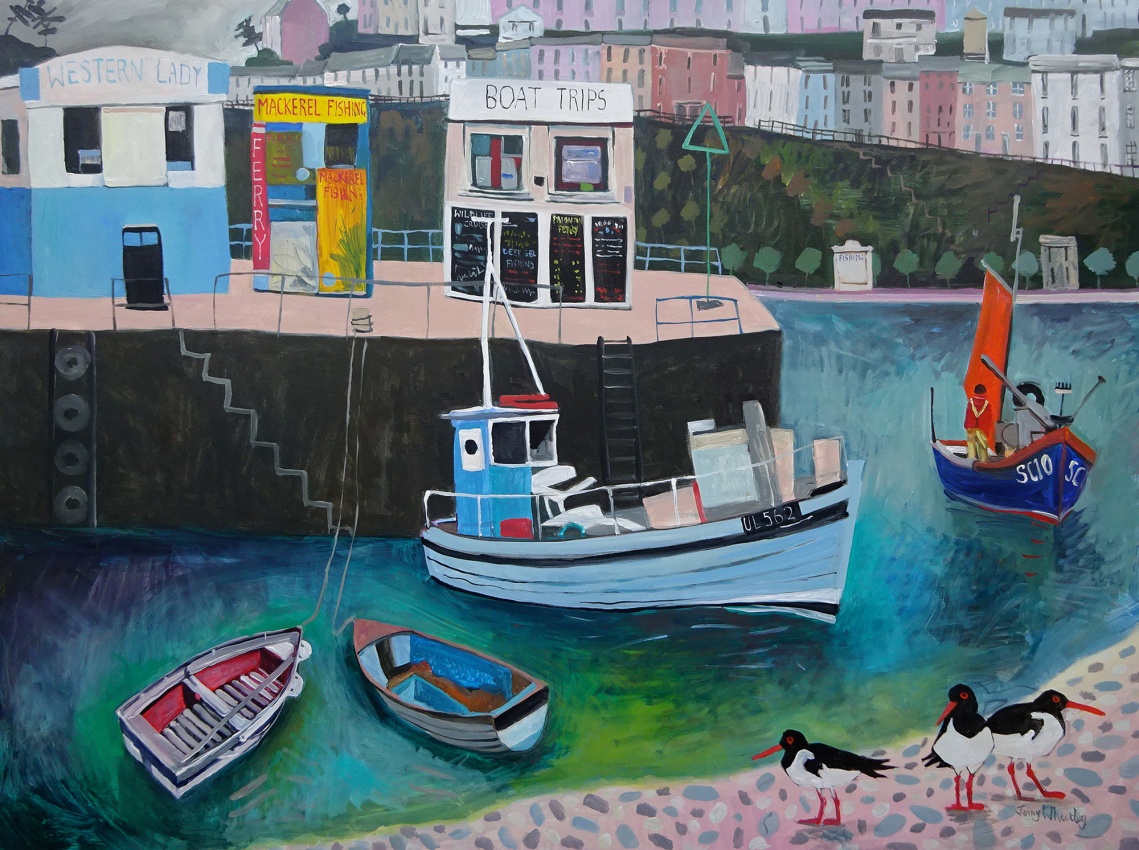 Painting or sofa?
I have been very fortunate in that I was born at a time when what I liked to paint, and the way that I liked to paint, was commercially popular when I started to show my work. I always felt that there were far more naturally-talented students while I was at art school, but either their work was not commercially viable (which would have meant that they would have had to compromise what they did in order to make a living) or they didn't have the business aptitude to badger galleries and meet deadlines. I was encouraged by my lovely parents to follow my own path, and while they must have wondered how I was ever going to support myself, they never judged or aired their worries.
I was offered a show at the New Ashgate Gallery in Farnham almost immediately I left college and my first painting sold at that first show to my extreme amazement and joy. It still astounds me that, while lots of people say lovely things about my work, anyone should choose to buy it and put it on their walls when they could acquire something so much more practical like a sofa! It is always extraordinary when I enter the house of a mutual friend or a distant acquaintance and there is a piece of mine on the wall. Showing through galleries certainly takes the strain off marketing my work and I would never consider selling outside the gallery environment, but the one downside is that I seldom know where a painting has ended up. Recently, I was chatting to someone at the next table to me in a small restaurant in the Isles of Scilly, and when the conversation got around to what we did for a living and I explained that I was a painter, they suddenly declared that they had a couple of pieces of mine in their living room!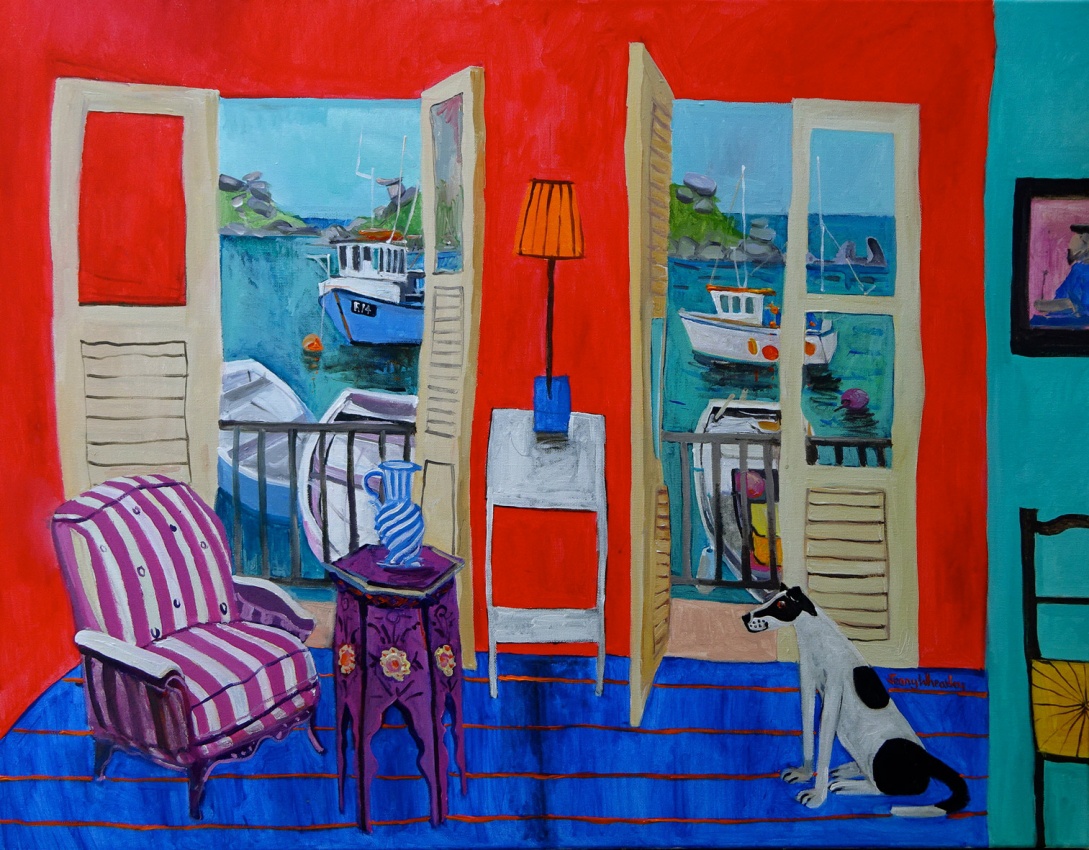 'Popping up the Himalayas'
Having had my first painting sale, with others following, there were inevitably set-backs and rejections along with the successes, but it always seemed that – just when I thought nothing exciting would ever happen again – a sale would occur, or an opportunity arise. Since watching a BBC2 programme as a child, I had always wanted to visit northern India and the Tibetan/Indian borders, and one Friday morning whilst painting at home in my studio, the telephone rang and someone the other end asked if I might be interested in "popping up the Himalayas" in a few weeks' time, to record a trip that the joint Indian/British army were making to the area. It transpired that the RWS had been contacted and, knowing I liked to travel to paint, my name had been put forward by the then director, Michael Spender. Shortly after the call I was travelling up through Kashmir and into Ladakh to paint with the ladies' party joining the expedition. I have also won various awards that have enabled me to drive down to Cyprus to paint for a year, catalogue through paintings the change from Polynesia through to Melanesia for six months, organise a large reciprocal show for RWS members on the occasion of the 70th anniversary of the awarding of the George Cross to Malta, appear as an expert judge on Channel 4's Watercolour Challenge for a couple of series . . . there can't be many jobs that offer that variety of life experience and imagery overload!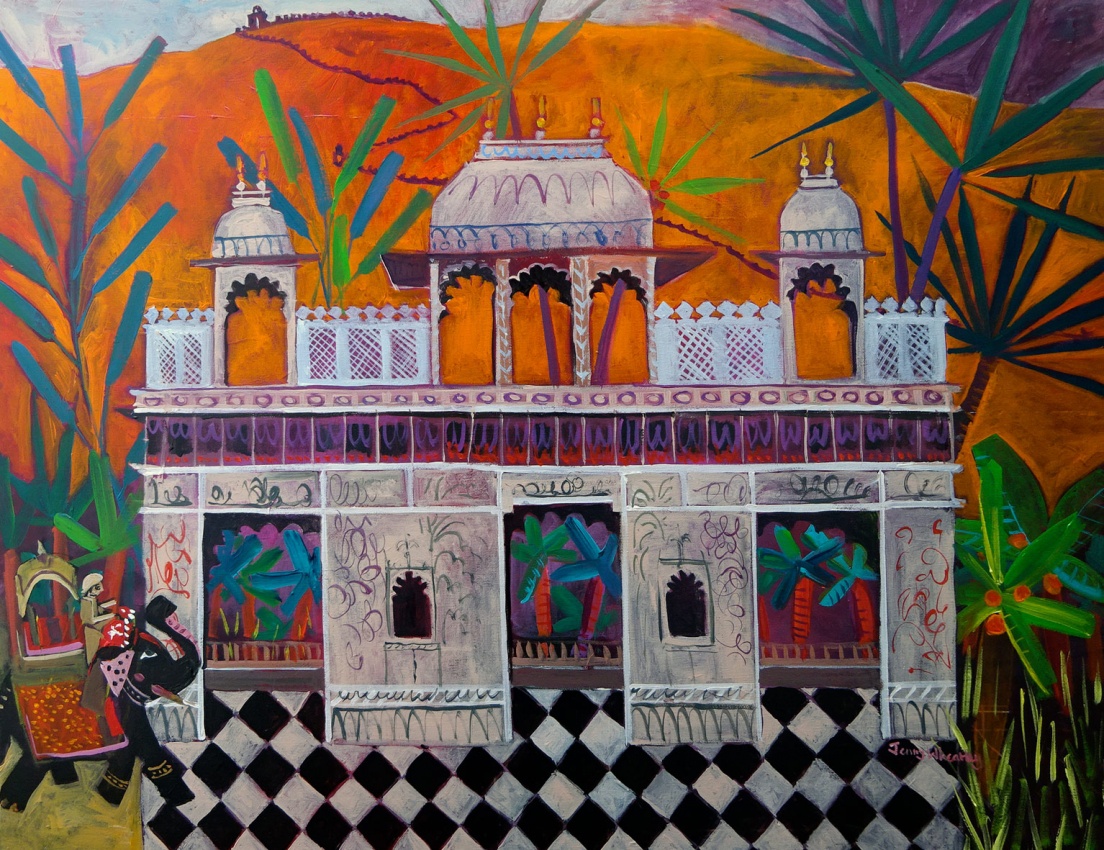 Artist and babysitter
Of all the opportunities I have had, I think what makes me most grateful is that, in all, I have a 'reason' to stay in a small area wherever it might be in the world, for an extended time, painting what may seem to the outsider as the inconsequential things such as old doorways, forgotten buildings, lush undergrowth, an old dugout canoe in the mangrove swamps; whatever it might be it gives me a purpose to be amongst the local people, and painting is something to which every culture can respond. I have often had children left with me when painting alone, as the adults see me as 'lonely' because I am by myself. The arrangement works so well that I always travel with an extra small set of paints and paper, in case I am expected to act as babysitter while local parents work in the fields, etc. That way I can paint undisturbed and the local offspring can paint alongside peacefully for the duration!
I have a strong belief, formed when in Polynesia, that the world falls into two main groups of people – those who want to cut and manicure the jungle and those who are happy to sit under a tree until the undergrowth consumes them and they become a part of the earth around them. I fall firmly into the second category and, when painting en plein air, I have that very opportunity to become part of all that surrounds me – marvellous.
Trying to create the 'flavour'
After about fifteen years of only feeling able to paint in front of the subject, I developed a way of working from drawings, written notes and memory as well as paintings done in situ. This came about when the want to paint a particular subject in Malta was so great, and the physical possibility of painting it at length in situ so impossible, that I had to keep trying in the studio until it came good. Since then I have moved more and more between painting on the spot and drawing/note making that I take back in to the studio from which to work.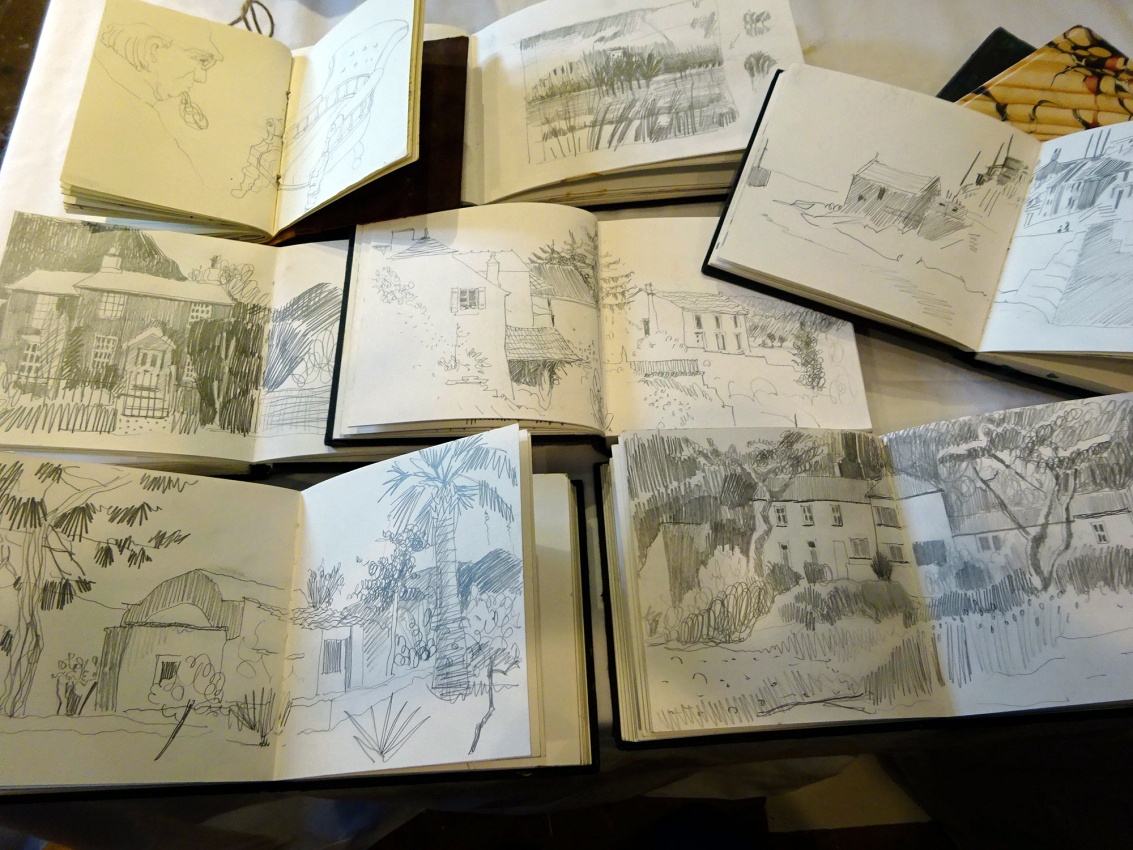 Increasingly my work is heading towards trying to create the 'flavour' of the place or moment, rather than topographically working. I am often asked where a particular building or environment is painted from and increasingly I have to say, "well, that piece comes from x, that roofline from y and that view from z". An architect friend shivers whenever I explain I have added a floor to a building or, worse still in his eyes, combined the 'best bits' from several structures.
'What is plan B if plan A fails?'
People often ask me who my main influences are, and I find it hard to answer. I think any creative person always has their antennae tuned, so it could be any number of disparate artists from the past and present, a shadow in a puddle, two textures side-by-side or the way that paint settles on a surface. What is certain is that my work is always much more about the physical activity of paint than it is about the particular subject. I just love painting and find it all consuming, even when I am not actually with brush in hand. For me, and I assume all painters, it is not something from which one can remove oneself, even for an hour. There is always something to be had from any journey, any experience, any conversation. Another piece of advice by which I live my life is 'What is plan B if plan A fails?' My answer is always that plan B is to make plan A work."
Find out more about Jenny and her work on her artist profile page, where you will also find works available to buy online.
January 1, 2018