We kick off 2019 with an interview with James Bland whose exhibition at Lilford Gallery in Canterbury starts on 25 January. James talks us through the process, technique and inspiration behind a selection of his paintings, and tell us about the training and experiences that led him to become a member of the New English Art Club, starting with his teenage years . . .
"I didn't discover oil paint until I was about sixteen and had already spent a lot of time learning to programme computers. I even had something published in an 8-bit computer magazine, which is now considered very cool, I think. I found that the logic and visual design elements of working with computers definitely fed into my love of painting, and I was quickly converted to making little imaginary worlds on canvas rather than on circuitry. It's a very addictive thing.
Soon after, I put a notice in the Grimsby Evening Telegraph advertising my services as a portraitist. It was about 1996. Amazingly, people wrote and phoned me, sending me holiday photos as well as pictures of their pets and children. I'd never had a job and didn't think this kind of business was particularly odd. It seemed a natural way to use my ability and enthusiasm. But then I went to art college . . . it took many years for me to get back to selling my work.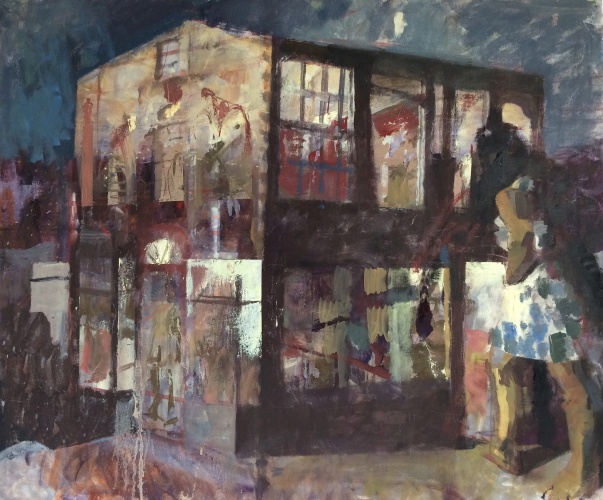 I was lucky to be able to paint and draw people from life on my degree course. My tutors were very old-school. They would often be found sneaking around the back of the life room smoking roll-ups or saying gnomic things like 'there's "pain" in "painting"'. Their hero was Euan Uglow, and it was great to be introduced to his work, although it was also necessary to get out from under this influence. Dave Shutt, Dave Woodcock, Greg Ward and John Long were the painting tutors, with Bob Stone my MA supervisor. The best advice may have been to focus hard on whatever's nearest your eye because, as I was told, 'anyone can paint a beautiful middle-distance.' I'm not sure that's true, but I've given a lot of thought to the tactile side of painting ever since.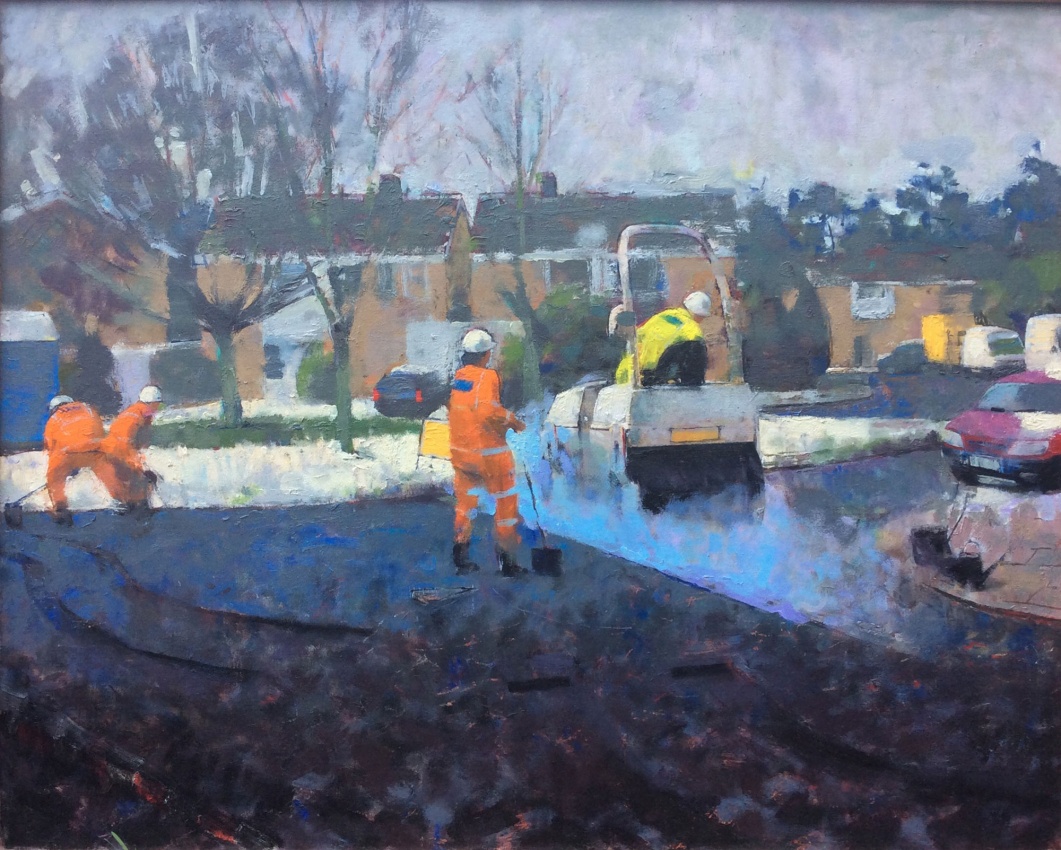 I saw the steamroller one winter. They obviously had to complete the road surface by a certain deadline and were working through heavy snow. The hot tarmac and the cold air were an unforgettable sensory experience, and I became borderline obsessed with the idea of making these sensations register as colour and drawing. The way the plume of steam rose into the air was hard to capture. Compositionally, I was thinking of Constable's Hay Wain.
For a lot of the year I work quite hard but in winter I definitely paint less, and only rarely by electric light. It's a good time to read, play piano, draw, think, or just look at stuff. It's one of the privileges of being self-employed that I can hibernate a little, which is what my body seems to want to do at this time of year.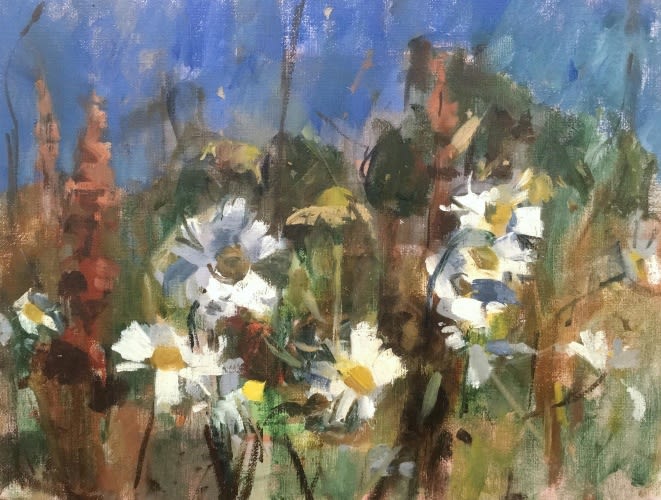 I was shortlisted for a British School at Rome Scholarship after completing my MA but flunked the interview and had to look for a job. During an employability seminar, someone at the jobcentre — not an employee — gave me a really useful tip about teaching English overseas. Soon I was on a plane to Italy, where I had an amazing life. I lived in a flat near the Scrovegni Chapel in Padua and only had to work about twenty hours a week. I went to Venice most weekends through the winter to draw at the Accademia and travelled all across the country looking at art.
Apart from part-time jobs, I never did anything else professionally. The most interesting of which was rowing boatloads of tourists up and down Canterbury's river Stour while giving historical tours. I did that for four summers while a student. Afterwards, I worked as an EFL teacher and as a painting teacher in adult education.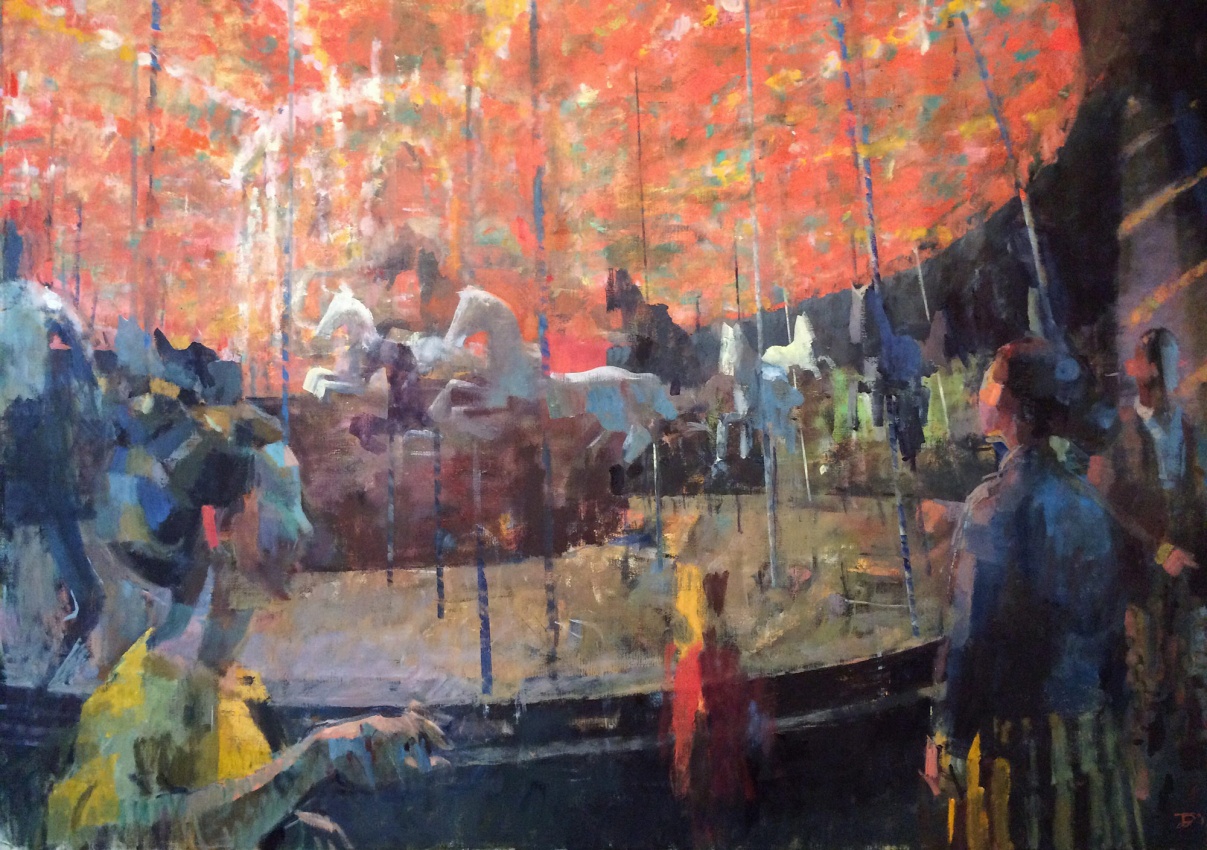 Carousel is an important painting for me. I think it was ten years in the making. The concept was to make a painting about the sensory memories associated with fairgrounds and hopefully also capture something of the emotional character of that experience. The focus was on things like light, warmth and coolness, music and movement. I ended up painting about six paintings of the subject (so far). It's one of the most fruitful and ambitious things I've done so far.
I like paintings that welcome the viewer and don't dictate a response. That said, you want to put some things across when painting, and it's important to check that you're communicating your ideas effectively in pictorial terms. But I've no interest in pushing an agenda — I'm happier thinking that the painting will be a different experience for everyone. Compliments and criticism are always welcome: I know by now which ones to ignore.
Connecting with fellow artists
I joined the New English Art Club in 2015. I'd been painting for more than a decade without really reaching an audience, so this was a big change. I discovered that people from FBA societies are very welcoming, and suddenly I was showing alongside wonderful painters like Melissa Scott-Miller and Peter Brown to name but two. Since joining I've been able to contribute to the education programme through workshops and public demos. I have a name badge with a sturdy safety pin. Getting to know the enthusiastic and warm Mall Galleries staff has also been a pleasure, and I'm looking forward to getting involved with Mall Galleries' new 'In the Studio' initiative, which aims to offer professional practice insights to recent graduates and art students.
One of the pleasures of modern technology is watching this kind of international network of colleagues make amazing artwork almost in real time. There are too many to name. I'm also very inspired by things like early church art, by Japanese and Chinese graphic arts, and by so-called 'decorative art' from many cultures. I don't reference it explicitly, but I'm sure those early video games are still in the back of my mind too.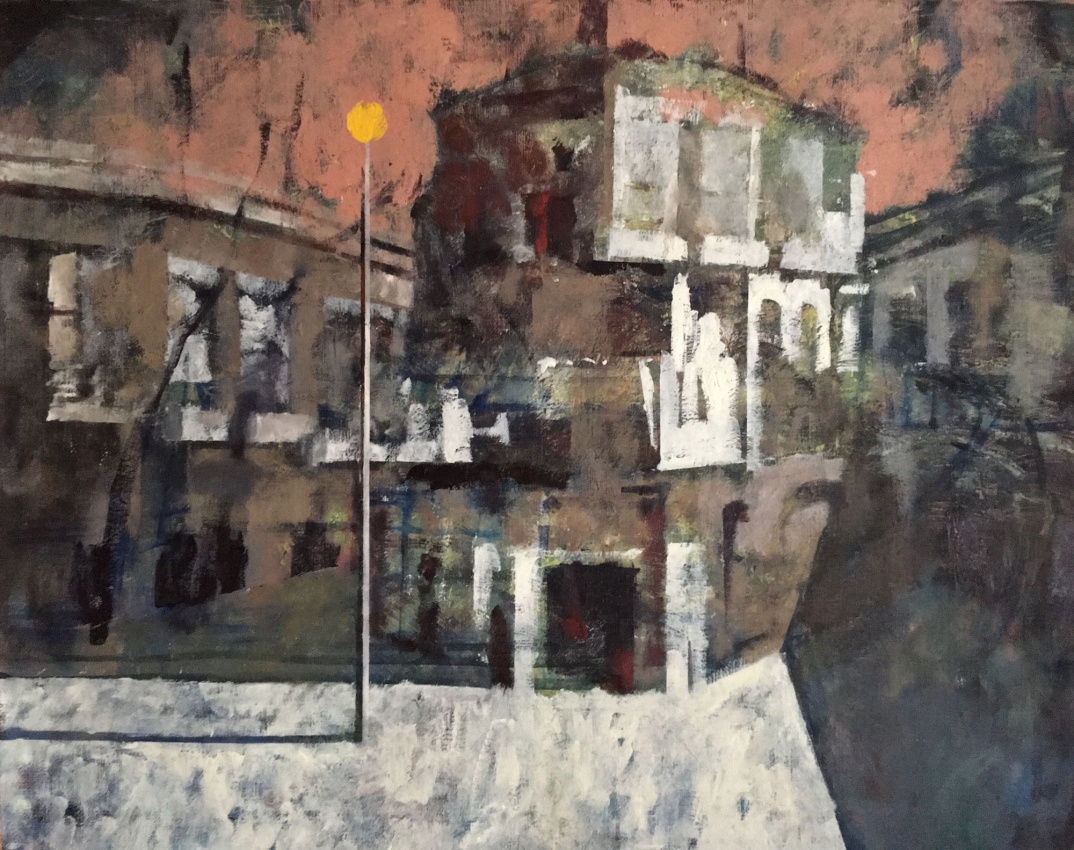 The image of a semi-ruined town or city is something that I keep coming back to. One way of exploring this subject matter has been through collages and photomontages, which are a fun thing to fiddle around with when trying out compositions, and from which I might make drawings of the shapes. Like a kind of 'art Chinese whispers', these sometimes become the departure point for paintings, which then go off in a different direction, according to the different properties of the medium. For the paintings themselves, I use oil paint, brushes, knives and stencils; these are so that I can vary the hardness of the edges. I also used a sharp knife to scrape back through the paint layers. There isn't really one typical way my paintings develop, but this is a pretty good illustration of the way motifs and interests continue to recur in my work over a long period of time.
Find out more about James on his artist profile page where you will also find a selection of his original paintings for sale.
January 1, 2019