In March 2019, I set off with renowned mountain artists Tobit Roche and Tim Scott Bolton to complete the Annapurna Circuit in Nepal, taking with us plenty of painting gear to record as much as possible of the experience as we went. Also accompanying us was cameraman Jack Hextall with rather more equipment than the rest of us (including a drone) and the aim of capturing the whole trip on film.
We three painters covered several mediums. Tobit concentrated on oils, Tim on watercolours (and some oils) and I worked with pastels and also charcoal. Because of the amount of equipment all this involved, we covered the majority of the journey by jeep, stopping at various locations along the route to paint. Some of these stops had been arranged in advance, others happened as inspiration struck. We were constantly surveying the extraordinarily dramatic landscape as it unfolded before us and adjusting our itinerary accordingly. To do this we needed our excellent guide Yam who travelled with us throughout and who was forever rearranging our accommodation and jeep requirements to fit in with our artistic priorities. Stopping, sometimes for two or three days, before moving on to a higher altitude also enabled us to acclimatise and to reduce the chances of succumbing to altitude sickness.
In a country like Nepal, little runs smoothly to plan. Some luggage got lost at the airport including Tobit's painting things, and a huge storm meant the road to our first destination, Besisahar, was solid with stationary traffic. This meant turning back and finding a cheap hotel in the dark and the middle of nowhere. Fortunately, Jack being around forty years younger than we three, found us somewhere within minutes, thanks to his vastly superior abilities at negotiating the world with a few swipes and taps of his phone.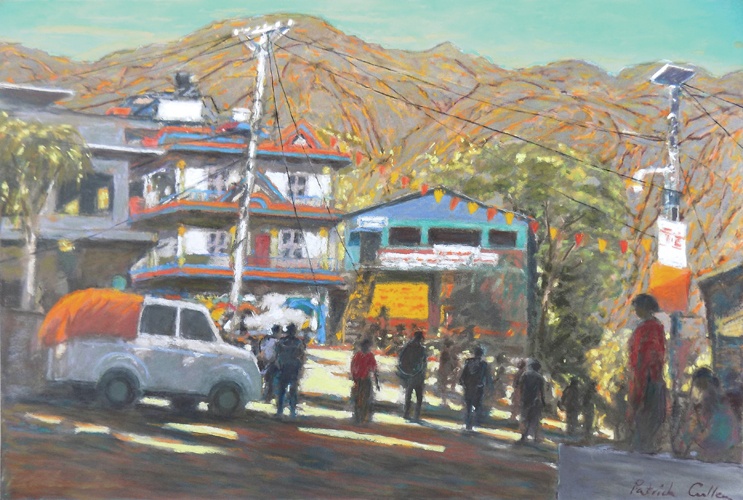 Arriving at Besisahar a day late, we had to wait a further 24 hours while the lost luggage was located and then arrangements made for it to rejoin us by the ever-smiling Yam for whom every crisis was "no problem". This delay produced my first painting. I sat in a little café drinking cups of sweet and spicy chai and watching swallows who had made their nest on the café ceiling flitting in and out just above my head and painted the scene outside. Jeeps were being loaded in the morning sun and trekkers were making their way out of the village to start the long ascent towards Thorong La, the pass through the Annapurna range some sixty miles north of us.
Several stops later we arrived at Pisang, a substantial settlement of largely traditional stone and wood buildings, the timber doors and window frames often painted in a range of blues, from violet through to turquoise. I painted in the quiet, colourful street that ran through the centre of the village with the occasional local inhabitant or passing cow and the ubiquitous Buddhist prayer flags to enliven the scene.
To complete the Annapurna Circuit, one must negotiate Thorong La which at 5416 metres is quite a climb. In 2016, a number of people lost their lives on the pass when the weather changed suddenly. For three days we had to abandon our jeep so we needed porters to carry our gear. Mine had a particular challenge with my large 24 x 32 inch boards. He constructed a kind of cradle for them which he slung on his back but which I couldn't help feeling would act like a sail should the wind pick up high in the mountains. I watched him set off with some trepidation both for my artworks and for the man himself.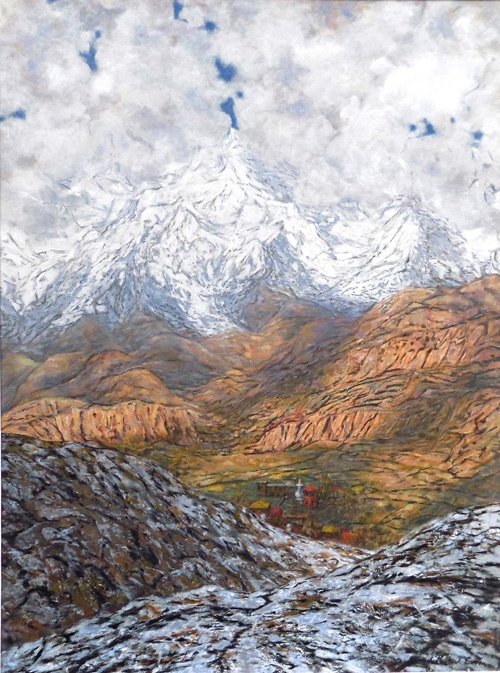 As we approached the final very steep ascent to Thorong La, the clouds increased. The snow was deep, and the weather reports sounded ominous. Storms were circling and it was unclear the day prior to our climb if we would be able to go. Luckily the skies cleared overnight and at four in the morning we set off, almost mechanically to begin with, placing one foot after another in the dark, crampons on my feet, a torch strapped to my head, and following the twinkling lights of other trekkers on the same mission. Two hours later as the sun rose, a very welcome cup of tea was taken at High Camp. Thereafter the climbing became easier and the scenery inspirational: a vast bowl of snow-covered peaks casting long shadows in the early morning sun.

Having negotiated the pass, we reached Muktinath by sunset on foot where I was immediately plagued by acute toothache, a dormant infection probably brought out by the altitude. A visit to the very primitive local doctor's surgery only produced more painkillers (I had some already). But by a stroke of luck, one of a couple of German girls we had befriended on the pass turned out to be a nurse and was carrying just the antibiotics my condition required.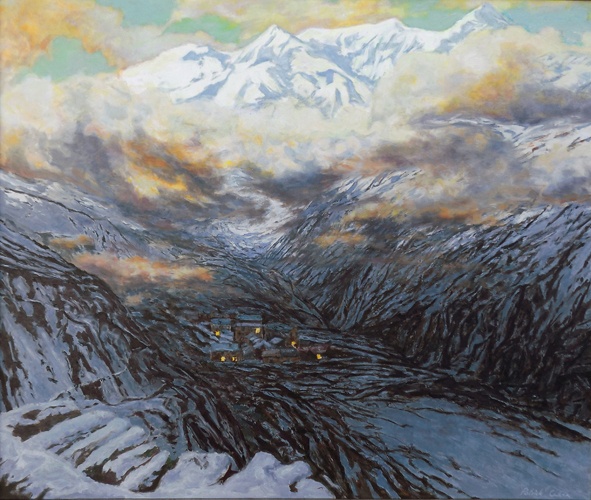 Many of my pastels and charcoals from this trip and a number of oils painted subsequently in my studio will be shown alongside the paintings of Tobit Roche and Tim Scott Bolton at the Royal Geographical Society in Kensington from 13th–22nd September this year. The exhibition entitled 'Out of Thin Air' will also see the first screening of Jack Hextall's wonderful film of both the journey and the making of the paintings. The exhibition is in support of Community Action Nepal (CAN) which is a Nepal based charity whose aim is to help some of the poorest people on the planet: the mountain people of Nepal who live in remote and isolated communities often without roads and who are now suffering one of the worst surges of the coronavirus. Visit www.outofthinair.co.uk for more about this exhibition and the work of CAN.
From 1st–19th November, I will be showing more mountain paintings, plus many other subjects in a solo show of approximately 80 works at Chris Beetles Gallery in Ryder Street, London W1. Visit www.chrisbeetles.com for more information.
To read a longer version of this article with more reproductions of my paintings, look out for the October 2021 issue of The Artist magazine.
September 1, 2021