Nicholas Baldion (NEAC Scholar 2021-22) is on the shortlist for the John Moores Painting Prize for his painting 'Social Murder: Grenfell in Three Parts'. In this interview, Nicholas tells us about this powerful artwork and his motivation for painting it.
Warning: contains depiction of the Grenfell fire
"I'm of the opinion that a painter is more than just an 'eye', but a whole human who is thinking, who is conscious, who is a member of humanity and society. I believe that the artist's role is to reflect the times they live in – to have something to say. This is what I am aiming to do in my work.

"As painters, we work to satisfy a deeply personal and internal need. The pleasure we feel as artists comes from abandoning ourselves in exercising our artistic talent and the formal possibilities a painting can provide. Yet we can't work locked away in an ivory tower indifferent to the rest of humanity.
"I was really excited to have my painting 'Social Murder: Grenfell in Three Parts' selected for the John Moores Painting Prize.
"To be on the final shortlist is just incredible. The painting could have easily sat in obscurity only to be seen by me and a handful of people. It's why I'm so grateful the painting resonated with the John Moores judges, and it's been given a wider reach. Because this painting definitely had an audience in mind.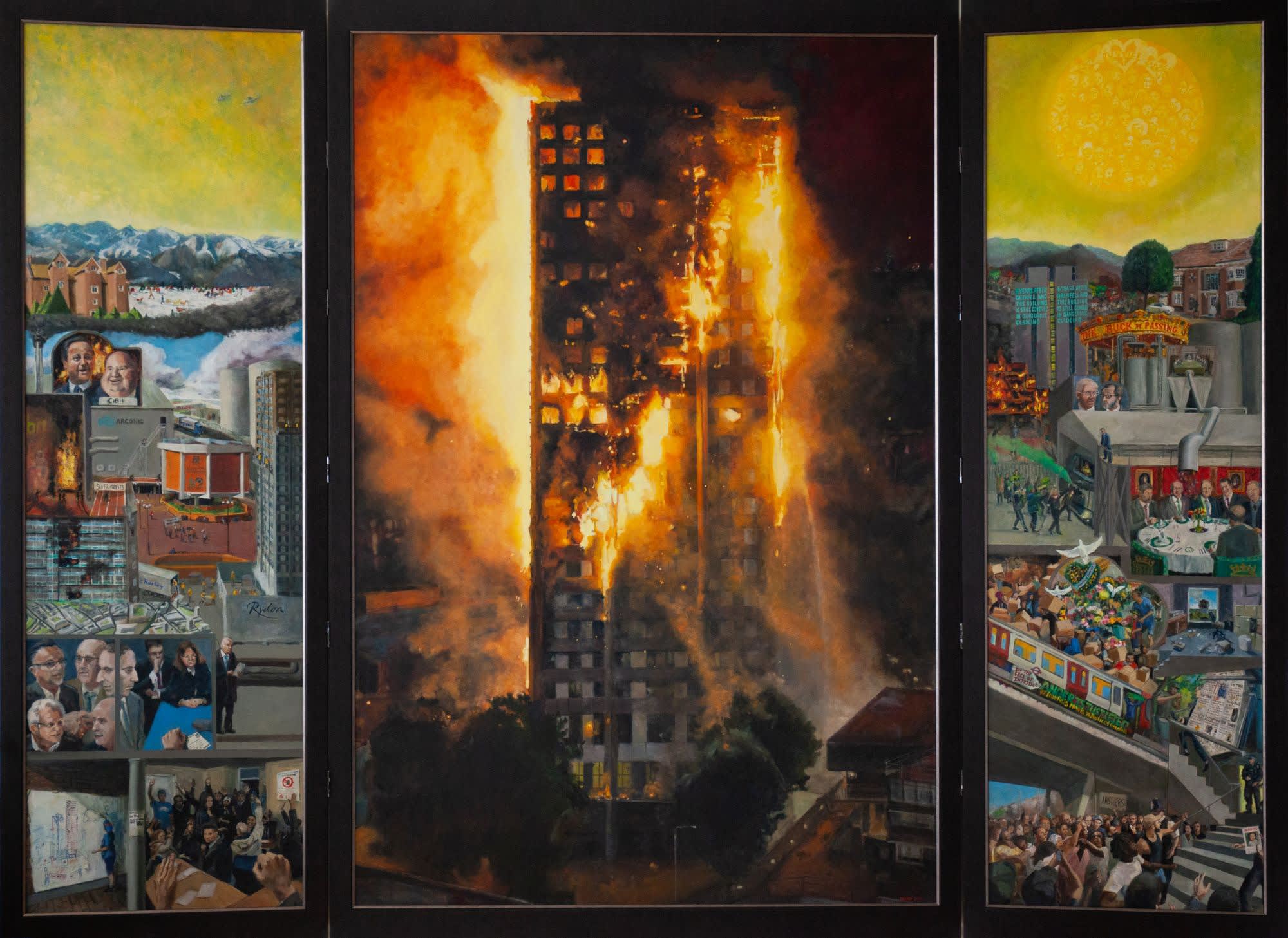 'Social Murder: Grenfell in Three Parts' by Nicholas Baldion - view zoomable image

"The initial audience it was intended for was the community local to Grenfell – my friends and comrades who understood the references, recognised the figures, and even saw themselves and their struggles depicted.

"Knowing that I wanted to show it local to Grenfell is why it took the form it did – a triptych of the old medieval kind which can open and close. This form lent itself to narrative painting – it could tell what happened, tell the story, tell the truth. And it also meant that it could be closed so that it wasn't a surprise and a cruel reminder for local people who witnessed and went through it. But it could be seen by those who elected to see it and wanted to add their own testimony as the painting continued its journey.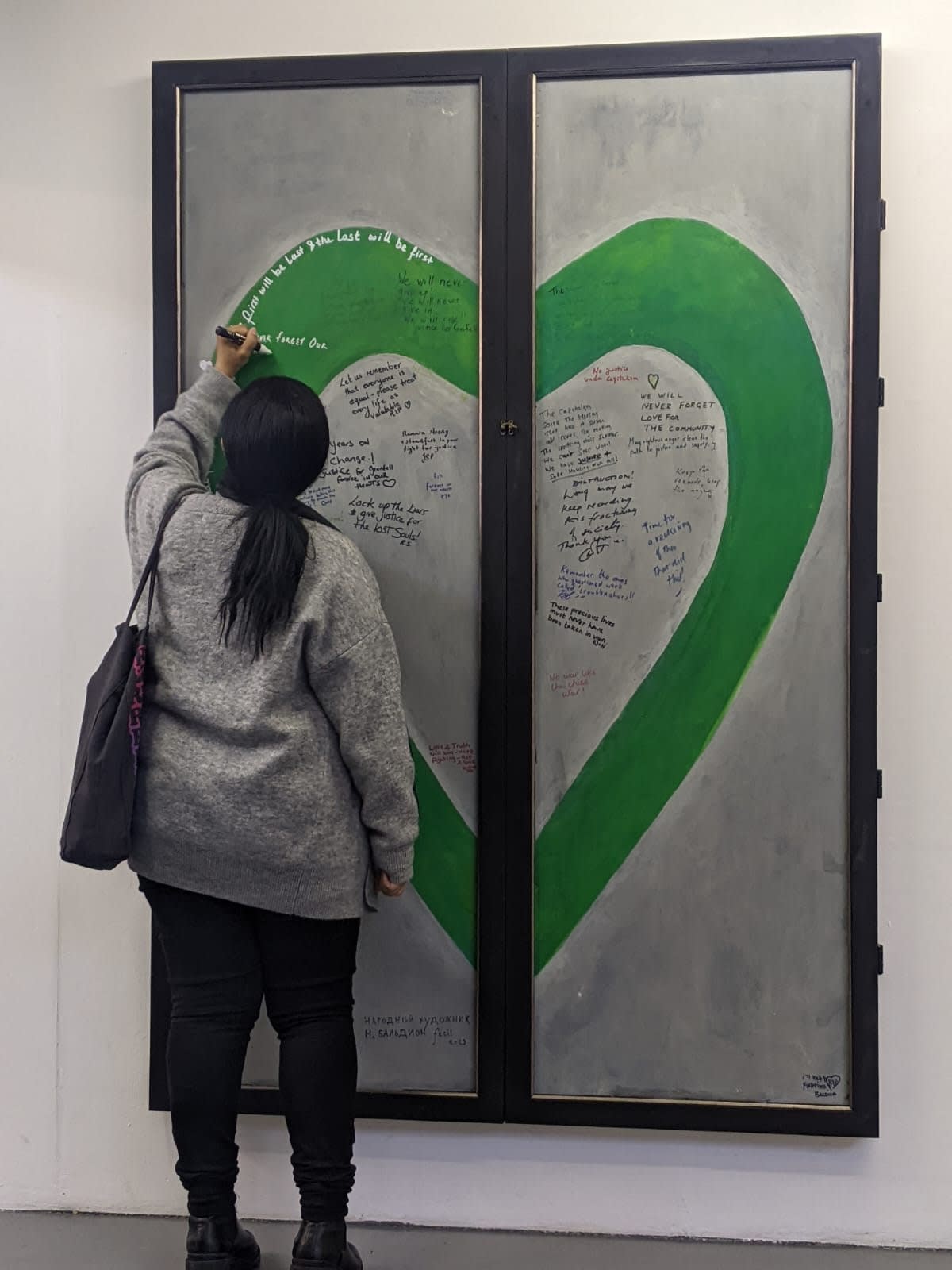 When the panel Is closed, the green heart – a symbol of Grenfell – is visible. The writing on the reverse was added by members of the local community visiting the first exhibition in North Kensington.
"Ultimately it is intended for a wider public. It's not made for decoration or to be privately owned and locked away in a vault, but rather to be public art – to stand as a testimony and motivate people to join the living struggle for justice and safe homes. This is my hope for the painting.
"It was a painting I felt compelled to paint because I was furious, and I still am.
"It's a crime that should never have happened. It was a crime driven by the profit motive and a crime inherent in capitalism. A crime where politicians, civil servants, corporate companies, their shareholders and salaried employees all became complicit accomplices in. It was social murder and yet after six years no one has been brought to justice, no one has faced prison time, and what's worse, the profits continue to flow and the lifestyles of the guilty remain unchanged.
Detail from the left panel - view full image
"When the Grenfell fire happened, I lived in my mum's council flat in Chelsea on the opposite side of the borough. I was active in local politics; we had just been celebrating the victory of Emma Dent Coad in the elections a few days before. Then the fire happened. In the morning, I received a text from a friend saying volunteers were needed to sort through the mass of donations which were pouring in from the wider community. As it turned out, they were overrun with volunteers and there was very little I could do.

"I witnessed this outpouring of donations as people wanted to do anything they could. Meanwhile, the council were nowhere to be seen and completely failed to cope with the aftermath, refusing to request support from neighbouring councils. In fact, fearing unrest, the only support they called for was police support. The Kensington and Chelsea Tenant Management Organisation (KCTMO) staff were also busy 'cleaning computer records' and were 'preoccupied with criminal charges' as they 'drifted around with no leadership' according to an internal email of a civil servant – evidence presented at the inquiry.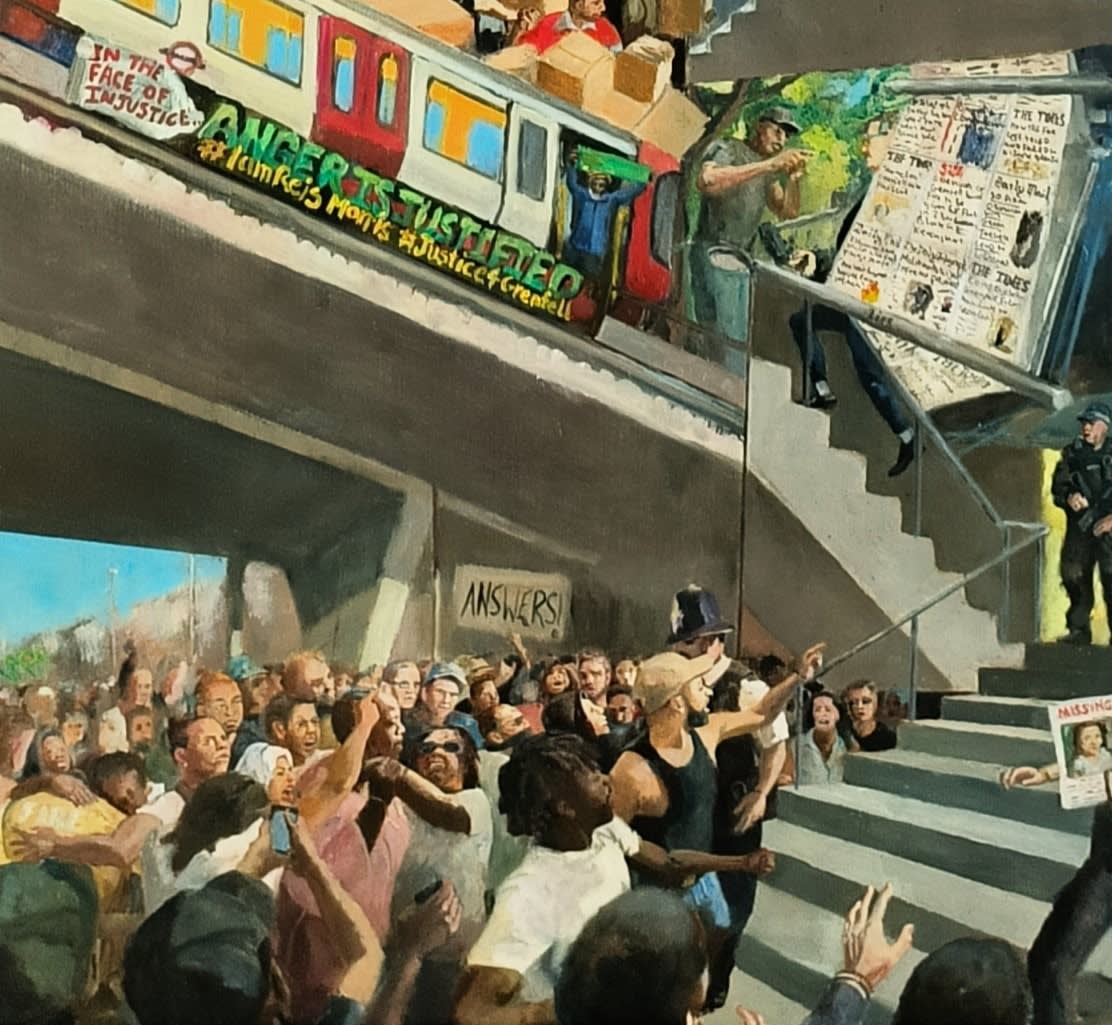 Detail from the right panel - view full image
"I bore witness to the shock, grief and anger in North Kensington. I was lucky; I was a few steps removed. I didn't live there, and I didn't lose anyone close to me. Nonetheless, the fire had a profound effect on me.
"It was after five years of gestation, of closely following the inquiry, of attending silent walks and protests and writing on Grenfell for the Socialist Appeal newspaper that I felt compelled to tackle the subject in my art.
"A lot happened during that time regarding my artistic development. I studied portraiture at Heatherleys and I was chosen as an NEAC Scholar.
"It was a really useful experience for me. I remember speaking with Michael Kirkbride, whom I had adopted as a mentor, about this painting I was planning on Grenfell. I was interested in his complex narrative figurative compositions and quizzed him about how they were constructed.
"Each artist I visited was generous, allowing me to learn from them and peer into their private world, to see behind the scenes of their creative process and artistic visions! I'm incredibly grateful to all of them. It was a big help in my own artistic development and something I would highly recommend to new emerging artists.
'Battle of the Alices' painted in 2022 during Nicholas's NEAC Scholarship year - view zoomable image

"After these five years of gestation, and five years of working on my own craft and artistic education, I finally felt it was time to begin the Grenfell painting. It was nine months of late nights, collecting source material, figuring out what to include, sketching, drawing, adjusting and redrawing, then painting and framing. Until finally it was finished and exhibited in the ACAVA Studios directly opposite Grenfell.
"I'm very proud of this painting. I'm proud it's being exhibited in the Walker Art Gallery and that it's been shortlisted for the John Moores Painting Prize.
"I think it's a painting that will connect with the people of Liverpool. For one thing, it's a city that still has much of the wretched cladding up. In Liverpool, there are people who have been ruined by the cladding scandal through no fault of their own – people who are still sleeping in dangerous flats. In England, at least 10,000 buildings remain covered in flammable cladding. And really, the purpose of the painting is to be a work of art, yes, but also to be a weapon – to be a living testimony for posterity, to motivate people to join the living struggle for justice and safe homes."
NEAC President Patrick Cullen added, "Well done to Nicholas for producing such a brilliant piece and achieving so much with it. I felt very moved by what he said about how he sees his role as an artist and his need to respond to something like the Grenfell Tower tragedy. It struck a strong chord with how I have been thinking regarding my own artistic practice. Some things in the political and social sphere have such a profound impact on our lives that not to respond to them in our work feels almost impossible."
Further Reading
September 2, 2023