One of our newest members, elected in June 2016, Craig Jefferson offers us an insight into his world. He tells us about his path to becoming a full-time artist—his education and influences, his process and method of working, as well as advice for young artists ...
Art Education
"I started out at Leith School of Art (LSA) on their Foundation Course in 2002. It's a small, privately run art school. Their big thing is drawing. For the first two weeks of the course we did nothing but draw from a still-life set up in the middle of the studio. It was dull. And that continued with every project. We always started with drawing. I was beginning to question whether I'd come to the right place. But at some point, near the end of the first term, something clicked with me. I started seeing differently; there was a shift in my brain or something. I started to really enjoy drawing and it's all I could think about. I remember just staring at things in wonder thinking of how I would draw them. I would zone out in the middle of supermarkets staring at rows of jars on the shelves. My family thought I was losing it!
Phil Archer, the principal at LSA, became something of a mentor and he's still a good friend now. He always talked about Cezanne and repeated quotes like, 'Painting from nature is not copying the object; it is realizing one's sensations.' This kind of thing really resonated with me and still does. Phil has a disciplined character and he taught me to be disciplined too. I was surrounded by great teachers there. Paul Martin and Matthew Storstein had a huge influence on me. They loved to paint and that came through in their teaching. I learnt everything I know about painting from these guys.
After LSA I went on to Edinburgh College of Art. There's not much to be said about my time there. It was basically a nice studio space with a view of the castle. The method of teaching was a lot more hands-off and we had tremendous freedom to do what we wanted when we wanted. I just kept working.
Diversions: biology and breakfasts
Although I loved art and did well at school I actually went to university to study Biology. I didn't see art as a lucrative career option. After a year of study I decided I didn't care about money and left my course to pursue art. I'm glad I did. I might have had more money if I'd stuck it out but I wouldn't have seen the world the way I do today.
Since art school I've done all kinds of other jobs alongside my painting. It's only in the past two years that I've gone full time. One of the worst was serving breakfast in a hotel. A lot was expected of us and being on the breakfast team we never got any tips. They even binned all the leftover cooked food and left us eating cereal! I've also done a lot of work with children, working in a nursery for a while and community development work with the Army Welfare Service.
Before moving to Northern Ireland in 2015 I was back at Leith School of Art teaching. I loved working there but I made the decision to commit myself fully to painting for a few years. I envisage teaching again in the future. I'd love to take on apprentices who'd work closely with me in the studio.
Influential artists
There are two groups of artists that I'm particularly influenced by. The American Bay Area artists: Richard Diebenkorn, David Park, Paul Wonner. These guys were around at the same time as the Abstract Expressionists in New York but they never moved completely into abstraction. They held on to representation. David Park called it a 'hook' that gave people a personal connection to his paintings, a way in. I like that idea. I enjoy paintings that are abstract and representational at the same time. Paintings that push abstract relationships while still finding their reference point in personal, tangible, real objects. That's what I try and do.
David Bomberg's school of painters are the other group. I would look mainly at Bomberg, Auerbach and Kossoff—artists who love paint. There's a sense they feel the depth and substance of reality. Bomberg said, "The eye sees only fronts, and the mind, on the whole, is satisfied with fronts. But intuition needs all-roundedness, and instinct needs insideness. The true imagination is forever curving round to the other side, to the back of presented appearance."
This quote sums up a lot of what I'm about . . . 'curving round to the other side'.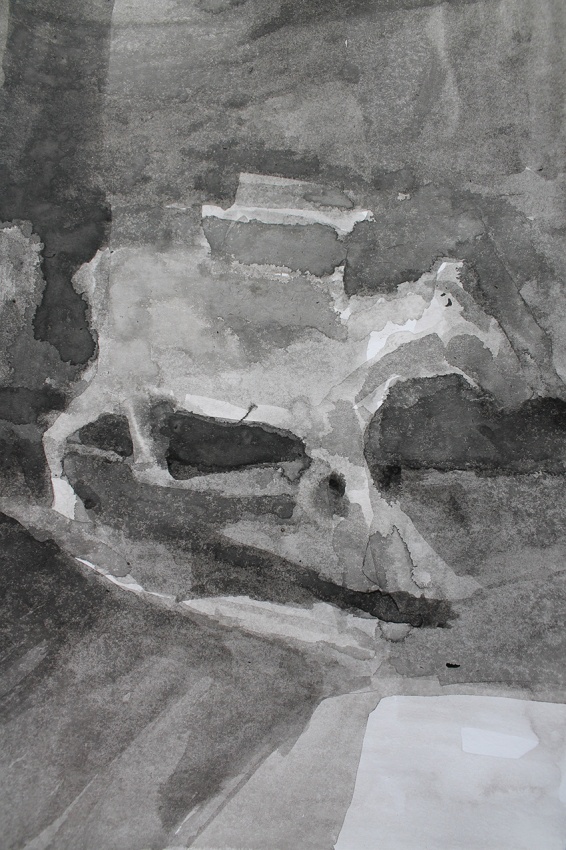 'Observation is always the starting point'
I do a lot of straightforward observational studies usually in graphite or oil pastel. I have a collection of objects and models that I work from most of the time but I also do portraiture and landscape work. Observation is always the starting point. It gives me ideas and gets me going. I move from there into more major works.
I find the rest of my process really difficult to explain. Mainly, I think, because what's going on in my head is intuitive so there aren't really words. A couple of years ago I made a video documenting the process of a painting. It's a stop motion video of a load of pictures taken through the course of a painting over a six-week period.
As I make a painting I'm trying to balance and work out a whole host of things. There are the objective things like representing the physical form of a chair in space, and there are subjective things like what an 'empty chair' means to me. I'm also juggling the abstract relationships within the painting. The effect of one colour on another, the gesture of an angry mark juxtaposed with a quiet mark. Surface, movement, line. I put paint on, I scrape paint off. There's a lot going on and I don't think they're ever really finished. In fact I often rework paintings after I've exhibited them.
'Expect rejection'
The viewer is important to me. Although my work is very much about a personal experience and process, I want that to be shared. I want others to be as challenged and enriched by the work as I am. Showing my work is generally a hard thing to do. Fewer people get it than do. They tend to either walk past or stand and squint their eyes asking 'what is it?'. That's hard. Artists tend to take things personally because their work is personal. The easy thing would be to make work that pleases people and makes them feel good but that's not me. Instead I've had to grow a thick skin and learn to take rejection on the chin. That would be the advice I'd give to any young artist—expect rejection. Expect rejection and try to turn it into something that spurs you on rather than gets you down.
Of course, on the odd occasion, people do respond to your work and that's always nice. I've had viewers break into tears in front of my paintings! It's a language thing. Some people get it and some people don't.
'I hate cleaning my brushes'
I don't have a daily fixed routine. I tend to work intensely especially if I'm working on a big piece. I could go all day without taking a break and I usually miss lunch. I'm very messy. When I'm in the studio I just want to work and tidying feels like a waste of time. I hate cleaning my brushes. As well as work clothes I've got a pair of painting slippers that I have to put on every time I go into my studio to stop me tramping paint through the house. I work from the studio most of the time. If I'm uninspired or just tired I tend to sit and draw- usually head studies or little still life compositions. There's a café I go to in the town some mornings where I read, write down thoughts and do little drawings. I always find when I take time out like that, it benefits my time in the studio.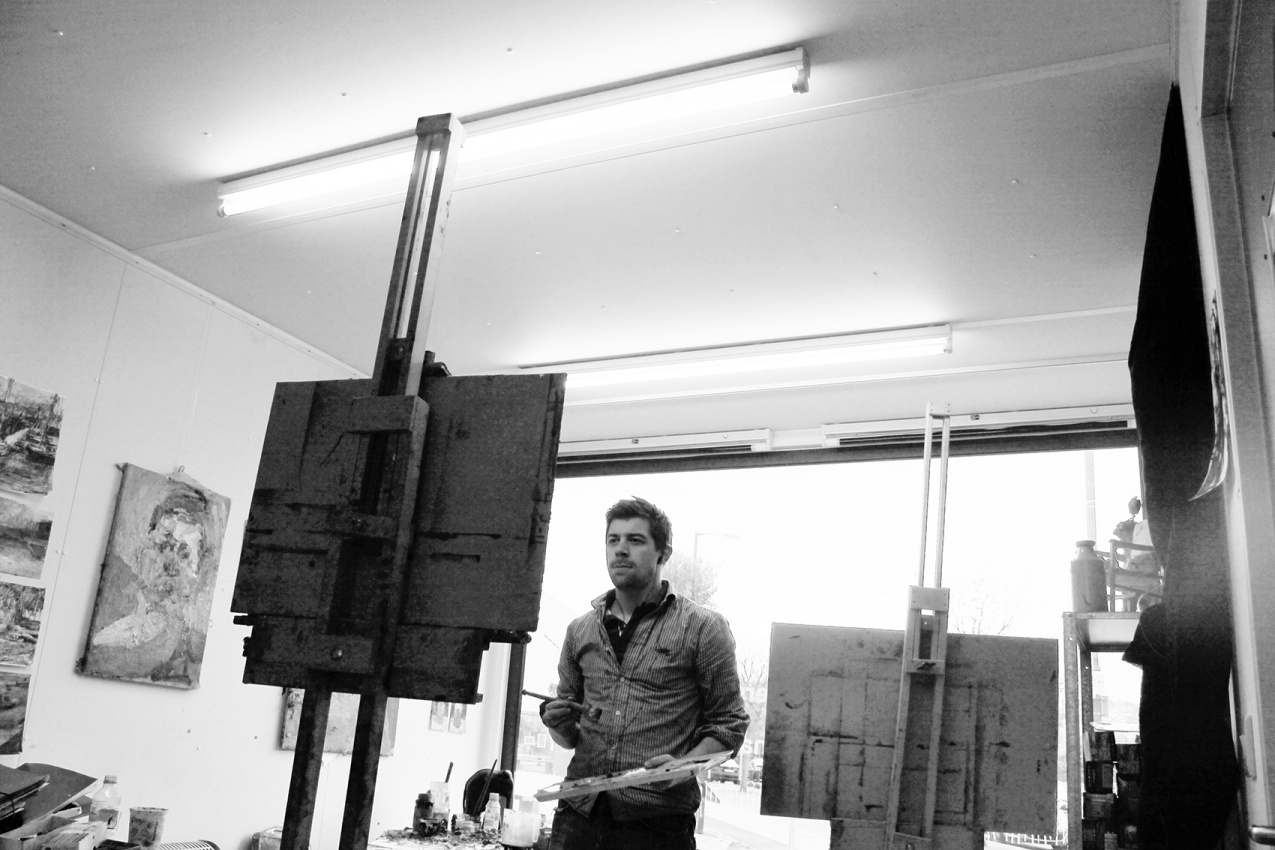 My favourite piece
There are a few pieces that I've made at pivotal points that feel really special. My favourite is one of the first oil paintings I ever made on my foundation year. It represents the day I knew I would be a painter. I saw what paint and colour could do. Before I did it I was set on studying Illustration because I was average at everything. I really was an average, if not below average student but in this painting everything changed. At the end of the year I passed with distinction and received the prize for painting. We had an end of year show and I think I sold everything. I remember thinking I was going to be rich. Maybe one day!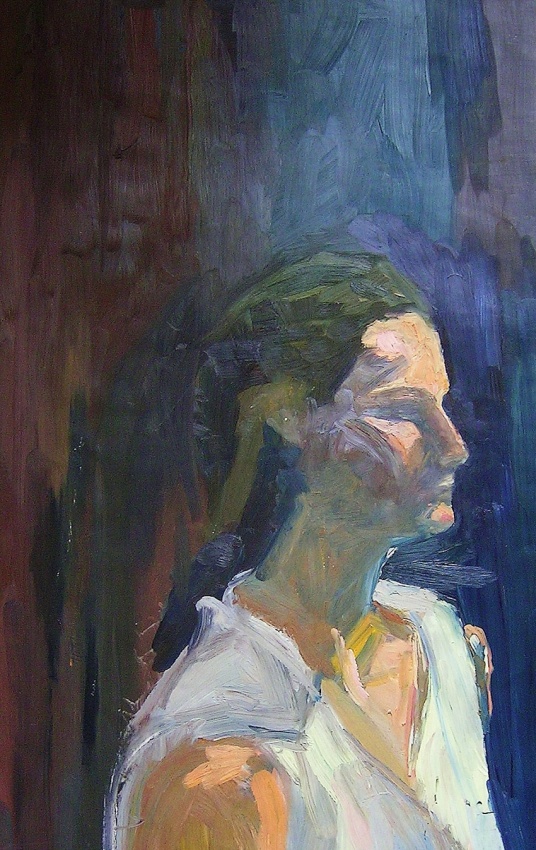 On being elected to the New English Art Club
I became a member of NEAC in 2016 and I'm delighted to be included in such a fantastic group of artists. It has helped me to raise my profile in London and the Annual Exhibition offers an excellent opportunity to show work. It truly is an honour to be a part of this."
Find out more about Craig on his artist profile page. We also have a selection of Craig's paintings for sale in our online shop.
January 1, 2017