Robert E Wells is one of the New English Art Club's newest members, elected earlier this year. We are delighted that Robert took time out from his painting to tell us a bit about his work, influences and training...
"Faced with the prospect of leaving a Northern Secondary Modern School in the 1970s, it is fair to say for many of us the options were not exactly appealing. I did however resist considerable hostility towards my chosen path and enrolled at Art College. What precisely followed is now a little too hazy to recall ... but at some point, I headed south, joined a band and settled in South West London, only marginally a little worse for wear.
I knew from childhood I would become a painter, although I suspect my decision was coloured by the principle that starvation might inflict itself less quickly as an artist than musician, even though looking back it was a close call.
Return of the Nabi
My admiration for artists changes on an almost weekly basis. I have recently returned from Paris – home to what I consider the finest gallery in Europe, the Orsay Museum. I am always amazed how quiet it can be. I guess I can thank the Louvre for soaking up most of the passing trade. Almost anything in the rooms dedicated to the Nabis group would get my vote, at least for the time being. I recently completed a large studio painting of my daughter Chiara sleeping . This was developed from an oil sketch based on a sketchbook study, influenced by a Vuillard, as seen – and almost forgotten – in the Nabi rooms.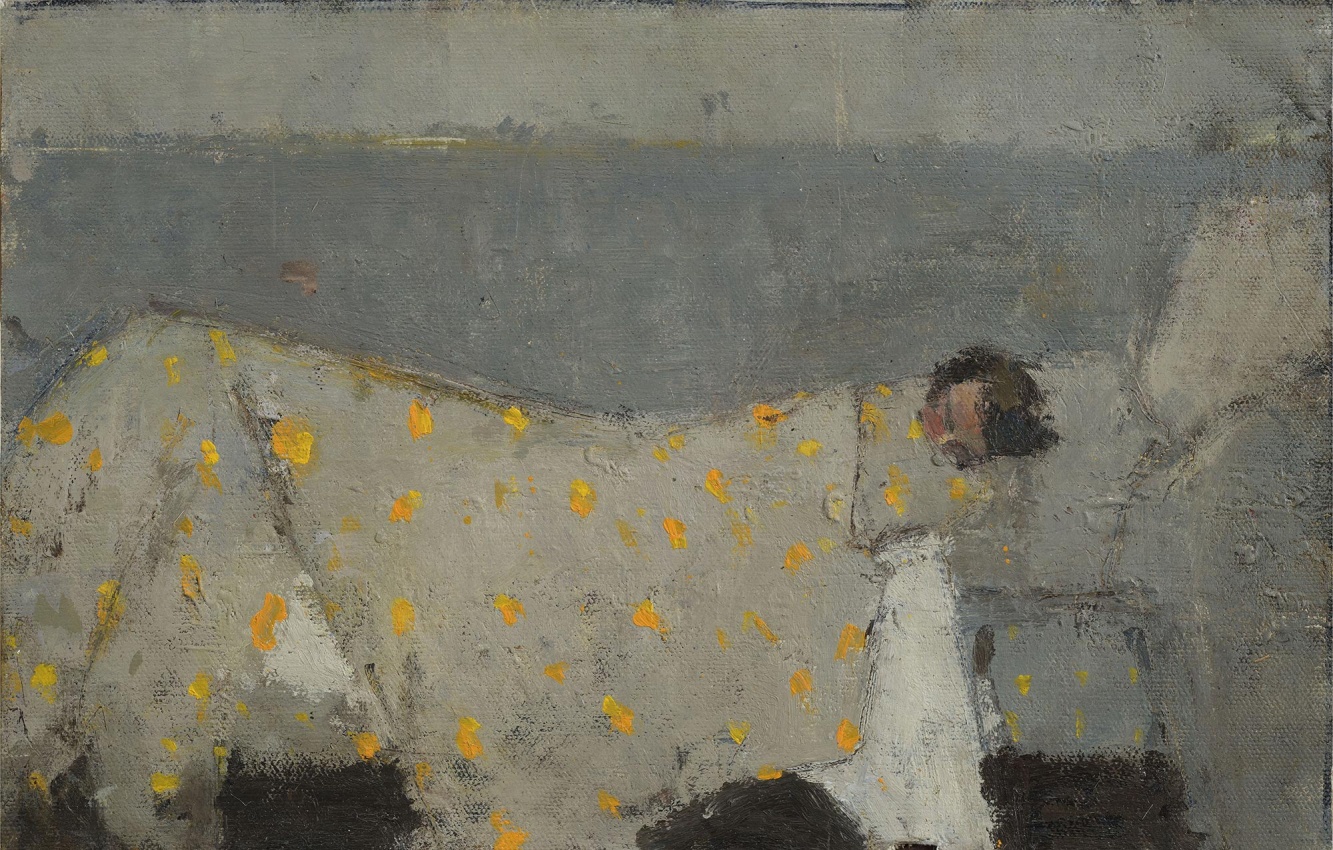 The vast majority of my work is filtered through my sketchbooks which I work on most days. In much the same way as comparing the Joe Orton Diaries to his actual plays, they have the power to reveal far more about the human state than what ends up on the wall. I am slightly happier with works that 'behave themselves' – as in the ones that seem to almost dictate their outcome from the start. They tend to have the strongest resonance and that extra element that is not always possible to achieve through desire alone.
Back in the studio, our children leave for school at 7.30am and my day starts usually around then. I do not have a strict time frame, or working pattern but if not physically painting then I am in the process of assimilating information. For me, the day is very much open ended.
Red Dot. Red Bus.
Oh, the joy of the first proper sale! Mine was a page removed from a sketchbook and sold in the RA Summer Exhibition. The red dot seemed to pulsate so brightly, most likely enhanced by the wine, but brightly nevertheless. I felt compelled to keep returning on the off chance it had slipped down the wall and onto the floor.
Red buses were a common inclusion in my earlier London works as a simple device for elevating mid-tonal ranged paintings. They could be quite effective and rather popular with some people. On a painting trip to my spiritual home in the North Yorkshire Moors I was quite flattered to be approached by a nice couple who, familiar with my work, stopped to ask if I ever paint anything other than London... Oh, the joy indeed.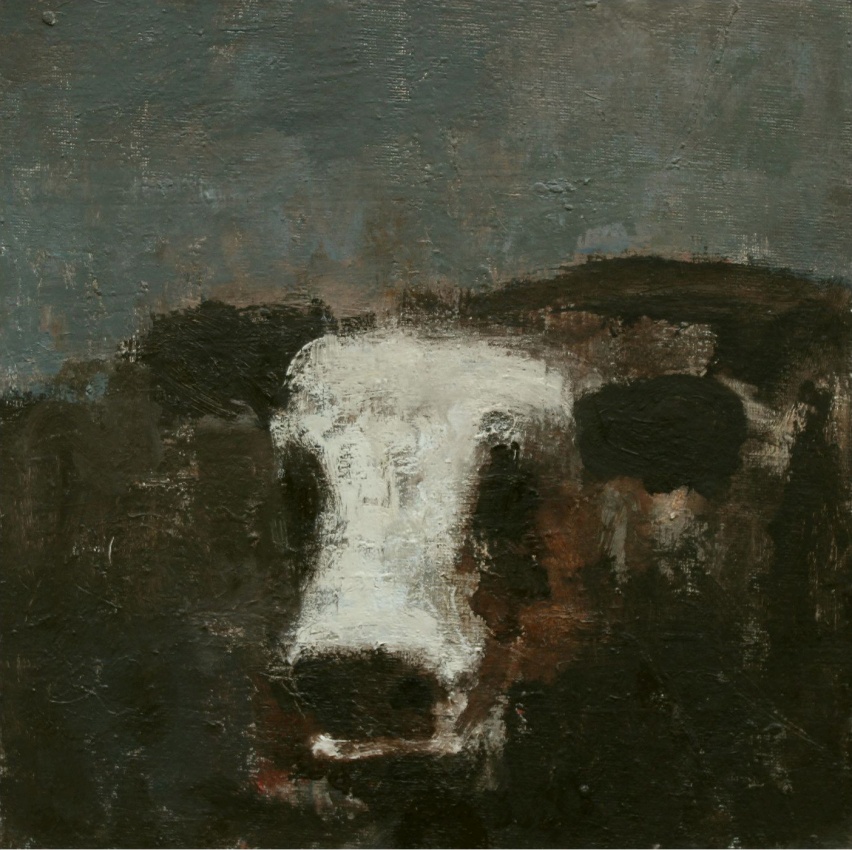 Gothic Cows
My current project is based around white-faced cows I find them both appealing and yet intimidating at the same time. There is a meadow adjacent to Pevensey Castle with a particularly fine herd and have been painting there recently. There is a stream that cuts through the land which is ideal, so I can always keep water between me and my curious friends ... just in case.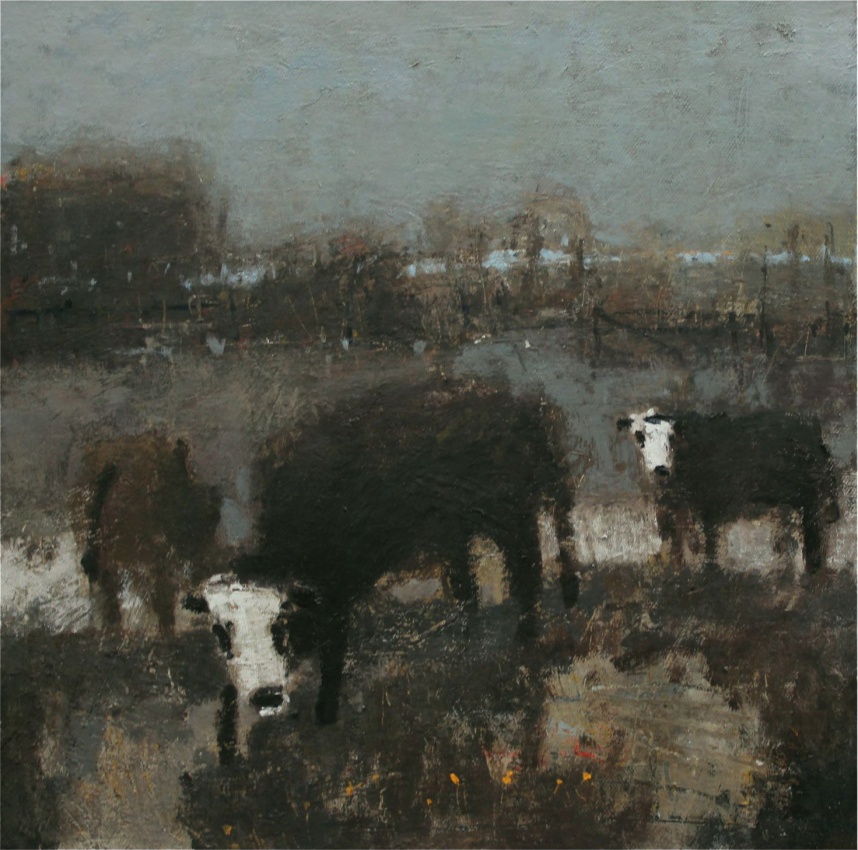 I became a member of the New English Art Club in June 2017. It means a huge amount to me on a personal level. I see it as a fine tradition and heritage of which I am proud to say I am a part of."
Find out more about Robert E. Wells on his artist profile page where you will also find original artworks for sale.
November 1, 2017