This month, we're delighted that Richard Pikesley took a break from preparations for our Annual Exhibition in June to tell us about his art training; his time as NEAC President (as he approaches the end of his five-year term); and what he plans on doing with all that extra spare time . . .
"I think I always wanted to be some sort of artist. From an early age, I'd watch my dad putting things together from bits of scrap, practical but unlovely. He'd never let me help, thinking I was too cack-handed. Maybe the frustration of that experience gave me an itch to make things. I remember drawing all the time, but pursuing a career as a painter seemed out of reach. I was doing science A levels and allowed in the art room for a bit of therapeutic painting on Friday afternoon when I met a girl, and then her Dad, who was a painter. And then a visit to the Van Gogh exhibition at the Hayward Gallery changed my life. The art teacher at my school, Donald Plenderleith who I later discovered had always thought I should go to art school, made some phone calls and got me in to Harrow School of Art to do a foundation course. I was left to tell sMum & Dad about my slightly-revised life plan.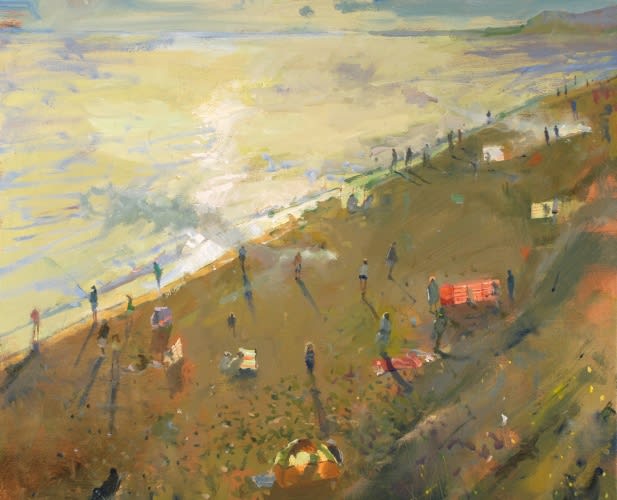 'Paying the gas bill'
Like a cat, dropped from a great height, I fell on my feet. Harrow was wonderful. It was their last year in the old buildings before they moved to the new campus. As well as the foundation course, there was a world class studio ceramics department, fashion and illustration courses and a pub sandwiched between the two buildings. My teachers included Sam Marshall, Phil Hicks who ran a sculpture course and Ken Howard who taught part time. Ken was a great teacher and immediately became a big influence. After Harrow came Fine Art at Canterbury where - for two of my three years - my tutor was the late, great, Ian Dury. I exhibited paintings wherever I could, but there wasn't much prospect of paying the gas bill on the proceeds of my painting. So I taught full time in a number of schools before stopping teaching to paint full time in 1990.
In those early days, I was a member of an exhibiting group led by my old teacher, Don Plenderleith. We had a set of display stands and had 'pop-up' exhibitions at a variety of venues around West London. These were mostly libraries, but every now and again we had the foyer of the Post House Hotel at Heathrow Airport. A few sales of small, packable pictures to desperate travellers on a last minute hunt for souvenirs helped to pay for paint and materials to keep me going. Between college and work, I had a summer job at the old Winsor & Newton factory in Harrow. It was a wonderful finishing school for a painter, and after mornings spent filling tubes of oil paint, I could wander around the factory at lunchtime to watch the extraordinary talents of the brush makers and canvas primers, and all the others who - in those days - did everything by hand. Winsor & Newton let me join their team of painter demonstrators once I'd finished college, and the fees and free materials I had for that work made a big difference to a young painter. Also in 1974, in my first year out of college I was elected to the New English Art Club. At 23, I think I may have been the youngest ever.
'Fascination with the light'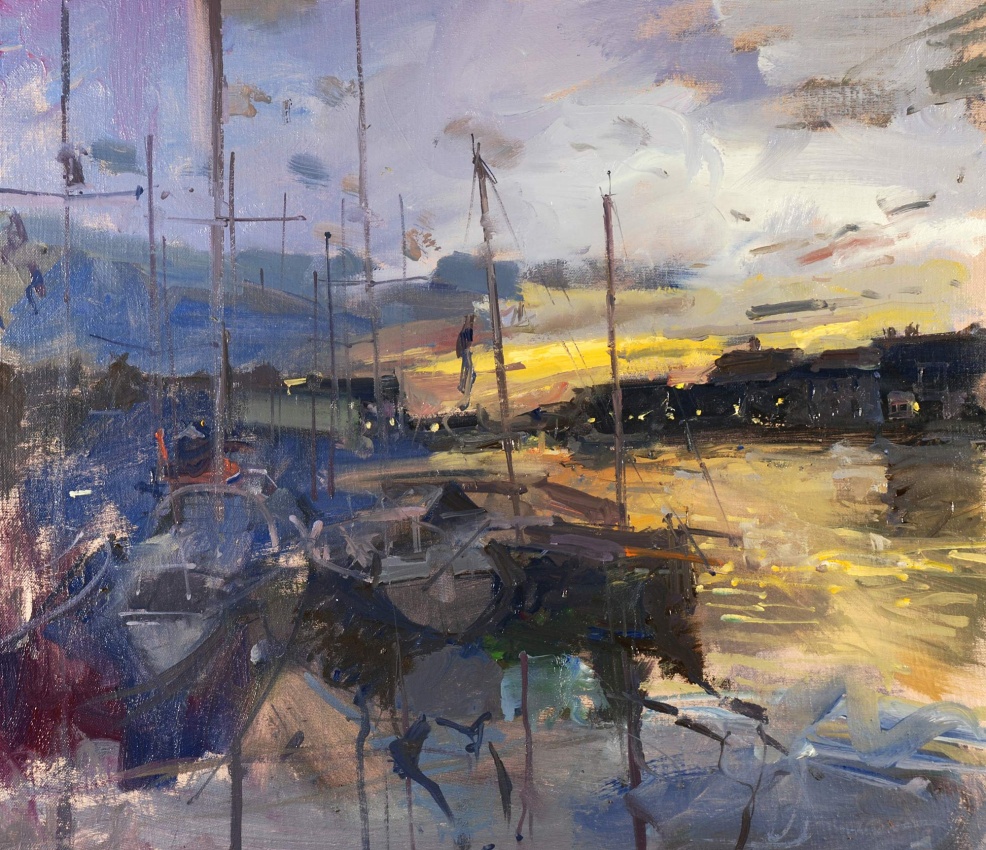 Those years of teaching pushed me into a routine of painting which continues to be influential. Wherever I taught, I always seemed to live half an hour's drive away. Teaching and living - at first in the Chilterns and then moving down to West Dorset - there was always landscape to paint. With my gear permanently in the panniers of my motorbike or later in the back of a Land Rover, I could usually manage to paint on my way into work or on the drive home. Painting through the year like this meant I'd often be painting early or late in pretty marginal daylight. This fascination with the light at these times has stayed with me and is still there in my work for this year's New English exhibition.
A recent work: La Passeggiata, Study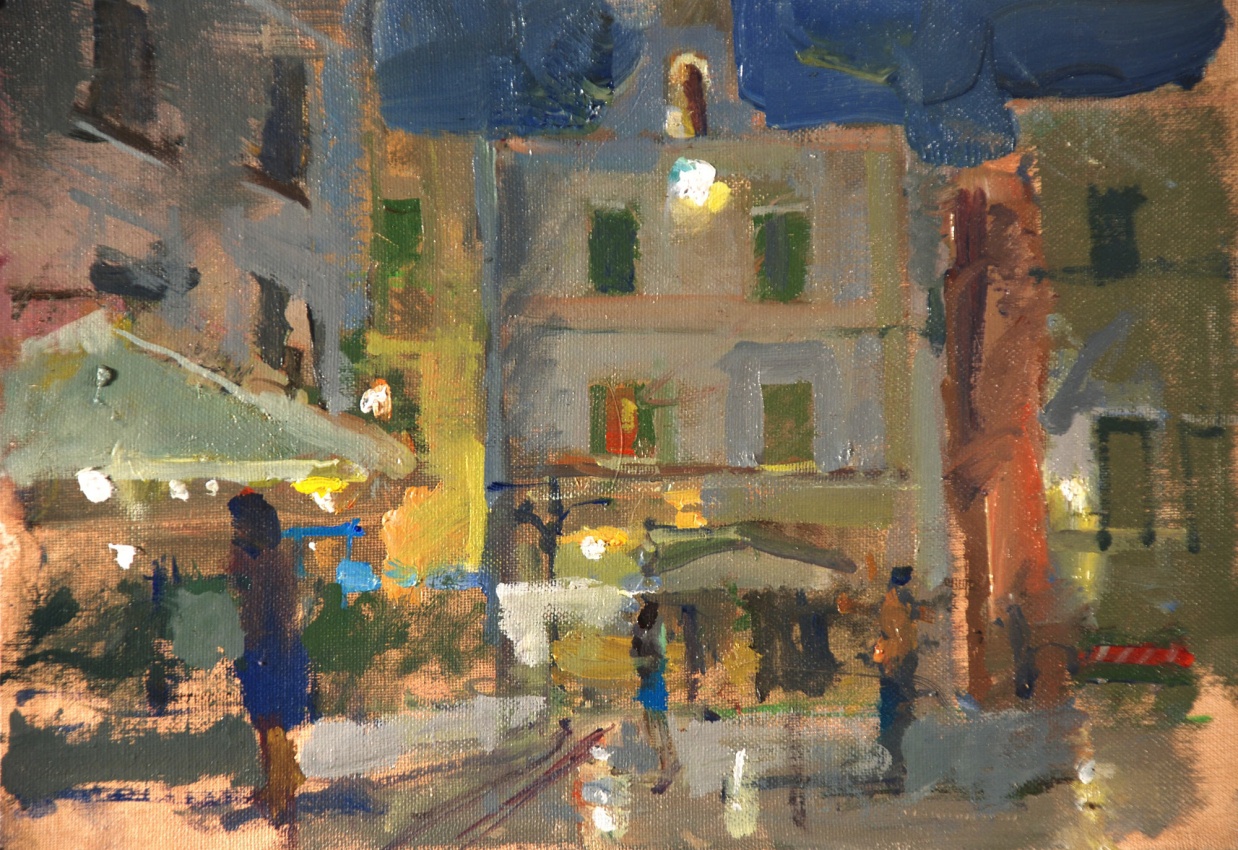 This was painted in the town square in Polignano, on the rocky Puglian coast of southern Italy. I was there in September with a group of painters on a trip organised by Spencer Scott Travel. This tiny painting was made necessarily rapidly as a teaching moment with my students sat behind me on some rather smelly dustbins. The light from the sky was fading very quickly and the balance between the sky and the emerging electric light was the thing that fired me up. About fifteen minutes on the spot, then left untouched.

'The paintings...begin talking to each other'
I moved to West Dorset in 1980, buying a house with a little bit of land and half a dozen outbuildings in various stages of collapse. Little by little we've worked on the house and buildings and I now use the stone cider barn alongside the house as my studio, and another building where we construct and finish frames and where Debbie and I can indulge our shared passion for making stuff. There are horses and sheep too, as well as our children and grandchildren now, so it's a pretty full life. Having a good sized studio means I can work on a number of things and arrange them so that groups of paintings, complete and unfinished, may be seen in one 'eyeful', and these connections between pictures will bring an exhibition to life. Having the framing here also helps in that I'm not losing sight of most of my work in the run-up to a show. I generally have a solo show every year and try to plan a body of work that will hang well together. As the number of paintings grows, they sit on shelves or propped up around the studio and begin talking to each other, so something learnt on one painting develops on another. The pictures that don't join in the conversation are generally the ones that get left out as the catalogue for the show is finalised.
Support system
In 1984, I'd been teaching for ten years and was beginning to feel I needed to refocus. Ken Howard kindly invited me down to Mousehole and we spent much of a day going through the car-load of pictures I'd taken to show him. He hung on to three little paintings and took them to show David Wolfers at the New Grafton Gallery. Happily for me, David liked them and from that year on, he showed my work in all of his mixed exhibitions and then in solo shows. David was hugely supportive and did what few gallery proprietors are able to do today: he followed his taste. He was also happy to nurse an artist through a show or two when not much sold, and if he thought you were good enough, to keep going. I owe David so much and still miss him. After his death, I moved to the Russell Gallery where Sarah Russell, who had worked with David for very many years is still so supportive.
In the six years between David Wolfers starting to show my paintings and leaving teaching, my network of galleries and contacts steadily grew. So by 1990, when I felt ready to take the plunge into full time painting, I felt I had a bit of a support system. In a funny way, the mini recession that hit the UK economy at the time also helped as people still seemed to want to buy paintings, and as a 'new boy' just starting out, my pictures were cheap! A key part of this struggle to become a bit more established was my membership of the New English. As a member, I've been privileged to have so many friends who I wouldn't otherwise have met. It has always been like an immensely supportive family.
Another recent work: Afternoon sun, Polignano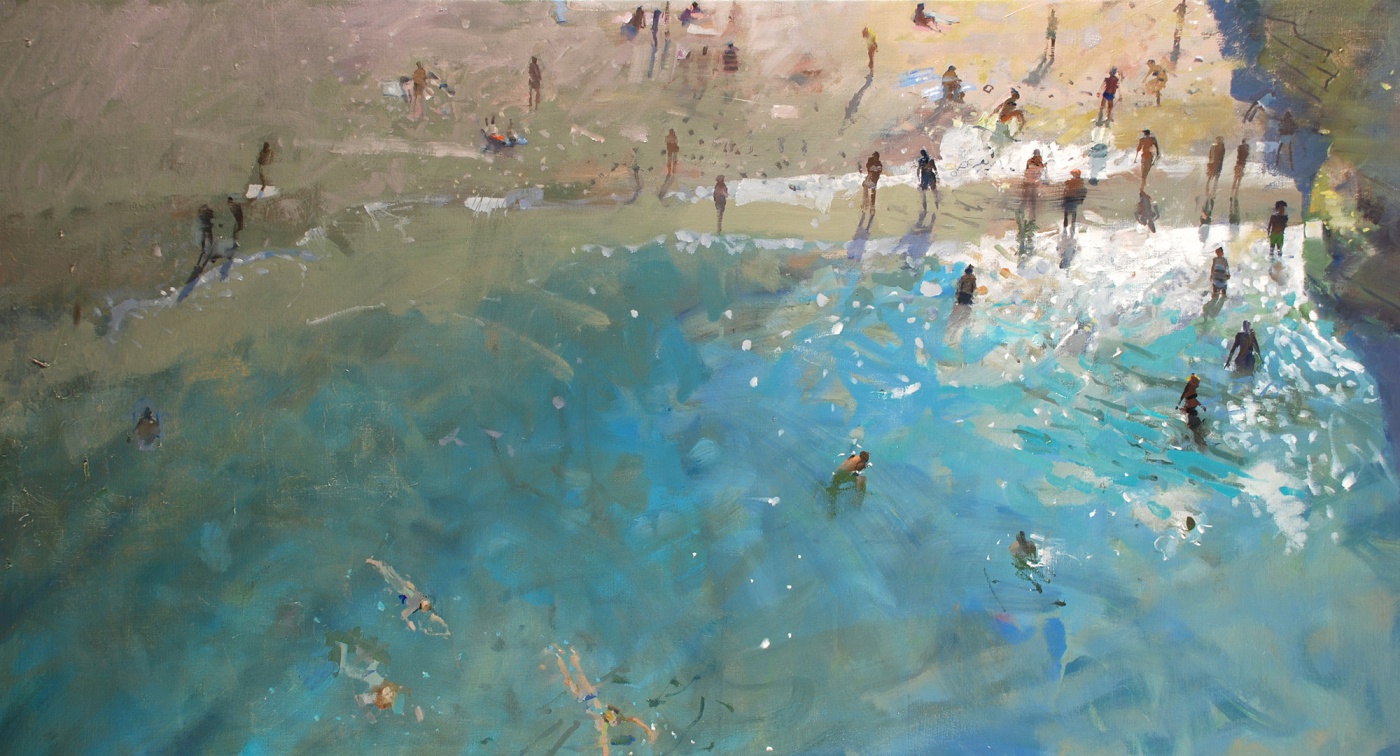 Another picture from the Italy trip with Spencer Scott Travel. This was painted in the studio from a series of drawings and watercolours made on the spot [see image below] squashed into the corner of a balcony above the cliff, by a jostling crowd, with just about room to balance water pot and paints.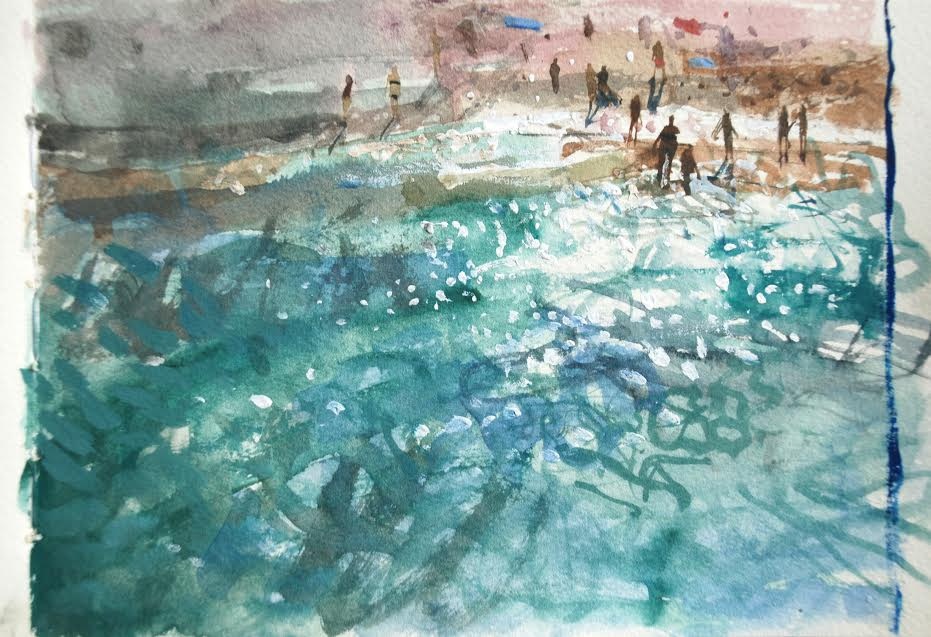 The New English Committee
I've been involved with the New English executive committee for about thirty years and President since 2013. William Bowyer led us throughout that first period as he had done for many years. I remember epic meetings at Bill's, or in various members' houses and studios around London. They would always start with a convivial meal, followed by a leisurely meeting, so finishing at perhaps 11.30pm. I'd then have a three-hour drive back to Dorset, keeping myself awake with an open window and frequent cups of coffee. The work of the executive committee has changed hugely over the years, and developments such as the website and a busy exhibition programme keeps the whole team working very hard. I'm hugely indebted to the wonderful exec members who find time to commit so much effort to keeping the New English moving forwards. The website project especially, dreamt about for many years, has been very exciting - a huge leap forward for the society and a terrific shop window for all of our artist members.
'A vibrant future for the society'
As I approach the end of my term as President in June, I would like leadership of the club to be handed to the generation coming up. This is a particular challenge as painters in mid-career, often with young families, already have a very busy life. However it's important for the New English that it should be led by those who can see a vibrant future for the society as well as its illustrious heritage. These days, we're quite a broad church, with painter members from narrative and more abstract inclinations, as well as those of us who are more squarely in the painterly figurative tradition which has been associated with the New English over many years.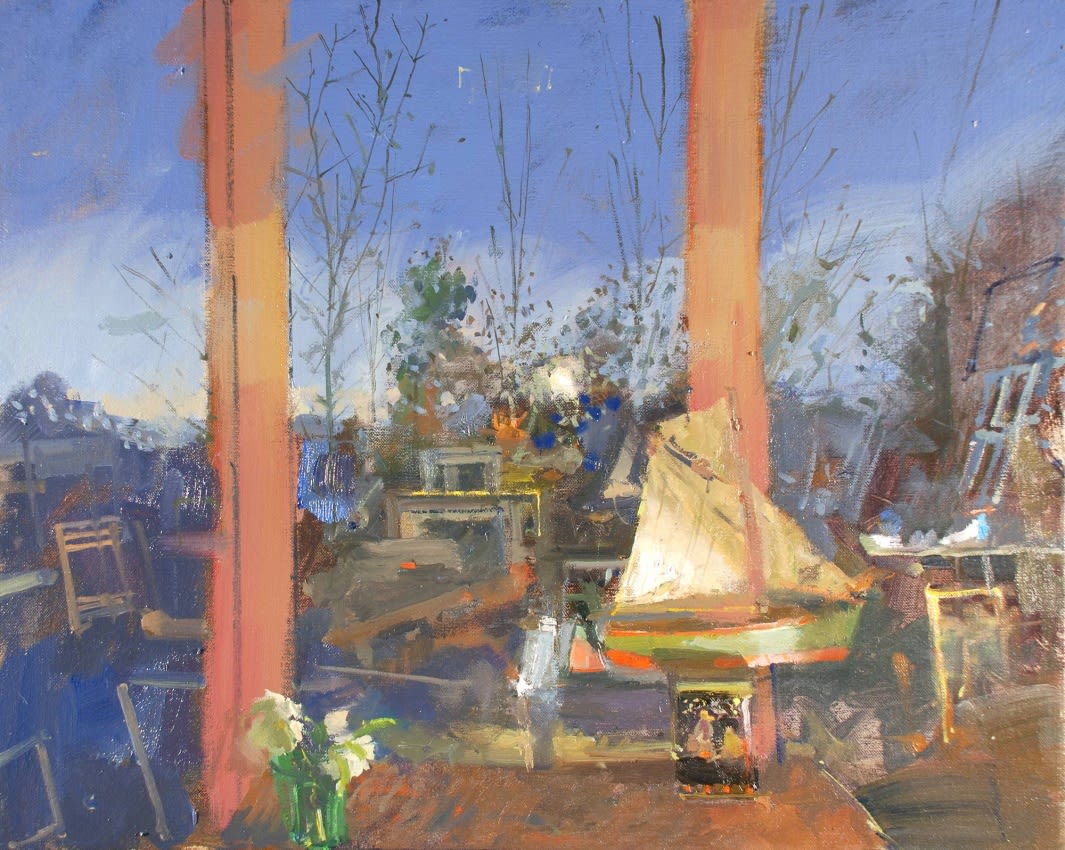 So, what now?
Along with all the work, being president of a society that I truly love has been enormous fun and a real privilege. It's given me opportunities to be really closely involved with all of our activities and I'm going to miss the excitement of making things go with a swing. I have an alarmingly full diary for 2019 and beyond, with projected exhibitions at Fosse Gallery in Stow on the Wold and the Threadneedle Space at Mall Galleries. My next solo show will be at the Jerram Gallery in Sherborne (22 September-10 October) and I'm looking forward to teaching another painting holiday with Spencer Scott Travel in early autumn, this time to Isola di Ponza. I'm also enjoying writing a book on landscape painting for publishers Crowood Press due to be published at the end of 2019.
Find out more about Richard Pikesley on his artist profile page, where you will also find a selection of original paintings for sale.
May 5, 2018