Richard Sorrell is a painter of invented figurative paintings – 'people doing things'. You can read his biog and view works for sale on his profile page. We were delighted that Richard took time out from preparations from his forthcoming BREXhibITion to talk to us about the evolution of his work, the use of humour in his work, and his reaction to a certain referendum . . .
"My life as an artist has been a process of absorption of anything and everything around me – and the remaking of these bits of impressions into a credible alternative reality. I wanted to claim the whole of art history as my ancestry and all of life as my subject matter. This wild aim inevitably narrowed, and now I think of my painting as deriving from the narrative painters, the line of Brueghel, Hogarth, Stanley Spencer for instance, who were absorbed by the concerns of their own times, but drew inspiration from the art of the pre-Rennaissance, where in the absence of an ordered classicism artists invented and responded to what they saw around them. These Medieval conditions gave rise to, for example, the misericord carvings of everyday life and the illuminations of the Luttrell Psalter. I have observed in myself an inclination to make stories.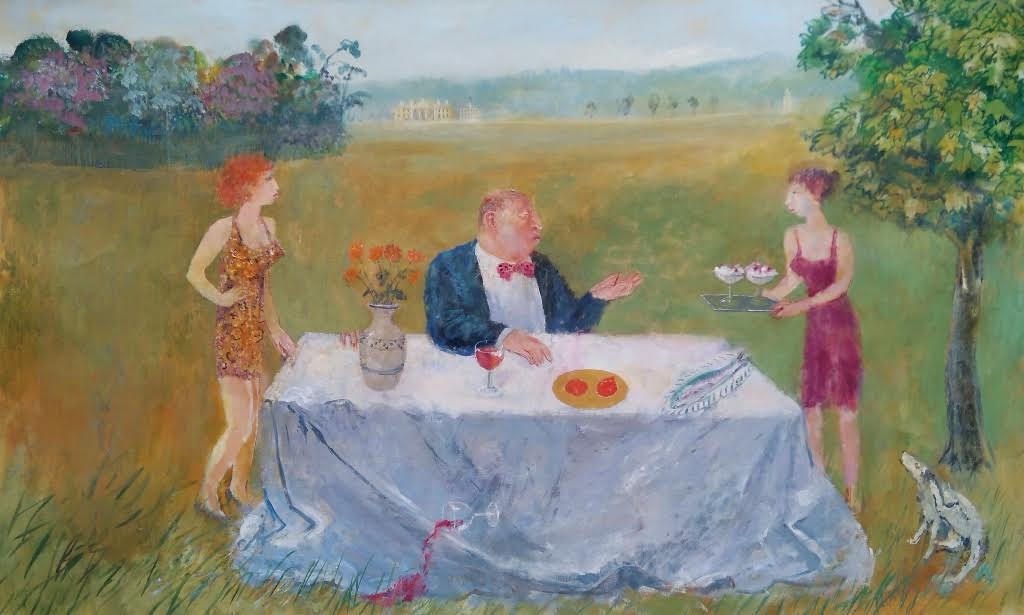 'I came from a family of artists'
I can't avoid being a narrator. I came from a family of artists: my father Alan Sorrell was a Neo-Romantic painter and draughtsman who later made a speciality of archaeological reconstructions, and my mother Elizabeth Sorrell was a fabric and wallpaper designer who became a distinguished painter of fine and intricate watercolours. My training at Walthamstow, Kingston and the Royal Academy Schools lasted for seven years, and since completing my training in 1972, I have lived as an artist, never having another job nor a teaching career.
As a young man I painted landscapes, still life and a few portraits. This kind of painting depends on the observation and rendition of light playing on objects and scenes. I would take my paints and easel and sit in a field and paint. After a few days a finished painting would result. I very rarely put figures into my landscapes – they seemed to change the meanings of the paintings and to dominate the scene. I found this a difficult problem and discovered that the only way to paint a landscape with figures was to conceive the picture with them in from the start.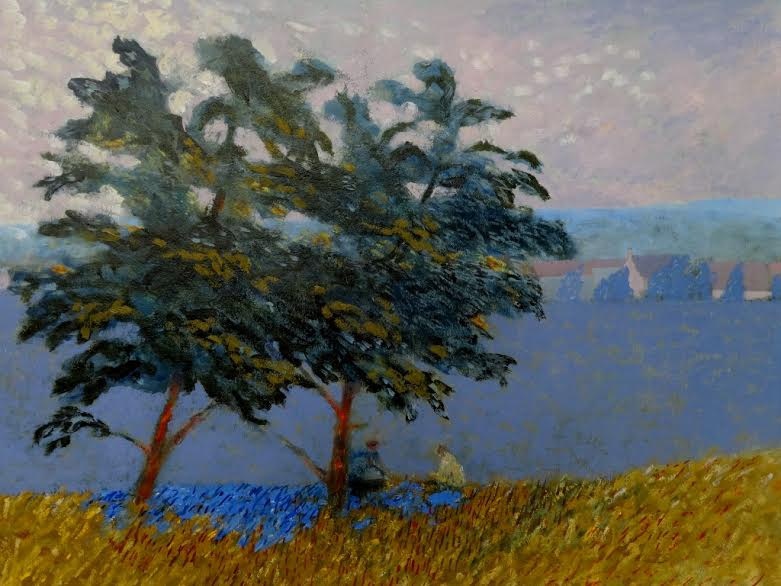 'A bridge between objective and subjective'
At the same time as painting these 'Objective' renderings of observed reality, I was also painting 'Subjective' paintings that were about things rather than light, about people and their inter-reactions. For quite some time, these two unrelated types of painting went along together. I would try to amalgamate them by, for instance, starting a painting as an invention of people doing things, and then trying to finish it using actual models. This didn't work. The pictures became laboured and heavy. I tried to work out how I could make a painting of a landscape, which is by its nature passive, more dramatic and significant. I did a number of complicated aerial views of grand houses. These were worked out from maps and plans put into perspective, and then elevations were made on the perspective plan. I made hundreds of sketches and built up these pictures to show a view, sometimes a historical scene, as if from the air. These pictures were more successful and did make a bridge between objective and subjective work.
Make 'em laugh . . .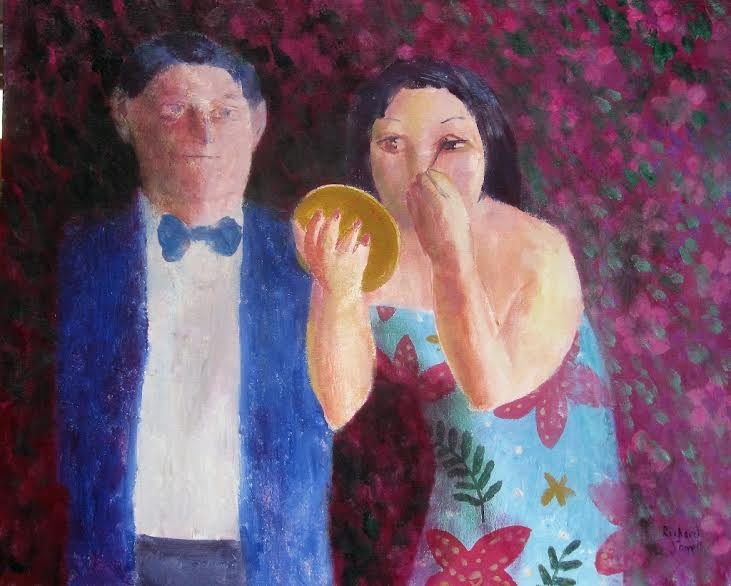 Gradually I became more absorbed into the subjective paintings, and now these are almost exclusively my output. I was concerned with these invented pictures, as earlier with landscape paintings, to make them more dramatic and significant. I found, as many other painters have found, that power in painting comes from a direct and 'primitive' approach that involves the viewer strongly. A picture, I believe, must have a 'way in' to it, which depends on attaching to a viewer's own experience. I found that if I could make someone laugh at a picture, they would start to identify with it, and then perhaps find in it a hidden quality that was the main meaning of the work. I drew subject from everyday life – people in restaurants, people standing and talking, women doing their make-up. I have never experienced a crisis, for instance like the First World War that made Stanley Spencer's Burghclere Chapel paintings so significant, and it seemed to me as a citizen of post-war peace and prosperity that humour rather than sadness and tragedy and anger was my abiding emotion.
'Exit from Brexit'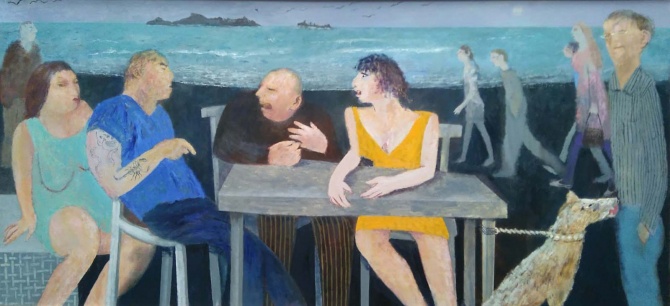 I was astonished by the result of the EU Referendum and very disturbed by the rise of populist far-right across the world, and suddenly it seemed to me that everything had changed. For the first time in my life I became involved in politics and decided that the big show of my work that is planned for 24-29 July should be dedicated to an 'Exit from Brexit'. This show of over 150 pictures, including some over two-metre paintings, is closely associated with a picture book that I have produced 'After Mostly, a story of Downsizing', a riches-to-rags story.
The pictures in the show are grouped in the headings of 'Luxury', 'Nature', 'Urban Life', 'The Sea' and 'Wilderness'. There are also a few political paintings. During the somewhat frantic preparations for this show, probably the most productive period of my life, my studio has become more and more congested and untidy, with projects started and left incomplete whilst others go on (they usually get finished eventually!) Every so often the congestion threatens to take over and a big clear-up is called for.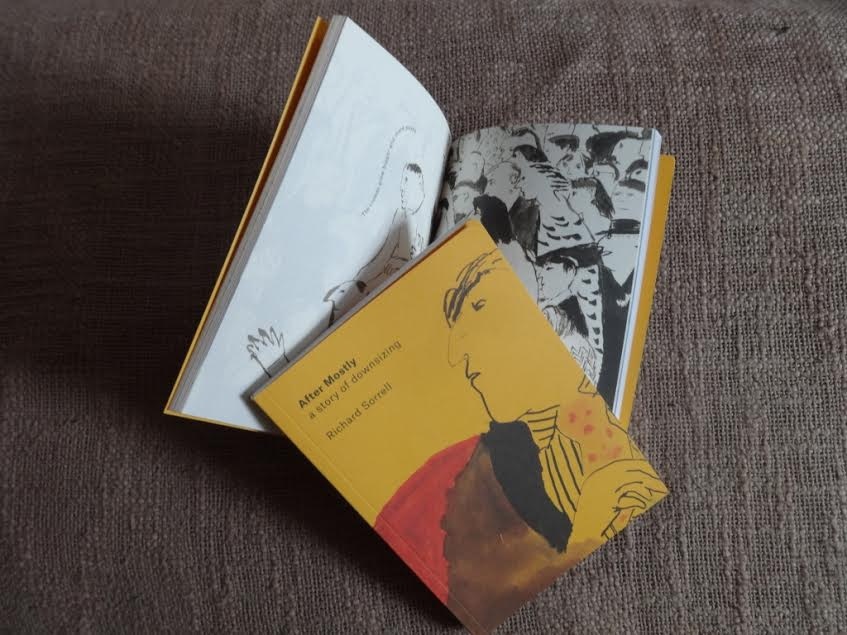 'Thursdays are generally set aside for gardening'
I work in oil paint, acrylic and watercolour. I also draw with pen and brush and ink and with charcoal and bodycolour. I make small scale sculptures and outside of this I work on the extensive gardens around our house in Cornwall. There is no particular routine, except that Thursdays are generally set aside for gardening. I tend to work on a large number of pictures at the same time, and I believe going from one to the next, trying to vary the types of activity during a day, and I feel that this promotes a freshness in my work.
The importance of societies
I was elected to the Royal Watercolour Society in 1975 and became President of this society from 2006-9. I was elected to the RBA in 1985 and to the NEAC in 1994. I also belong to the Small Paintings Group, The Art Workers' Guild and the Chelsea Arts Club. These societies are very important. They provide wonderful places for artists, who are often isolated for much of their lives to meet and talk about their work and ideas; they are great places for showing work and perhaps for selling it, and they are fine places for meeting a public that is interested in art.
Painting and drawing is a language, very slow and difficult to 'speak' or 'write', but very quick to read and comprehend. Like any language it is an exchange, and whilst it may to some extent please someone to find himself eloquent, it is of little point if he is talking to himself. An audience that reacts to paintings, and to whom the painter also reacts completes the relationship, and makes for conversation rather than soliloquy.
'A Man Looking at a Tree'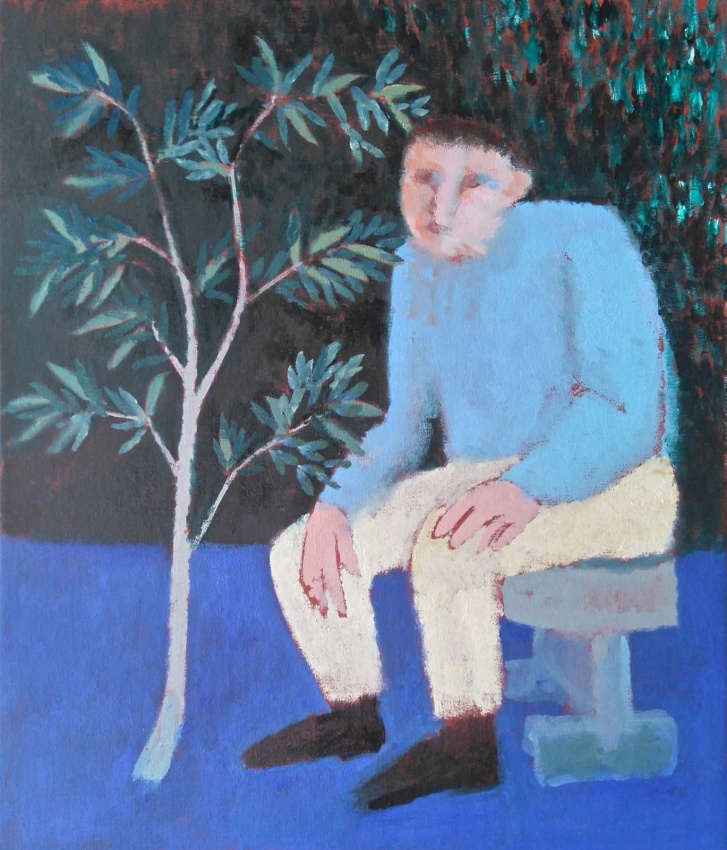 'A Man Looking at a Tree' was painted after the EU Referendum and shows a man sitting quietly and sadly by a small tree as if trying to find a meaning in natural surroundings. I have developed the land around our house in Cornwall into extensive gardens, and in one area I planted a wood to make a shelter from the savage winds that blow in from the Atlantic. I made a clearing in this wood and planted a small magnolia tree that was given to Sue and me at the time of our wedding. The little tree is growing well and is covered in pink flowers in the Spring. I made a wooden stool and put it nearby. I have tried to make the picture simple with areas of plain colour and pattern and uncomplicated drawing."
Find out more about Richard on his artist profile page, where you will also find a selection of original artwork for sale.
July 1, 2018