We are delighted to present our interview with Tim Benson, one of our newest members, elected in June this year. Learn about Tim's education, influences and method o working. You can also find out more on his artist profile page.
We should stress that if you read this interview whilst drinking a cup of tea, you do so at your own risk . . .
"I was educated at the Glasgow School of Art and the Byam Shaw School of Art between 1998 and 2001. My experience at Byam Shaw wasn't a particularly positive one as the onus was more on concept rather than product. In short, I didn't receive much practical tuition. This did however strengthen my resolve to paint after art school, and that hunger took me into my studio every day to 'learn' oil painting through the process of trial and error.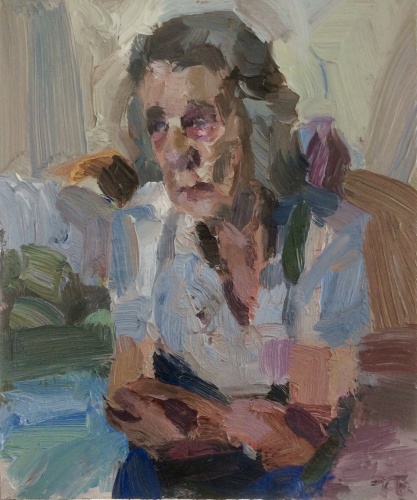 I always knew that I would work in the arts. I was actually going to study architecture before changing my mind in favour of art school. Of course, along the way I've done everything from pulling pints to lifting sacks of compost for elderly ladies.
My first sale. Aged 5.
As a child, I was regularly dragged by my mother to Kenwood House to look at Rembrandt's Self-Portrait, which started a life-long love of his work. I'm also an admirer of Freud, Sickert and Soutine. It was as a child (aged five years old) that I sold my first piece of work (to my classmate Simon). It was a drawing of a tiger and it made me 10p, which felt like a lot of money at the time.
One brush. Six colours.
I paint very quickly, using one large brush only for any painting. I've recently been working on a series of portraits of Zambians who have had their sight restored by the international charity, Orbis. Most of the paintings were canvasses of heads measuring 4ft x 3ft, each taking no longer than four or five hours to paint. I use the same six colours for any painting, whether it be a portrait, landscape or still life. Lots of large tubes of oil paint is the order of the day!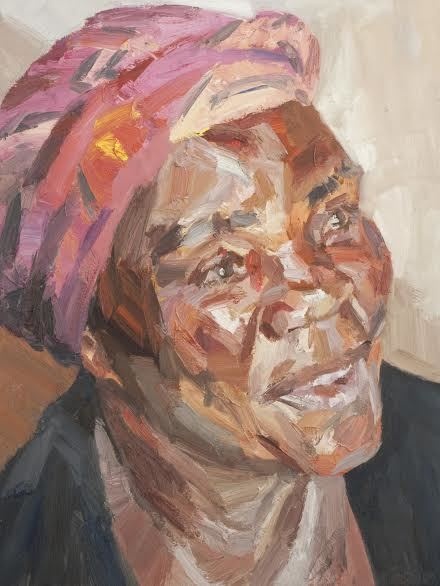 Of course, the viewer is an integral part of the process and I would be lying if I said that their opinions didn't matter. That being said, my work polarises opinion and I know it's not going to be everyone's cup of tea. You learn to roll with the punches and accept criticism from where it comes.
Self-Portraits
When considering my own work, it's very hard to pick favourites as I'm always excited about the current piece on my easel. But if I had to choose one, it would be my recent little self-portrait. I channelled a lot of negative energy into its production and managed to create something positive out of a bad couple of days in my life.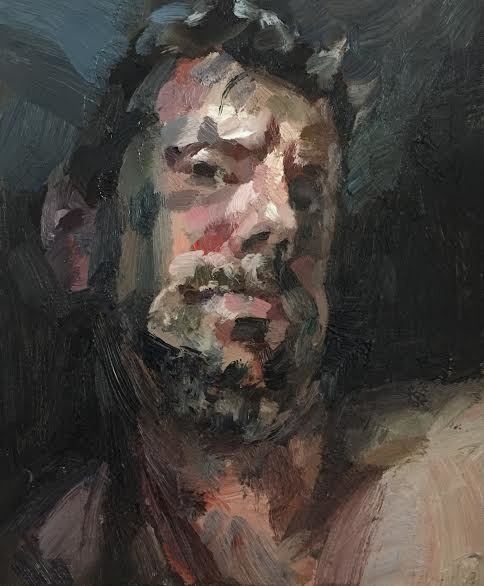 Speaking of self-portraits, Selfie by Lamplight came at a time when I was in-between exhibitions. I was itching to paint, and I decided to set myself a monumental challenge: a huge self-portrait viewed from a weird angle, lit from underneath by a floodlight! I'm always trying to challenge myself and this certainly did just that. The sheer physicality of simultaneously holding the pose and painting such a large piece tested me to the limit. Although there is a gargoylesque quality to the piece, I'm happy with the outcome.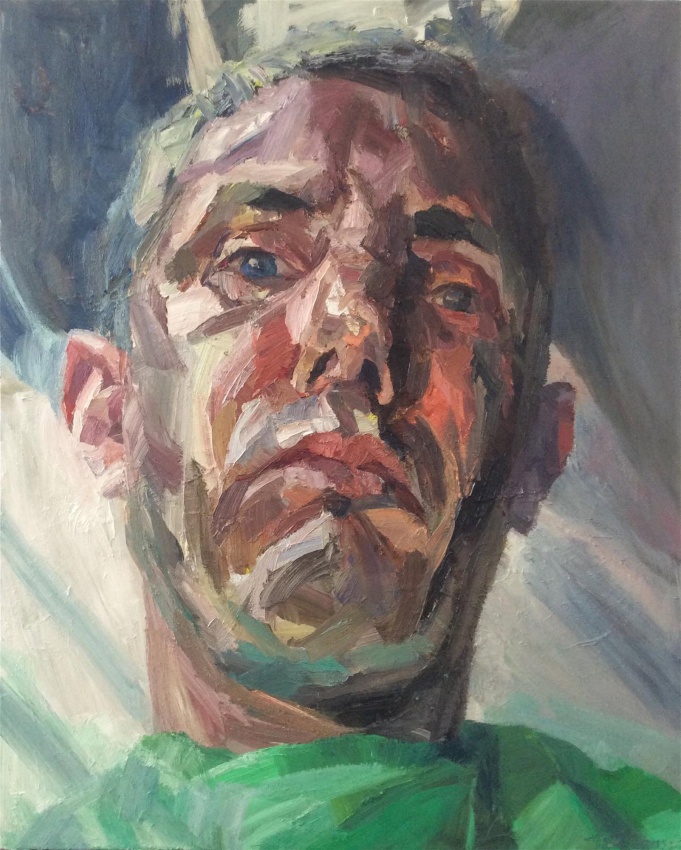 The dangers of tea-drinking
I tend to paint in the first half of the day as I'm freshest then. I have a modest studio that I would best describe as functional. These days I don't even have a kettle there. This is for two reasons. The first is that I'm there to paint, not to drink tea. The second is that I once confused my tea with a cup of oil paint thinner with almost disastrous consequences. Thankfully the offending liquid was not fully imbibed.
My materials are also modest with an onus on lots of oil paint, robust (inexpensive) brushes and large canvasses. I don't use expensive materials as it would prohibit me from using the volume of paint that I enjoy using.
What's new?
I was elected a member of the New English Art Club in June 2018. I'm absolutely delighted to be acknowledged by my peers and to be able to show alongside such great painters.
Find out more about Tim on his artist profile page, where you will also find a selection of his original artwork for sale.
August 1, 2018