We are delighted to present our interview with Paul Handley NEAC and to welcome him back into the fold following an extended absence from painting. We hope you enjoy the interview in which you'll find out about Paul's education, influences, method of working, and how at school he didn't realise that 'artist' was still a real career choice . . .
"After completing a foundation course at West Notts College in Mansfield I went on to study at the Norwich School of Art where I received an honours degree in fine art, painting. Whilst on my foundation course I'd discovered an aptitude for life drawing and, on the advice of a tutor there, I applied to art schools that still ran a life room. In those days the life room at Norwich was run by John Wonnacott and John Lessore; I remember high Victorian windows, the Discophoros of Polykleitos, the Belvedere Torso and a vast painting of a skin-headed youth walking confidently along Southend seafront. I spent the rest of my time at Norwich working in there.
'The Johns', as they were colloquially known, were uncompromising when they taught or talked about students' work but that was tempered by a profound understanding of the difficulties that one faced when beginning to draw and paint from life. It was that seriousness, I think, that attracted me to working with them almost as much as the example of their own work – which I admired enormously. The life room provided a regime of working, and an attitude, that seemed to circumnavigate the hyper-plurality of modern visual culture and its resulting confusion and disorientation. The central proposition in the life room was that one sat in front of the model and tried to tell the truth as honestly as one could; I think that remains my core endeavour really.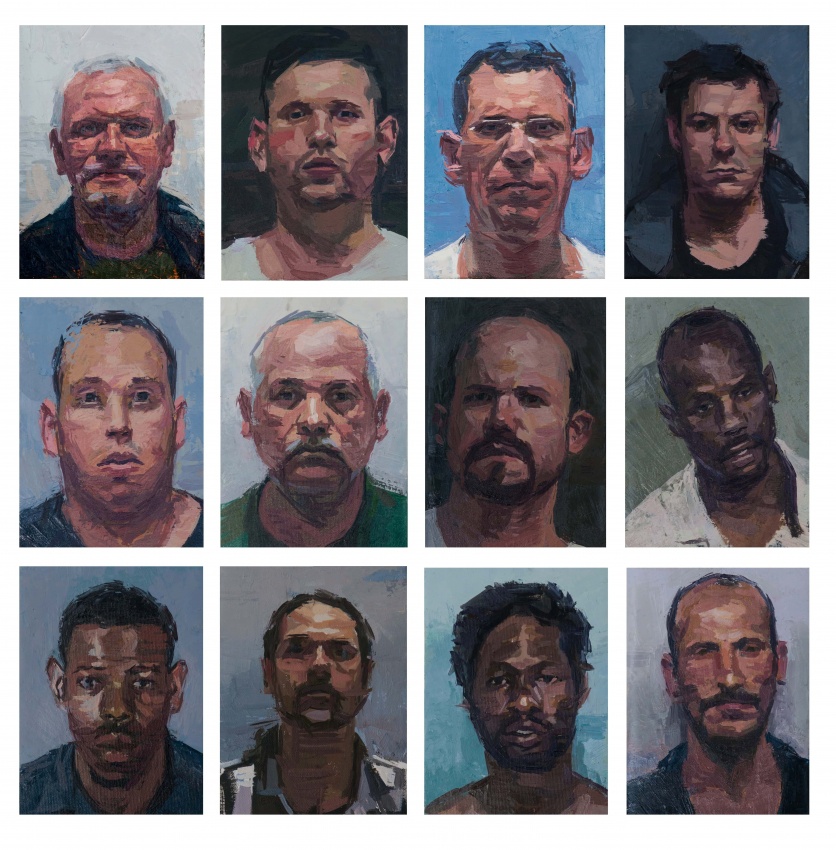 At the end of my second year, the Johns left Norwich and the life room effectively closed, although one or two of the life room's visiting tutors remained. In my final year, I was lucky enough to be taught by Ivy Smith and Graham Giles who, as both artists and teachers, have had a distinct influence on my work. I was taught art history by Prof. Lynda Morris who I think was responsible for nurturing my own love of the subject as well as helping me to understand the importance of linking one's own practical activity to a wider critical and theoretical context. I feel immensely privileged to have experienced a tradition of the teaching of painting and drawing that has now all but disappeared in our art schools; it was an experience that has enriched my life immeasurably.
'A certain amount of self-doubt is useful'
I once saw an interview with John Betjeman in which he said, 'I feel that anything that's said against me is true and everything said in my favour is flattery; I never can believe that I'm any good at all.' I think lots of artists feel that way about their work, and I certainly do, but I've also come to realise that a certain amount of self-doubt is useful, if not essential, for an artist. We live in an age of doubt such that a surfeit of self-belief or confidence is likely to make for work that is phoney. Having said that however, just because you're crippled by self-doubt it doesn't mean that your work's not rubbish.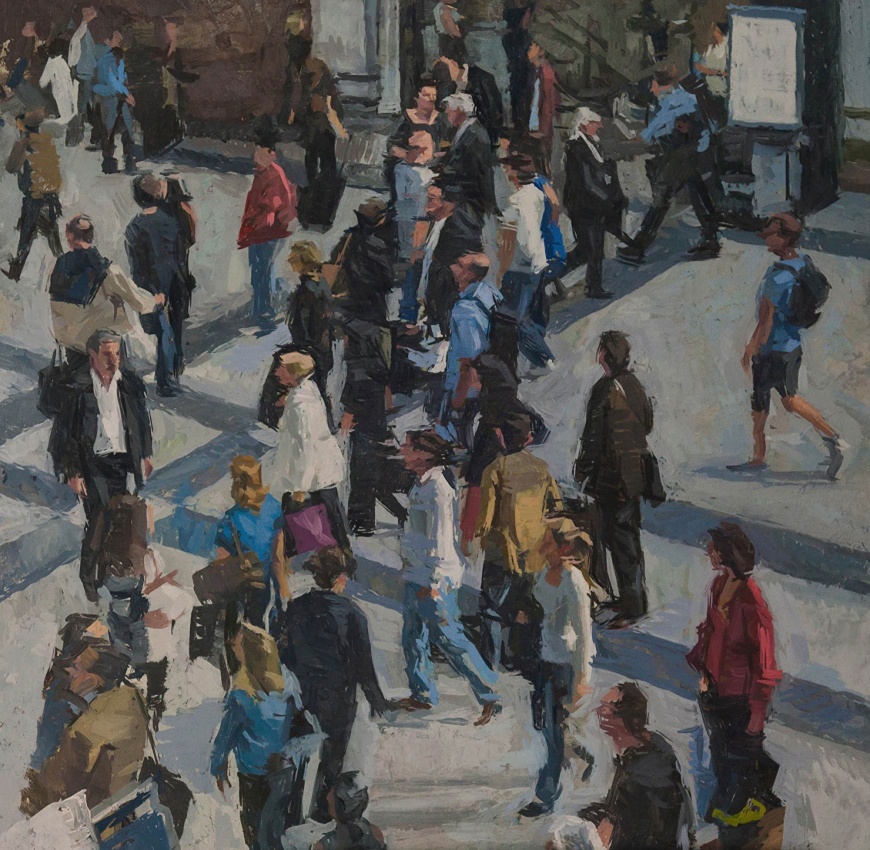 Cowboy, knight, or artist?
Whilst I was at school, I didn't realise that 'artist' was still a real career choice; it seemed rather like wanting to be a cowboy or a knight in shining armour. I thought maybe one could be a designer of album covers or motor cars but it was always with the understanding that children from council estates didn't really get to do that kind of thing. I expected that I'd probably go to work down the pit or at the local ball bearing factory.
'A gift of almost miraculous generosity'
I was lucky enough however to grow up in a post-war world where the welfare state provided me with an opportunity to go to art school and to learn to draw and paint. I'm profoundly grateful for that opportunity and looking back, as the provision of higher education has subsequently unfolded, it now seems like a gift of almost miraculous generosity. After graduating, I went to Goldsmith's College, University of London and qualified to become an art teacher. I taught painting and drawing at a Catholic college in Bristol for a number of years before completing an MA in Critical Theory and Art History at the Winchester School of Art and the OU. After that, I lead a small art history department at a college in Hampshire whilst working on my own painting. In 2001, I became ill and for over a decade I didn't paint at all. Sometime later, after I'd recovered, I cared for my parents until they died. Then, in 2014, I moved to a new house and something like a new life. Friends persuaded me to start painting again and I couldn't think of a reason not to.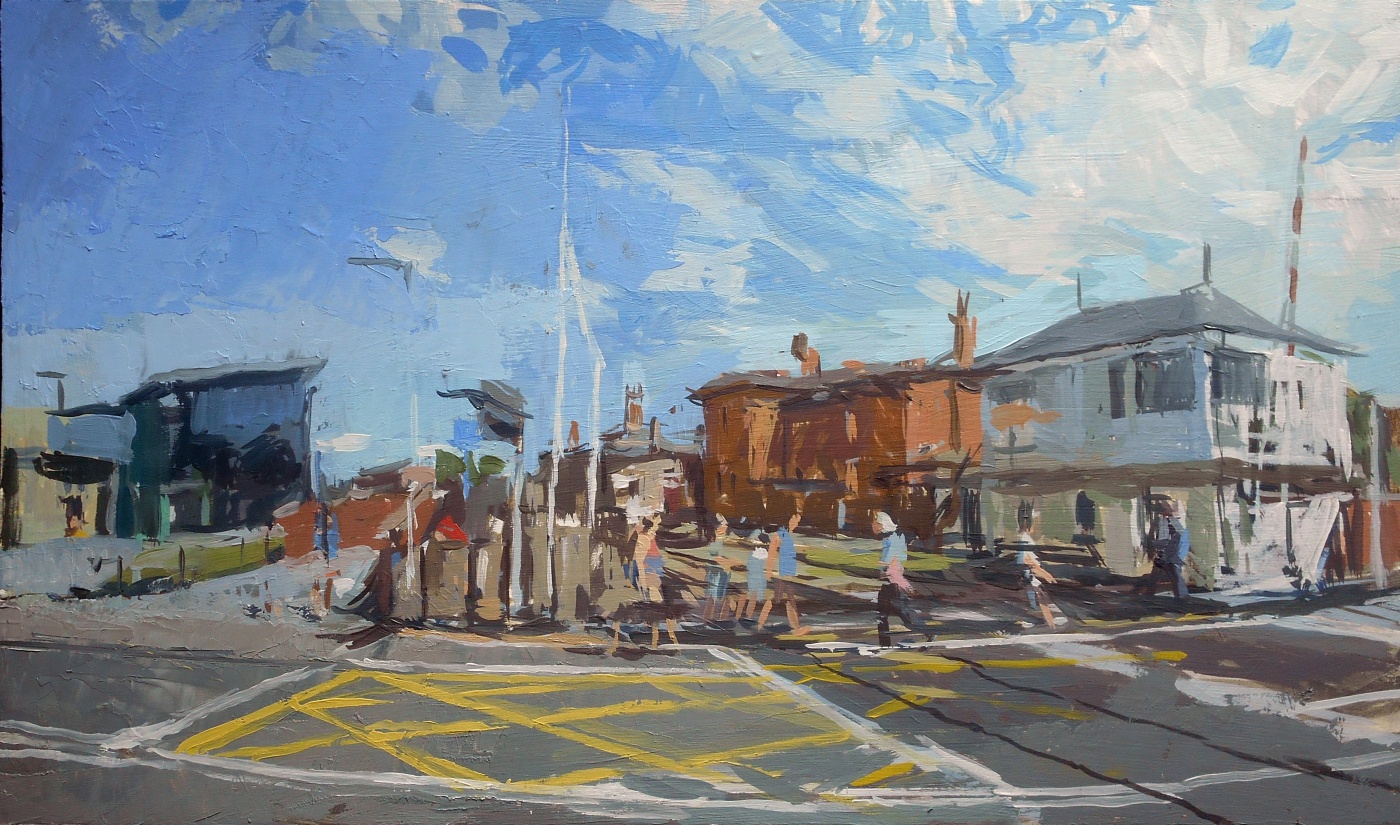 Vermeer's influence
The first artist I remember being really passionate about was Vermeer. I'd discovered him whilst on my foundation course quite independently of anything I was actually being taught there. The course seemed to suggest that from an artistic point of view, very little had happened in Europe prior to 1874 and I'd become suspicious that that might not be altogether true. The painting and drawing lessons I attended focused on finding a stylistic idiom, based on some recent manifestation of contemporary art, that one might align oneself with in order to be 'expressive' – quite what was to be 'expressed' was never made clear. For me, Vermeer suggested a kind of artistic selflessness in which one's own self might disappear in an attempt to simply tell the truth about what one could see. I think it was that initial engagement with the great Dutch master that later lent a certain logic to studying in a life room.
'The great European figurative tradition'
I love all the painters of the great European figurative tradition, but particularly the masters of the 16th Century Venetian school: Titian, Veronese and Tintoretto. Those great machines that adorned the churches, the scuole and palazzi of Venice are of incomparable beauty and my admiration for them knows no limit. There are a few 20th Century painters that I admire: Giorgio Morandi, Edward Hopper and Alberto Giacometti amongst others, but the mainstreams of European and international modernism have been of little interest really. As a British painter, I'm lucky enough to have encountered a rich indigenous tradition whereby perceptual, figurative painting was enabled to remain a serious option long after it had, for the most part, been abandoned in continental Europe. The two dominant strains of British perceptual painting, that of William Coldstream and the Euston Road School and David Bomberg and his students at the Borough Polytechnic, have been profoundly influential as well as the work of a number of Royal Academicians; particularly Peter Greenham and Norman Blamey. From a theoretical point of view, the work of the Anglo-Catholic theologian John Milbank and the philosopher and literary critic George Steiner have helped me to establish a rationale for how it might be possible to practise a pre-industrial craft, with a degree of seriousness, in the context of a highly-technologised and atomised consumer culture.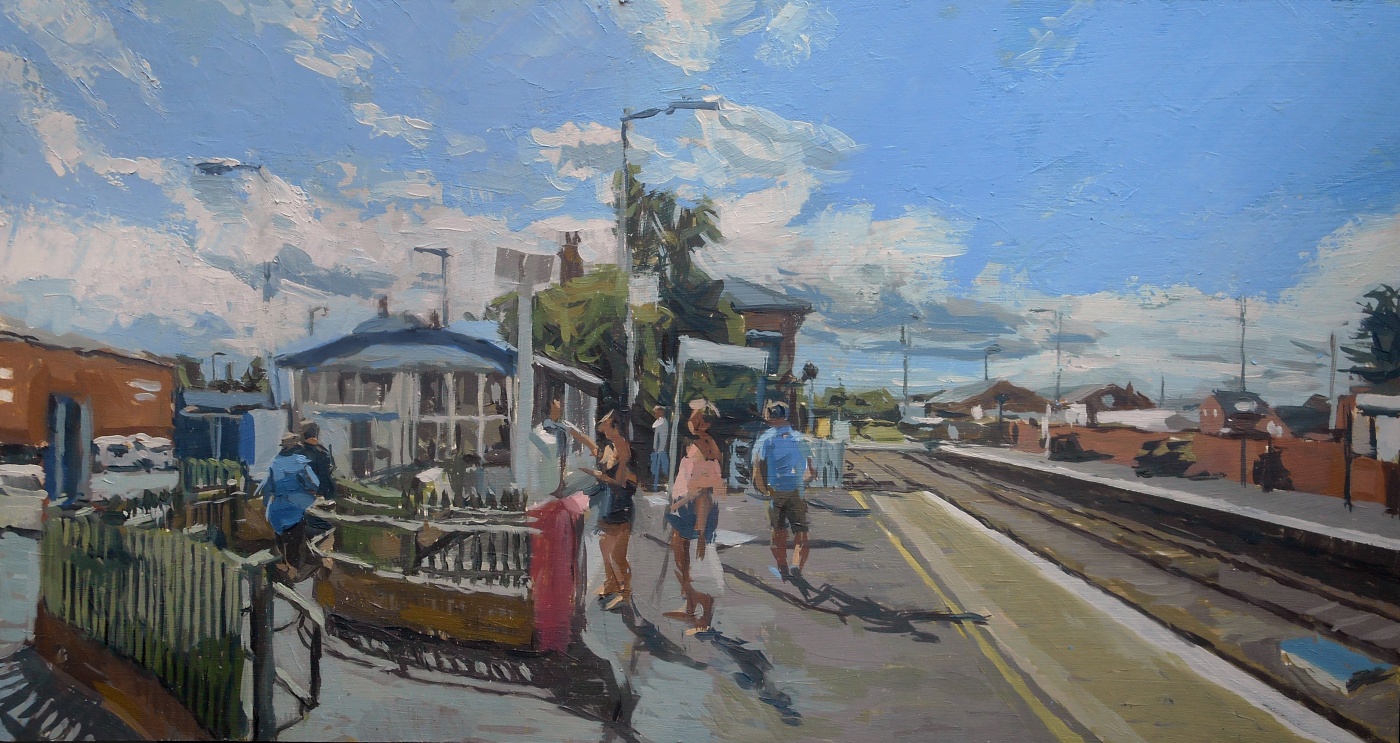 'I begin by making small drawings . . . '
I paint in my head all the time and it's a constant source of frustration that so few ideas ever make it onto canvas. I begin by making small drawings in a sketchbook whilst I'm walking around and then I might make a small oil study. If it's an image I'd like to pursue, I make a fairly lengthy drawing to serve as the linear architecture for the painting and take photographs to help me make decisions about the time and type of day the painting might represent. I usually have one or two still life paintings on the go alongside the studio pictures so that I can continue to paint directly from life. I use a very limited palette: Titanium White, Cadmium Yellow, Vermillion, French Ultramarine and Raw Umber. If I'm painting landscapes I add Cobalt or Cerulean Blue. There are hues that one can't mix with such a limited palette so if there's a particular local colour I need, I keep a box of more exotic shades for that purpose. I use small nylon brushes and particularly towards the end of the painting I often use a palette knife to break the painting up if it's become dull or boring or I've decided to make some major change. Paintings take me a long time as it takes me a long time to make up my mind; quite unreasonably perhaps I'm suspicious of anything made quickly or achieved easily.
Elected to the New English Art Club
I was first elected to the New English Art Club in 1997 after I began to exhibit at the Alresford Gallery in Hampshire. The gallery showed the work of a number of other NEAC members and the gallery's proprietor, Brian Knowler, persuaded one of the other members to put me forward as a candidate for election. I remember being surprised and delighted to be accepted. Painting is a very isolated business and a rather rarefied one at that, so to be invited into such illustrious company is on the one hand a great privilege, and on the other, it's comforting to know that there are other like-minded individuals who share one's neuroses and obsessions.
'The Corn Exchange'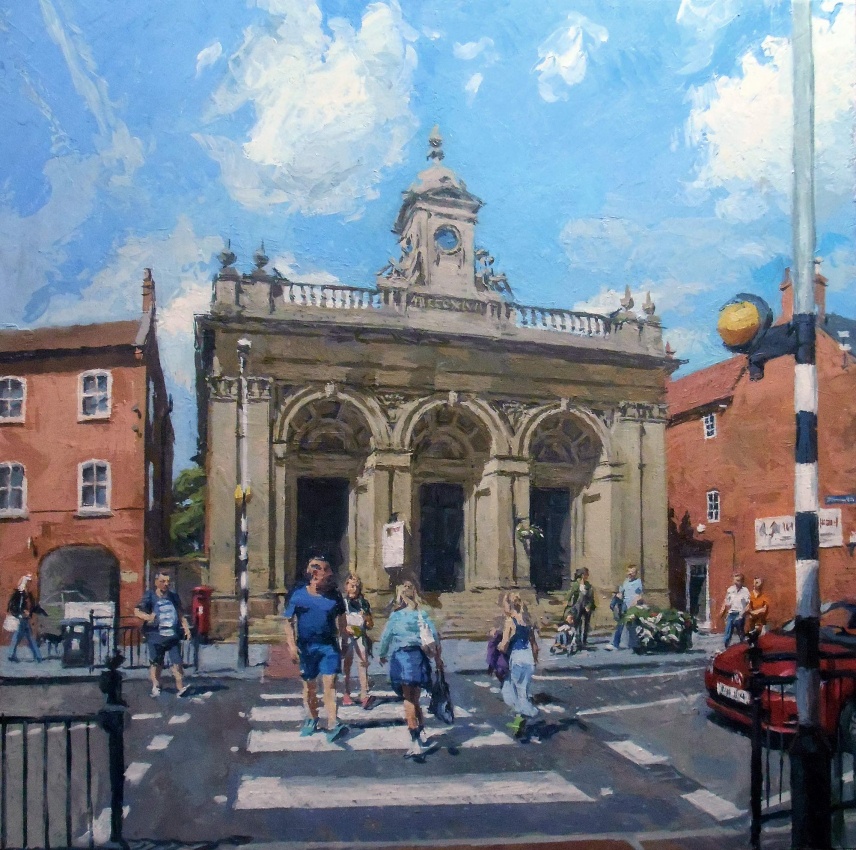 One of the pictures I exhibited at the recent NEAC Annual Exhibition was a painting of The Corn Exchange on Castlegate in Newark where I live. The painting is part of a series of summer pictures that I began a couple of years ago and which I suspect will occupy me for the foreseeable future. The building's architect was Henry Duesbury, it was built in 1848 and I've wanted to make a painting of it for as long as I can remember. I love the building very much and a tiny northern market town like Newark is very lucky to have a building so grand and flamboyantly Baroque. Sadly, it's now derelict and has been left to dilapidate which is a terrible tragedy, I think. I paint my daily life – the people and the places that I love, where I grew up and to which I feel a very strong attachment. There is great beauty in the common place, the ordinary and the overlooked and I'm as moved by the tired and faded markings of a pedestrian crossing as I am a grand renaissance edifice against a brilliant summer sky. Everything is passing away and I wish it wouldn't; painting helps me to feel that I might hold on to all that beauty for just a little while longer."
Find out more about Paul on his artist profile page, where you will also find a selection of his original artwork for sale.
September 1, 2018