June Berry finds her subject matter in her every day surroundings and the small events in people's daily lives, often glimpsed in passing. The elderly dog walker with an equally elderly dog, the tree surgeon performing his ballet in the topmost branches, the French village housewife busy in her front garden full of vegetables - all providing moments of amusement, sympathy, amazement or simply delight which translates into oil paintings, watercolours and drawings, some of which are available to purchase on her artist profile page.
In this article, as she approaches her ninety-fifth birthday this summer, June takes a look back at how her art career began ...
"It was 1942 and wartime. I felt very lucky to have been offered a place at the Slade School of Fine Art which was evacuated from London to the Ashmolean Museum in Oxford. The museum was closed to the public and many of its contents moved elsewhere for safekeeping. I arrived there, a naive eighteen year old, green as grass, from the depths of rural Lincolnshire. There was very little on offer in the cramped rooms occupied by the Slade and we spent most of our first term drawing casts of Greek sculptures in the museum collection. It was cold, gloomy and boring. We were eventually admitted to the small women's life drawing room and finally in our second term to the painting studio.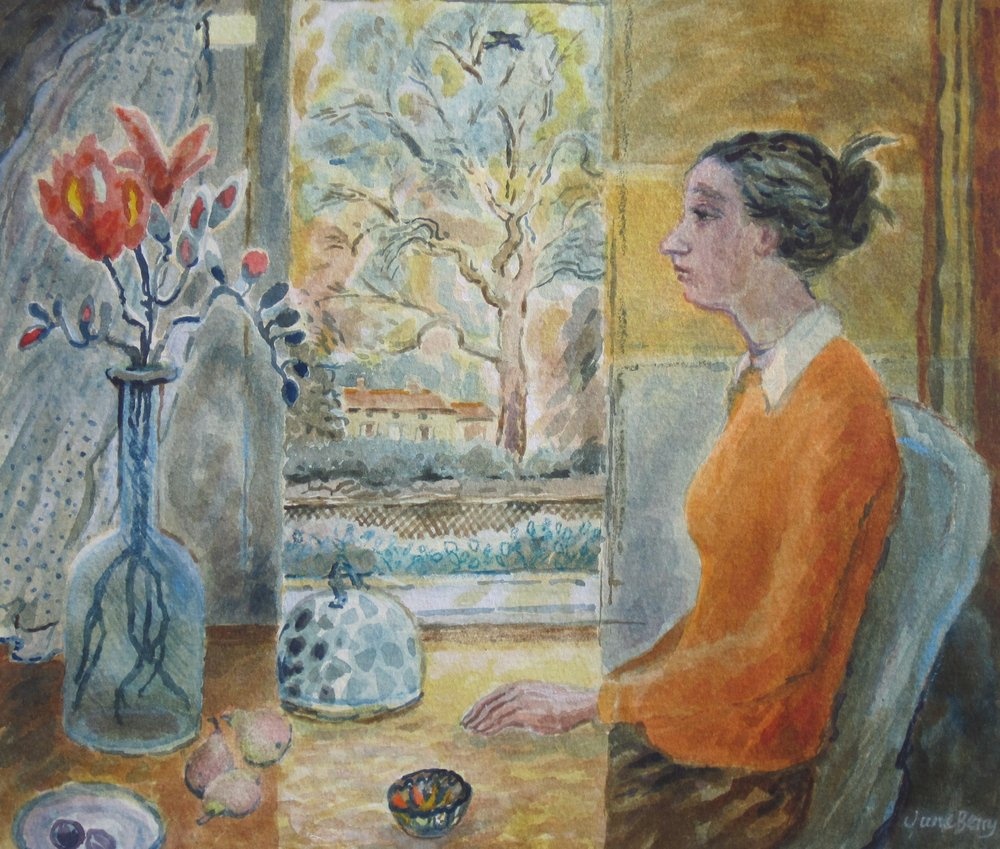 'A Daydream'
At the end of my first year the majority of students, male and female, were called up to serve in the Army. I was a year younger, but decided to volunteer for the Navy and leave rather than stay on my own and join in with the new intake of first year students. Not a good move as I ended up code breaking in an outstation of Bletchley Park where the first computers were being developed, whereas my friends in the Army were allocated to painting camouflage with Carel Weight and managed to organise a little private art school with him when they were off duty.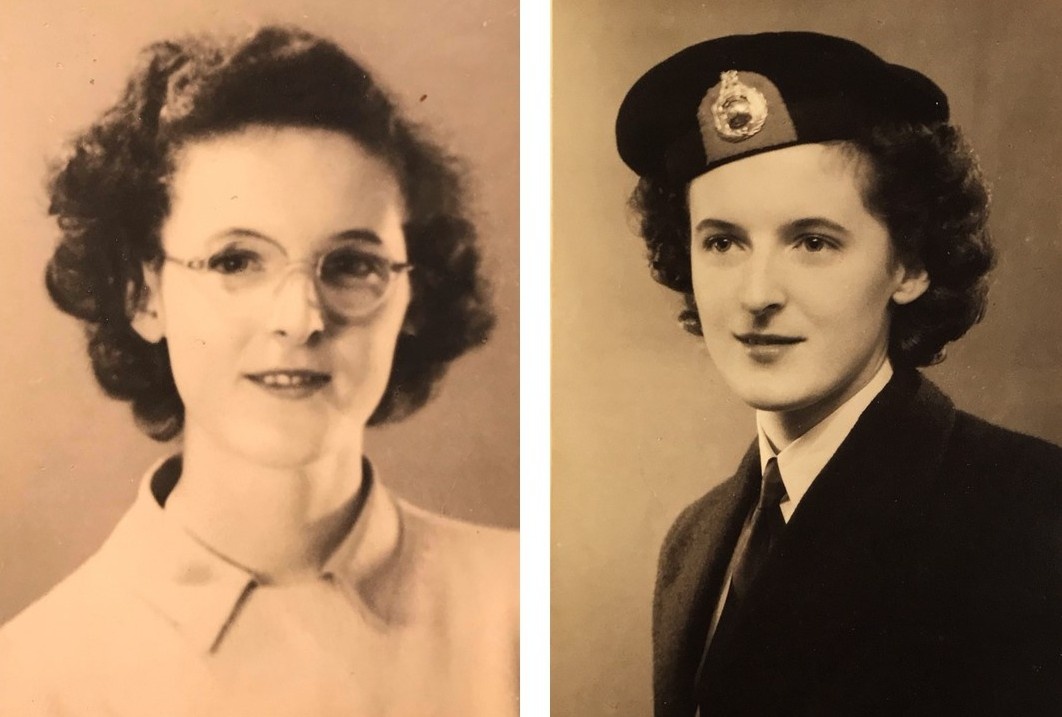 Left: June Berry, Slade student (1942) and Right: in uniform as a Wren (aged 19)
In 1946, some of my year – including me – returned to the Slade in its home in University College, London and our art education began in earnest. The two main categories of study were painting and sculpture. I opted for painting. As well as a main subject students were required to study a subsidiary subject. There was a choice of Architecture (history and drawing); Etching (which did not actually exist in my time); Theatre Design which was kept rather secret and only taken up by a chosen few; and something called Design, which turned out to be textile design and was my choice. I got on rather well with the tutor as I happened to have a paint rag which he recognised as a scrap of fabric from some old curtains at home which was one of his designs!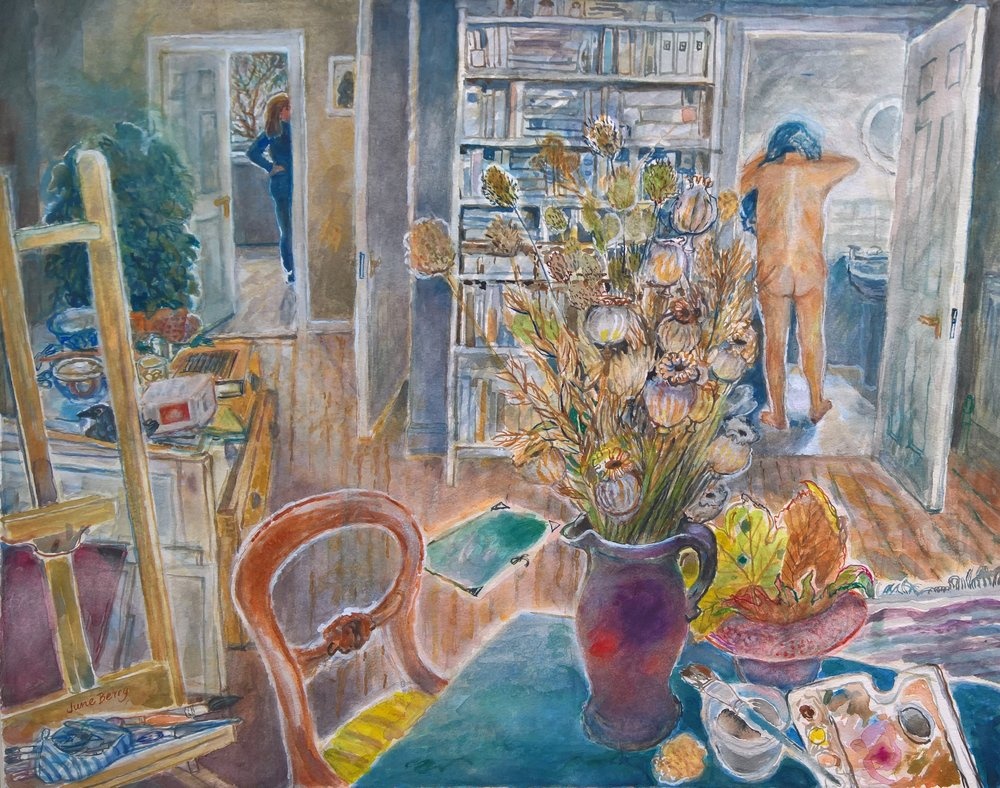 'A Jug of Poppies'
All students were required to attend a lecture in Art History once a week and take an exam at the end of the year. Painting students like me were required to paint something other than the nude model for the annual Summer Painting Competition, to be done in the long vacation to a specified quite large size. This was the only time we ever painted anything apart from the nude model.
The whole curriculum for all students rested on the theory that close observational drawing was the basis for everything. Some of the older students resented the traditional style teaching – Edouardo Paolozzi only lasted a term before disappearing to Paris. Being young and naïve, I was happy with it all and have never regretted this basic skill.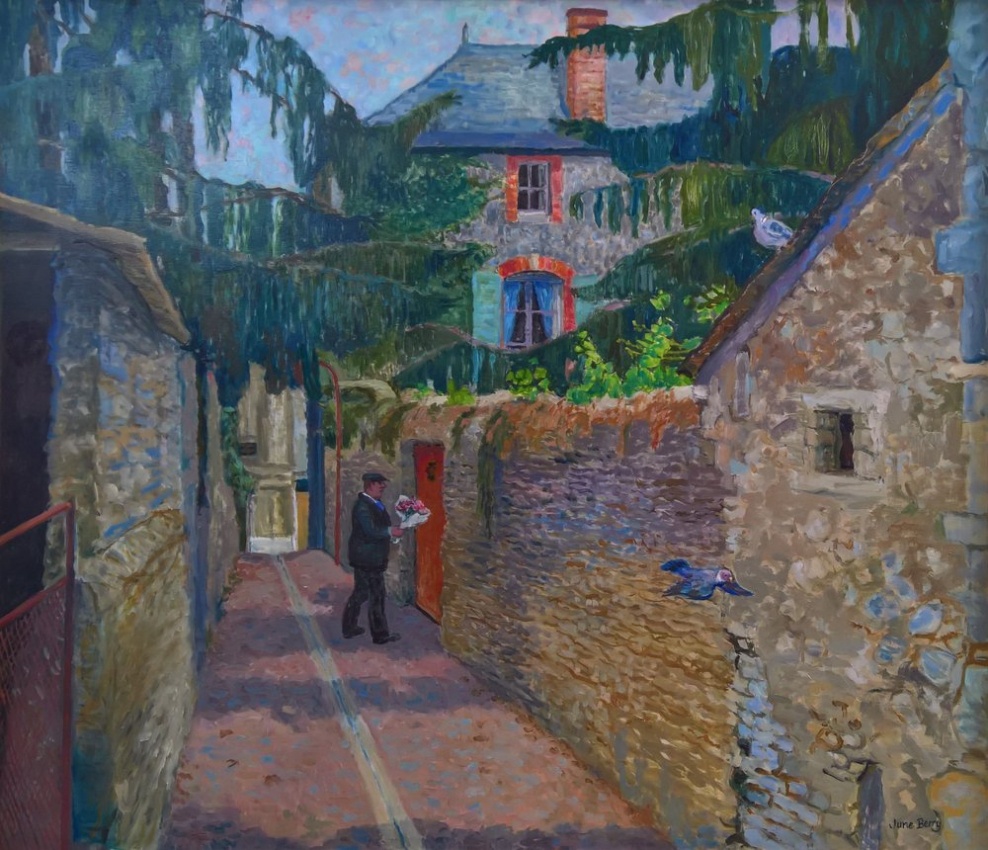 'The Guest'
Male and female students were strictly segregated for life drawing on the upper floors and the sculpture students occupied the basement area. We all had to sign in every morning in a large ledger kept by the Beadle – a kindly man that we all got on well with, resplendent in a dark red uniform in his cubicle next to the main entrance – who knew everything and everyone.
The high point of my time at the Slade was when Stanley Spencer (an occasional visiting tutor) came into the women's life room and seated himself on my donkey (seated easel) and made a beautiful drawing of the model's knee beside my drawing.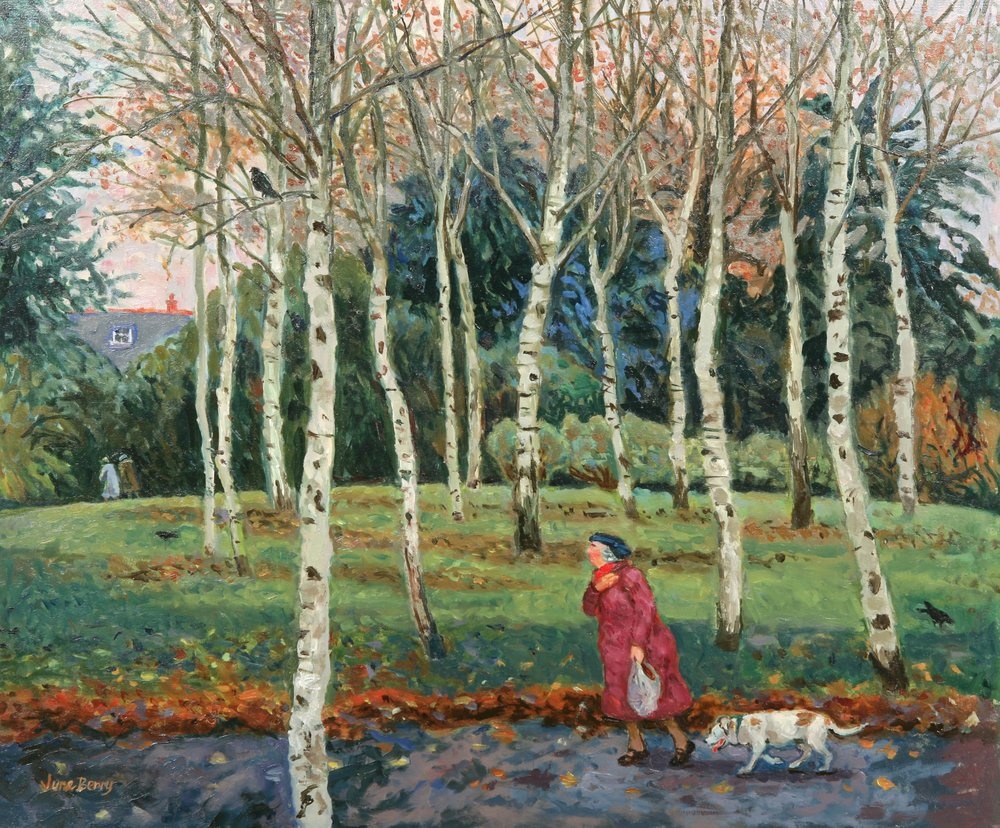 'Elderly Couple Walking'
I had a second learning period when my four children had all reached school age. After this long pause it was daunting to confront a blank canvas or piece of paper. To get back on track I joined an etching class taught by Norman Ackroyd – a wonderful teacher with huge knowledge and experience and very generous in sharing it with students. I eventually installed a large Rochat etching press in my studio and was elected to the RE (Royal Society of Painter-Printmakers). I enjoyed making prints for a long period, until the large copper plates I liked to use became too heavy and unwieldy.
One day in the mid-seventies, I experienced a moment of epiphany which changed the direction of my career as a painter and was a late addition to my art education. Quite accidentally I was in Hove one afternoon and went to visit the local museum where an exhibition of the work of David Jones was on show. I was not very familiar with his work and found myself completely blown away by the wonderfully loose, free and delicate handling of watercolour, especially in the landscapes and still life paintings and the portraits, such as those of Petra, daughter of Eric Gill who David Jones fell in love with but never married.
This experience led me in a new direction, painting in watercolour, which quickly became as great a passion as oil paint. I was elected to the RWS (Royal Watercolour Society) in 1989 and still contribute to all their exhibitions and served as Vice President from 2001 to 2004.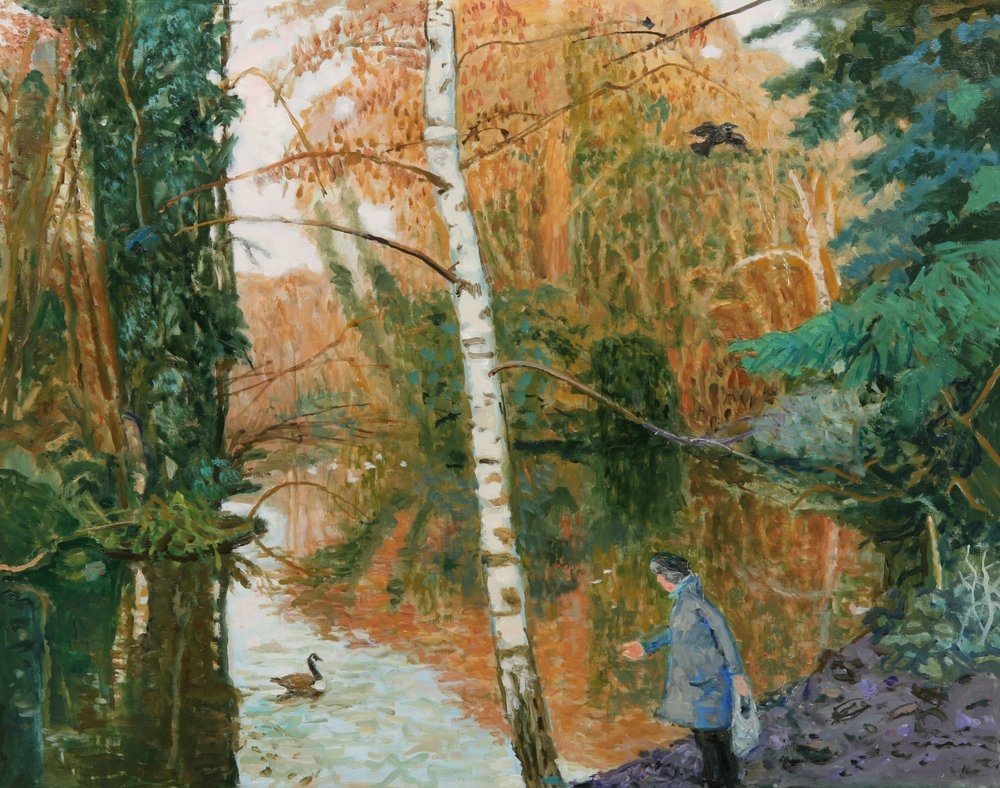 'The Lake, Autumn Afternoon'
Working in my studio most days, I am aware that every painting is still a step in the dark and part of my lifelong learning as a painter."
Find out more about June Berry on her artist profile page, where you will also find a selection of original paintings and drawings for sale.
April 1, 2019