This month, we're delighted to bring you an article by one of our newest member artists Victoria Jinivizian who was elected in June this year. She explores the themes of memory and time in relation to painting and drawing, as well as her thoughts on becoming a New English member. You can find out more about Victoria on her artist profile page.
Establishing Memory
"Once the sensation of the experience is gone, what is left? Stillness, place, a place with its references which might hold some personal symbolic pertinence unseen by others. Draw the place, the space, the references, and memory starts to become established. It tries to find more resolution in paint then left, in part, as an object of memory.
In drawing and painting, one often talks about searching: a search for essential form, for pictorial relationships, for equivalents, for inner mystery and strangeness beyond the appearance of things. But to speak of a search could imply that one has lost something. Drawing might be a way of protecting oneself against loss: that in the search for the look of a place or a thing which might be a symbol or an equivalent for something or someone, one doesn't have to lose the thing found, the experience is harnessed. In that spontaneous, intimate response memory is most truthfully established. Something is held in the drawn account which can then be translated into paint to heighten the emotion and understanding of form with colour and generate a greater sense of permanence.
From the tenuous infrastructure of the memory, and the architecture of the drawing, passed sensation is consolidated in paint and made constant by it. The memories collated in a single vision are relived, distilled and even attacked or transcended by the painting experience. The painting might even replace the memory – the memory could become the painting of the memory.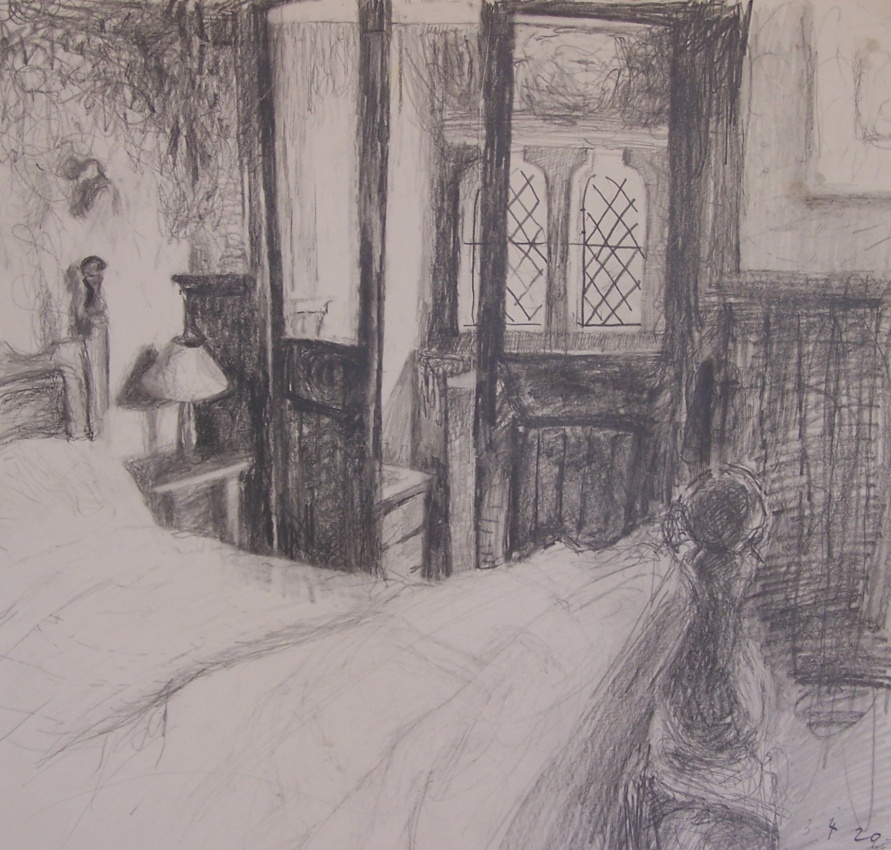 Whilst I believe there is pictorial potential in everything, from the observed to the imagined, interior spaces have always provoked an amplified response for me and resonate in the memory, particularly those of personal, emotional or psychological significance. From attic rooms in Boscombe while on Foundation, to ecclesiastical shapes in The Cloisters, Gordon Square during years at The Slade, the converted chapel I've lived in for almost twenty years, even our brown flat in Moscow: these spaces shaped my work for a long time, followed by other places connected with important people in life.
Why we choose a subject is always interesting, yet we don't always know the reason at the time: the need for one subject over another might reveal itself years later. If you could express in words exactly what you want to paint about you could say you wouldn't need to paint about it. It is as though the need for painting occupies a space inside which one cannot respond to in words – you need to make images about it, it is one's voice being heard in another way. And the successful paintings are those which incline towards metaphor rather than simile.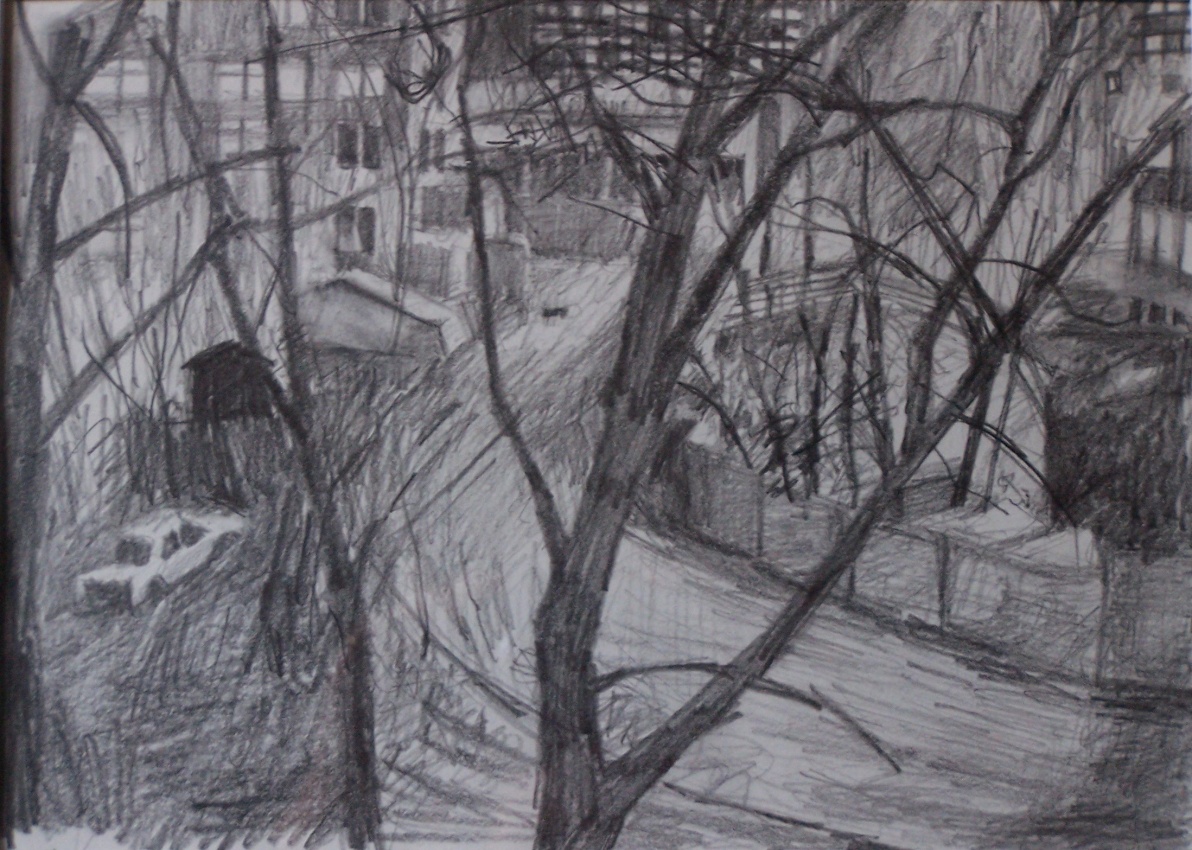 Time
Time is woven into all paintings, and this is a paradox because unlike a book, or piece of music or a film which unfolds over time, a painting is seen in one go. But I want to insist that in that "one go" there is a great deal of time: in the drawing, planning of composition, sawing wood, preparing glue size and gesso – the relative slowness of these processes is an integral part of the whole picture which can take months to emerge. Painting is a conversation between painter and painting: you inform it and in return, it tells you what to do next. When I 'complete' a painting – when it will not let me add any more to it, there is a peculiar sense of sadness by the ending of that particular painting conversation. A strange feeling of loss. What is the nature of that loss? It might be one of disengaging with the memory of the thing now established in paint; a loss of the wrought coloured surface and return to flat empty space; perhaps the empty feeling of inadequacy at perceived limitations - I am always learning.
Le Bosquet
Summer 1994, Cote d'Azur, I found Bonnard's great-nephew, Michel Terrasse's telephone number in the local directory and in elementary French requested to visit his house, Villa le Bosquet, this hallowed place which I knew he kept very privately at the time. It was an extraordinary experience standing in rooms essentially unchanged since Bonnard lived there: the giant red-clothed table in the dining room, the bathrooms, upstairs sitting room, his studio. I felt I was inside Bonnard's paintings - pictures constructed from drawings and accumulated memories.
Bonnard is a clear influence on my work in parallel with many others from the early Italian Renaissance with its remarkable design and pictorial timelessness, to the great 20th century artists. I feel a particular relationship with the fantastic parade of British artists and their 'English palette'. My student loans were used to purchase two paintings and a sculpture, I try to afford one piece of artwork per year. Each becomes an essential part of one's daily emotional experience. Buying and selling artwork is a transaction of a very different character than any other, the acquisition – or letting go - of a great deal more than a material object.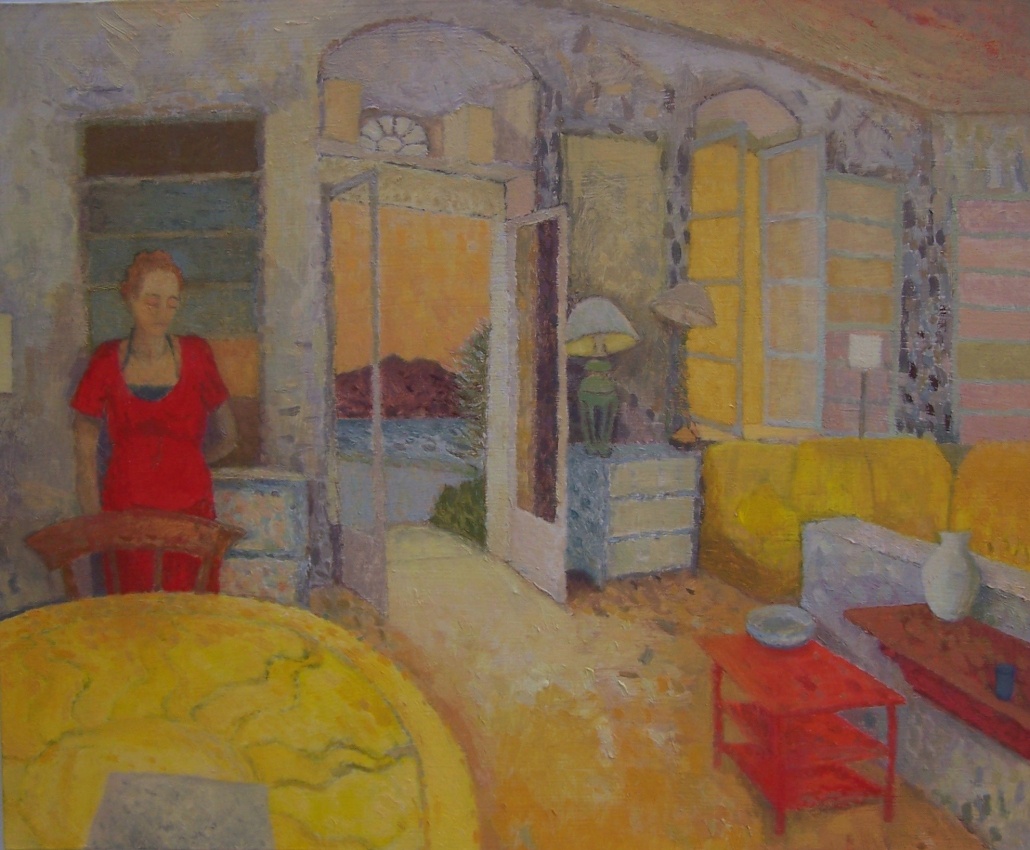 I began teaching life drawing and a mini foundation course for teenagers at Marlborough College Summer School several years ago. Teaching forces you to deconstruct and articulate knowledge and experience, it is an invaluable process. The practice and importance of life drawing and observational drawing generally was instilled on Foundation at Bournemouth and Poole College of Art and Design, where incidentally I had the immense privilege of being taught by Saied Dai NEAC RP. At The Slade, we benefited from talks by artists such as Paula Rego and David Hockney and excellent visiting tutors, most notably for me, Richard Kenton Webb, whose profound and original colour theory regarding earth and spectral colours continues to guide me. Timothy Hyman's art history lectures were illuminating as were anatomy lessons at UCH.
Joining the New English Art Club is an incredible privilege – to receive the recognition of one's peers, to gain a certain sense of fellowship while working in solitude, and of course to be part of such a respected tradition which has its roots in artistic principles I firmly believe in. I have treasured friendships with several NEAC members and look forward to making more NEAC friends." © Victoria Jinivizian
Don't forget to visit Victoria's artist profile page to find out more.
August 1, 2019