This month, we focus on the life and work of David Cobley whose major solo show 'All By Himself' opens at London's Mall Galleries on 10 September, accompanied by a new book of the same name. As well as the works in the exhibition, you can view/buy a selection of his works on our artist profile page. David took time out from his last-minute preparations to tell us about how he started painting, how he stopped (for ten years) and how he found his way back . . . We're delighted that he did!
"As a little boy, I sometimes used to draw alongside my uncle on his visits to our house during his lunch break. He was a keen amateur painter, and gave me a lot of encouragement. One day, impressed by one of my drawings he said, "you could be rich and famous one day". Those words came as such a thrill and opened my eyes to the possibility that if I worked at it, fame and fortune might be just around the corner. Looking back, those same words might also have given me an inflated idea of my own ability. Either way, I set out my stall to be the best artist ever!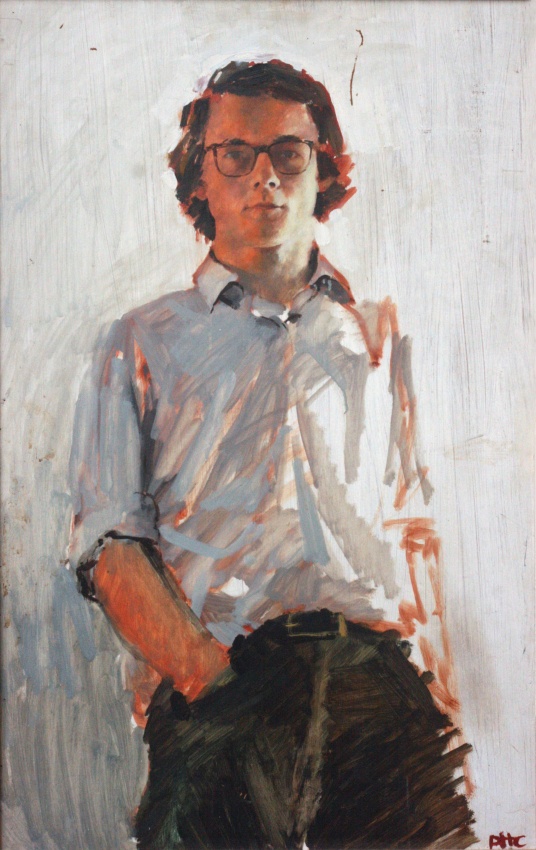 Other people inspired me too, and the influence of art teacher 'Eddie' Phillips was profound. Observations like "people walk around with their eyes shut", "it's ideas that matter" and "in art, there are no rules" were music to my ears.
After a Foundation Course at Northampton, however, I made a decision that took me away from art altogether. To everyone's disappointment, including that of my tutor, Welsh painter Peter Prendergast, I left Liverpool Art College after just one term.
When I came to my senses almost ten years later, I found myself in Japan with a lot of catching up to do. Teaching English as a foreign language meant I was using the Tokyo subway to get from job to job. Armed with a little pad of paper and marker pen, I started drawing people on the train. It was so exciting, as well as a huge relief, to be drawing again.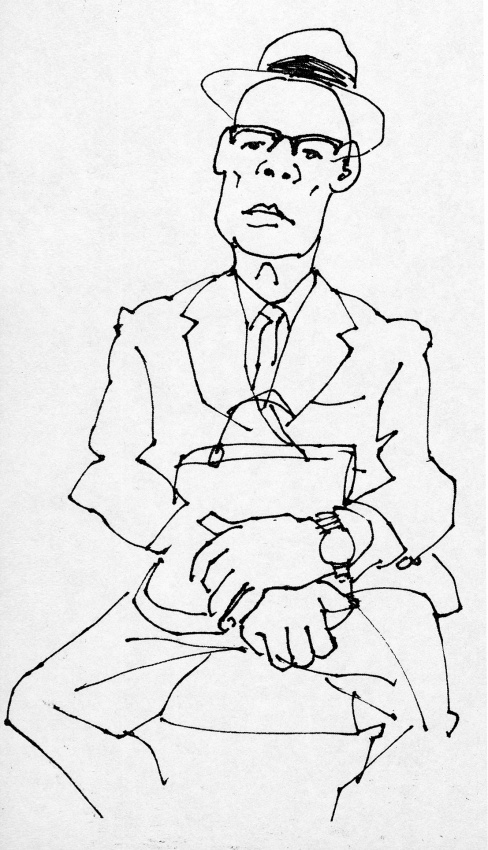 Back in the UK with my young family, I showed my portfolio - such as it was - to every art director in Bath and Bristol and began to find work as an illustrator. And when I wasn't illustrating I was painting - mainly portraits of friends and family - and entering every exhibition and competition I could think of. Having a portrait of a friend shortlisted for the BP Portrait Award (then sponsored by John Player) in 1989 was a huge boost.
My paintings have almost always been of people because I find them endlessly fascinating. There have been landscapes and still lifes too, but I have used drawing and painting as a way of trying to understand why we think and behave the way we do. I have pinned myself down like a rat in a laboratory to try to find out what makes me tick. This may betray an unhealthy self-absorption, but it has meant that I have got to know the man in the mirror - that strange, uninvited, yet constant companion of mine - very well indeed.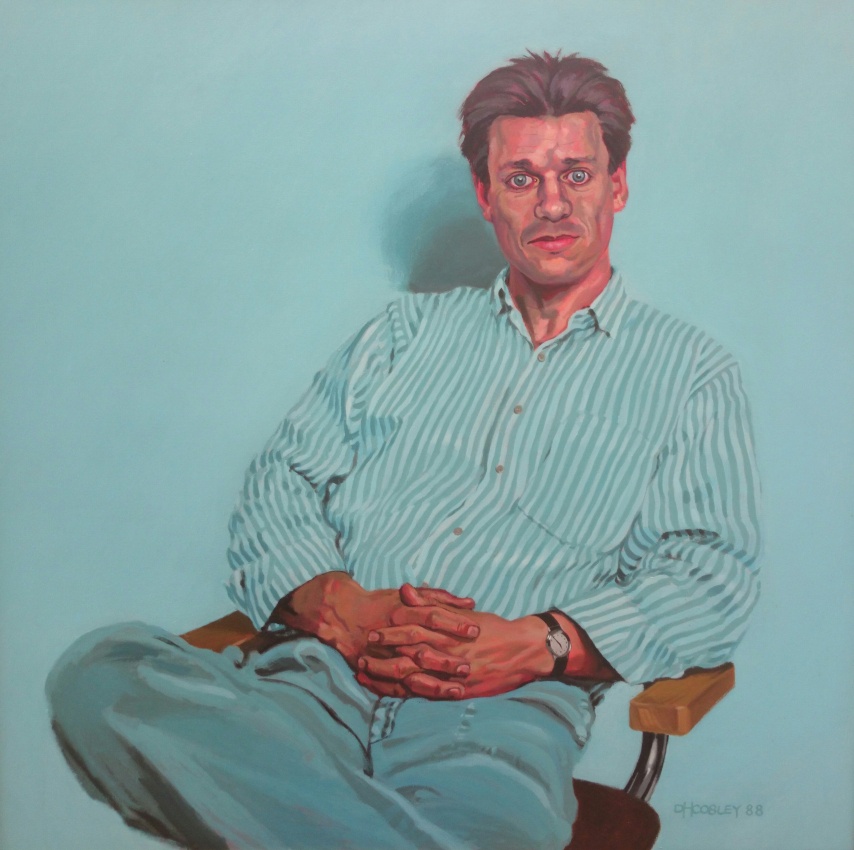 I had been thinking about a retrospective at Mall Galleries for a while, but it took the catalyst of a book to finally make it happen. Last autumn, an old friend of mine - art critic, historian and artist Peter Davies - got in touch to say that he would like to write a book about me. He also said that it would be good to launch it with a series of exhibitions. So when the Mall offered me a week in September that coincided with the book's publication I took the plunge and hired it. Having known me over 20 years, Peter says the title of the book David Cobley All By Himself was a 'no-brainer'. It touches on why I dropped out of art school all those years ago, but more importantly puts my work into an art historical context, which is no mean feat I can tell you! Another old friend, NEAC President Peter Brown, has very kindly written the foreword.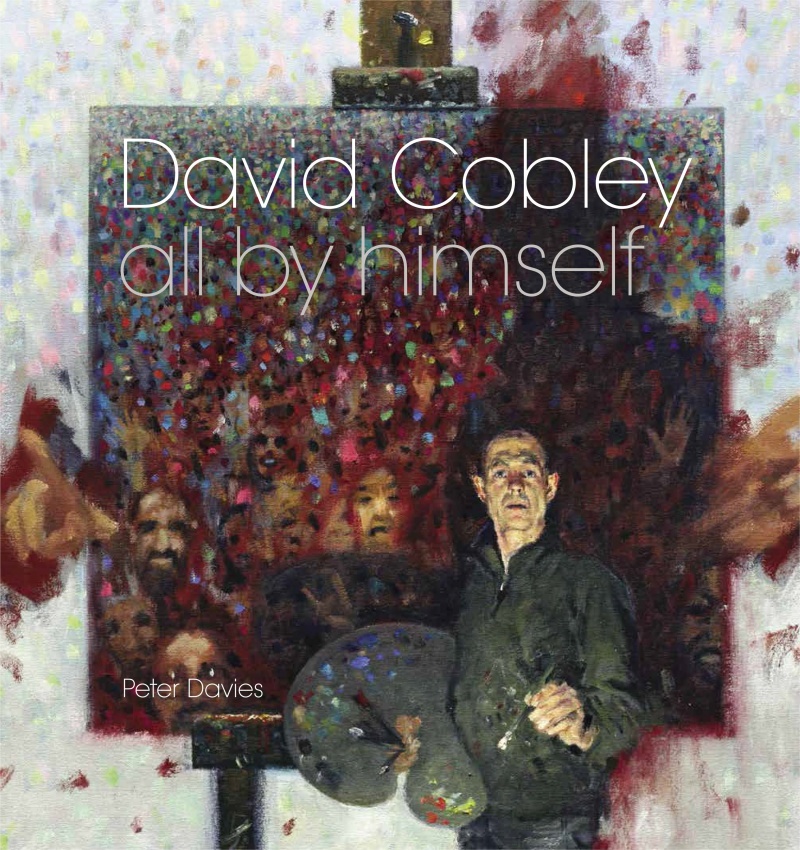 David Cobley All By Himself has also become the title of the exhibition. There are over 130 paintings in the show as well as around 50 drawings and prints. The earliest painting is a self-portrait painted a year before I went to art college, and depicts a wide-eyed young man about to make his way in the world. A much more recent painting shows me again, this time Hockney-fashion, standing by a pool in California looking at the figure of an ex-partner swimming. Having such a large cross-section of my work in the prestigious setting of Mall Galleries is very exciting of course. On the other hand, looking at what has preoccupied me over the last 40 years is also rather unsettling. It has made me reevaluate what I have been doing with my time and how I want to spend it from now on.
Don't get me wrong, I love what I do and have been fortunate enough to make a reasonable living at it for over four decades. I look forward to making more pictures, but the obsessive drive to paint all day is a thing of the past. With the world's resources diminishing at an alarming rate and half the world struggling to survive, I have found myself wondering how best to make more of a contribution.
So I am delighted to be able to say that 50% of all proceeds from the exhibition will go to help WORLD LAND TRUST plant more trees.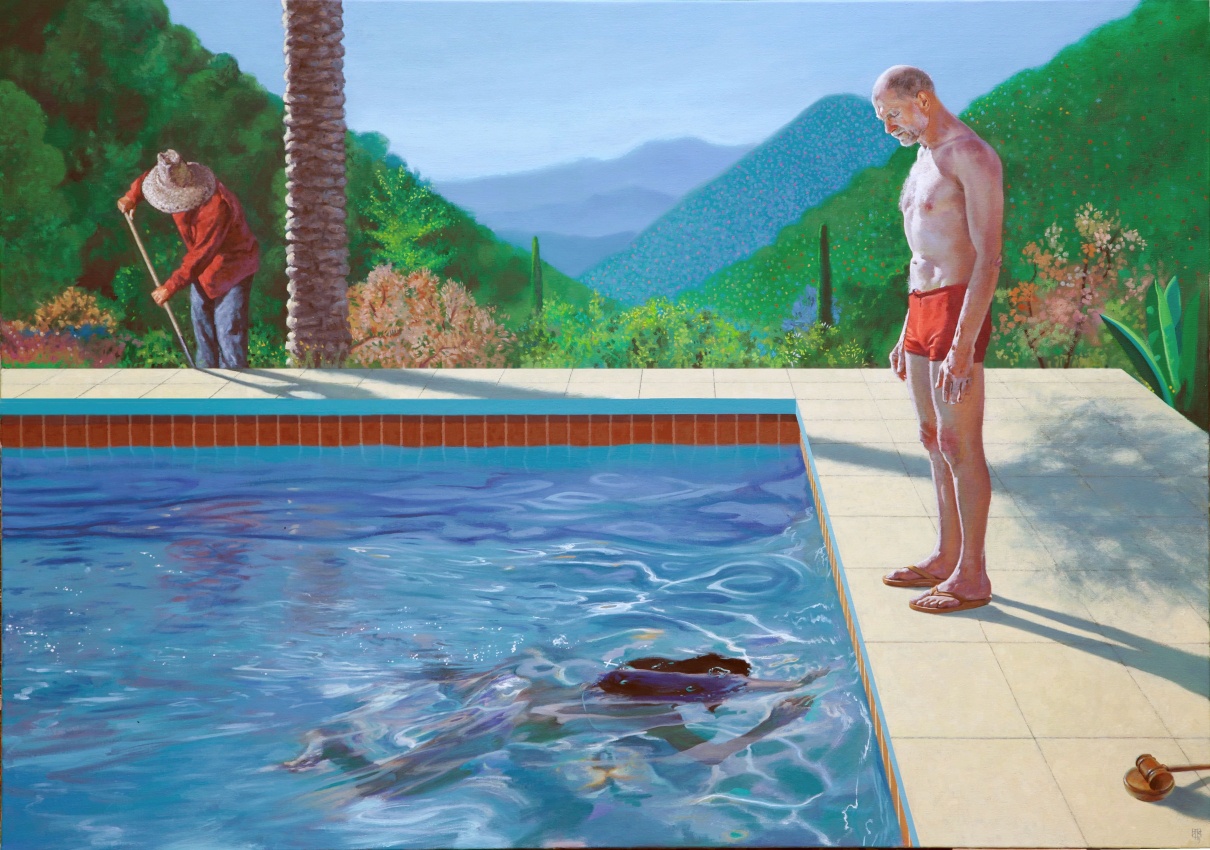 'David Cobley All By Himself' (the exhibition) runs at Mall Galleries, London, 10th-15th Sep 2019. His book of the same name is available from his website. You can find out more about David on his artist profile page where you will also find a selection of his original artworks to buy online.
September 1, 2019