With an exhibition coming up later this month at Waterhouse & Dodd in London, NEAC member Melissa Scott-Miller spoke to Richard Eurich's daughters Philippa and Caroline about their memories of their father and his work . . .
Melissa: I've always loved your father's paintings. I remember looking forward to seeing them at the RA & NEAC annual exhibitions. The show at Waterhouse & Dodd presents examples of his late work. How would you say this differs from his early work?
Philippa: Dad's later work, in some ways, came back full circle to his earliest pictures where the handling of the paint is freer after the highly detailed work of his middle period. But his vision has changed - more minimalist and expressing an inner voice, the result of a lifetime's experience.
Caroline: The later work, on the whole, was more quietly contemplative - even with what we call his 'empty' pictures. The storytelling of his early work is less in evidence, and he showed a continued interest in exploring new ideas and ways of working, right up into old age.
Melissa: I see from our records that Richard was very good at continuously sending in work for the annual exhibitions over many years. Do you ever remember him mentioning the New English Art Club?
Philippa: I don't remember him talking about the NEAC, but then he didn't talk much anyway! I know in letters he exchanged much banter (if that's the right word, perhaps 'news' would be more judicious!) with Bernard Dunstan over the years. He did design the cover for the 1976 catalogue for the NEAC.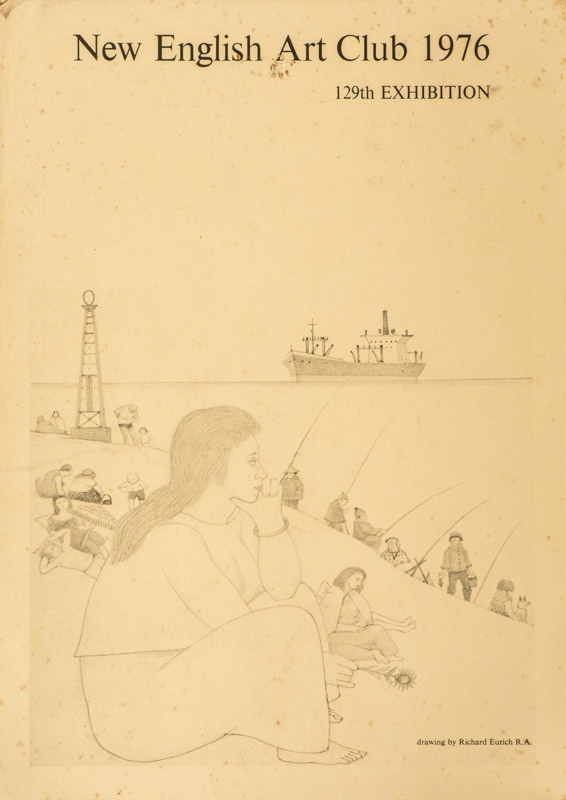 Melissa: I know that you paint yourself; did you feel encouraged to be an artist by your father and how did his artistic career affect your childhood? Did you ever travel around with him when he was doing landscape commissions?
Philippa: Dad always encouraged us by appreciating our drawings and paintings but didn't offer much advice. For Caroline and me, he selected earth colours for our first palettes: yellow ochre, light red, raw umber, white and black. Strangely, he was hesitant about primary colours. The first blue I can remember was cerulean which is ridiculously expensive! The only word of advice I remember was, "If something looks wrong, it's usually the thing next to it that's wrong." I do remember sitting in the car next to him drawing a house with hills behind it in Yorkshire. He did a painting from his drawing, but I don't know what happened to mine! He used to let me paint in the studio with him as long as I didn't make any noise. His relaxation in the evenings was to listen to music on the wireless and, as I was particularly interested in music, I often followed scores with him.
Caroline: He always encouraged us to draw and paint, but never attempted to direct us or criticise our efforts. He was most appreciative and allowed us to join him in the studio to paint, and even asked our opinion of his own work, particularly if he was dealing with a problem. I later went to art school, and he didn't say much except to encourage me to really look at things and "to look at the spaces between." Dad wasn't keen on leaving the studio. He stored a lot of images in his mind and didn't need to work on the spot. Of course, he had commissions to fulfil in the early days, and sometimes had to travel to get the information. The only time I remember going with him was when he had to visit young artists on some sort of scholarship, and they were dotted around the country. Every year, for some time, we spent a couple of weeks in the summer, on his sister Guendolen's smallholding just outside York, and this allowed him to feel his Yorkshire roots, and enjoy the landscape up there.
Find out more about Richard Eurich NEAC OBE RA on his artist profile page.
October 2, 2019