Clare Haward is one of our newest members, elected in summer 2019. An exhibition of her recent work is at 155A gallery in Dulwich until 2 November. In this article, she shares her thoughts on the practice of copying and learning from past masters, and how it has helped shape her work today.
"Planning for a recent talk on my work and studio practice, I found myself reflecting on the importance that copying, or transcribing works of art has had - and continues to have - on my own artistic development. My students are often surprised to hear that I still consider copying to be an important part of my practice, and not something that needs to be left behind when one officially stops being a student.
It seems that every biography I read about an artist makes reference to their connection and study of artists of the past, whether it is Degas spending time in Rome, Balthus copying frescoes of Piero della Francesca or Picasso drawing from the great paintings of Velázquez. It is part of a long tradition of artists' study, and one that I believe remains as important today as it ever was. It is a great feeling to know that I too can go to study the works of Piero; I too can draw from Velázquez; I too can learn more about the language of painting directly from Roman frescoes or Gwen John.
My thoughts went back to childhood when I spent hours copying landscapes from calendars or Van Gogh's Sunflowers from a large print in my grandmother's living room; to self-consciously drawing from Peter Howson's Bosnia paintings at Flowers East as a teenager; and to the incredible good fortune of being obliged to spend every Friday drawing in museums across London as part of my foundation course at Camberwell College of Art. Copying as a child seemed like the obvious thing to do – trying to replicate a shape or a colour, to draw a line around something in the same way the artist did. I probably didn't realise I was educating myself and developing my pictorial language skills, but I did enjoy it and the satisfaction I felt when my crayon drawing looked 'exactly' like the original. At Camberwell, coloured pencil drawings after Rubens in the National Gallery led to a series of large abstract 'skin' paintings in oil; several drawings made in a sketchbook one afternoon becoming a starting point for a term's worth of work.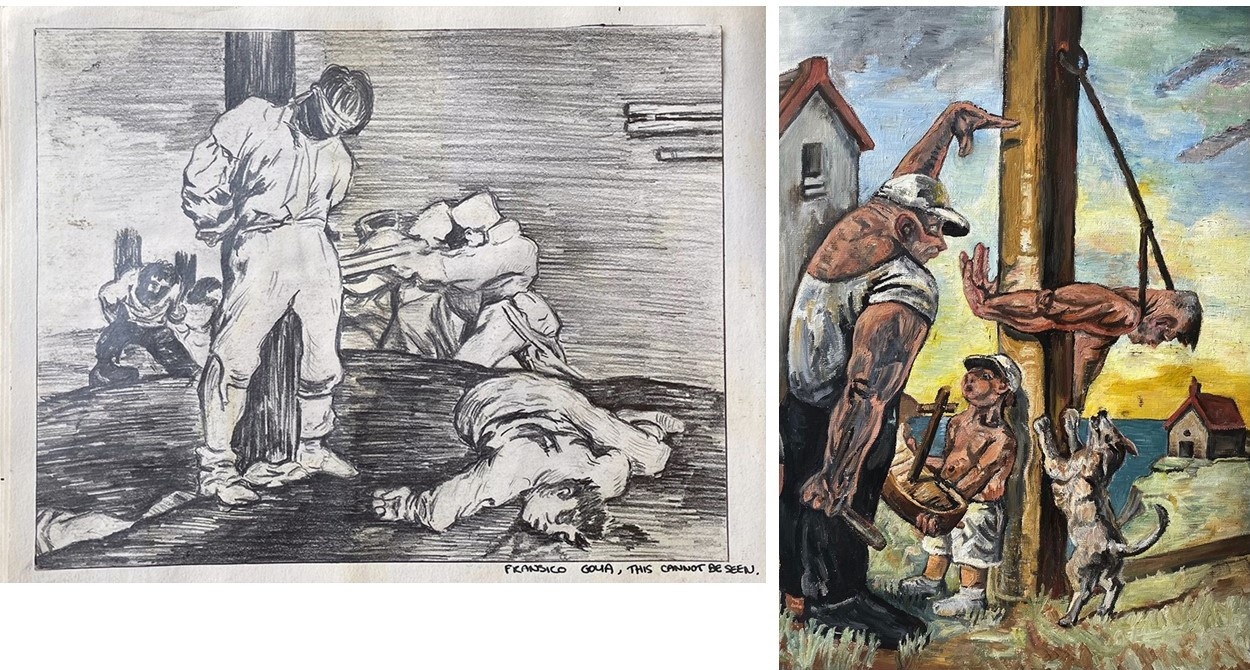 Drawing after 'This Can Not Be Seen' by Goya (1993) & Copy of 'Blind Leading the Blind VIII' by Peter Howson (oil on paper, 1994)
Studying a Fine Art degree, however, steered me away from this practice, which was considered rather stuffy within the context of a contemporary art school in the late 90s. I got the sense that to create the future one should avoid looking back. By contrast, a later residency at the Gemäldegalerie in Berlin saw me producing life-size reproductions of two paintings in the collection. I spent day after day in the gallery, painting my own version of Georges de la Tour's 'The Porridge Eaters' and Chardin's 'Still Life with Dead Pheasant'. I tried to understand the composition, the colour palette, the layering processes and range of brush marks. I started to see more complexity within the paintings the more I tried to replicate them. I discovered how economical these paintings were, how so much can be created with limited tonal range and mere suggestions of detail. The works I made were to remain in the possession of the project patron and I wanted to ensure they looked as close to the originals as possible. They also had to be registered by the museum to avoid being passed off as originals.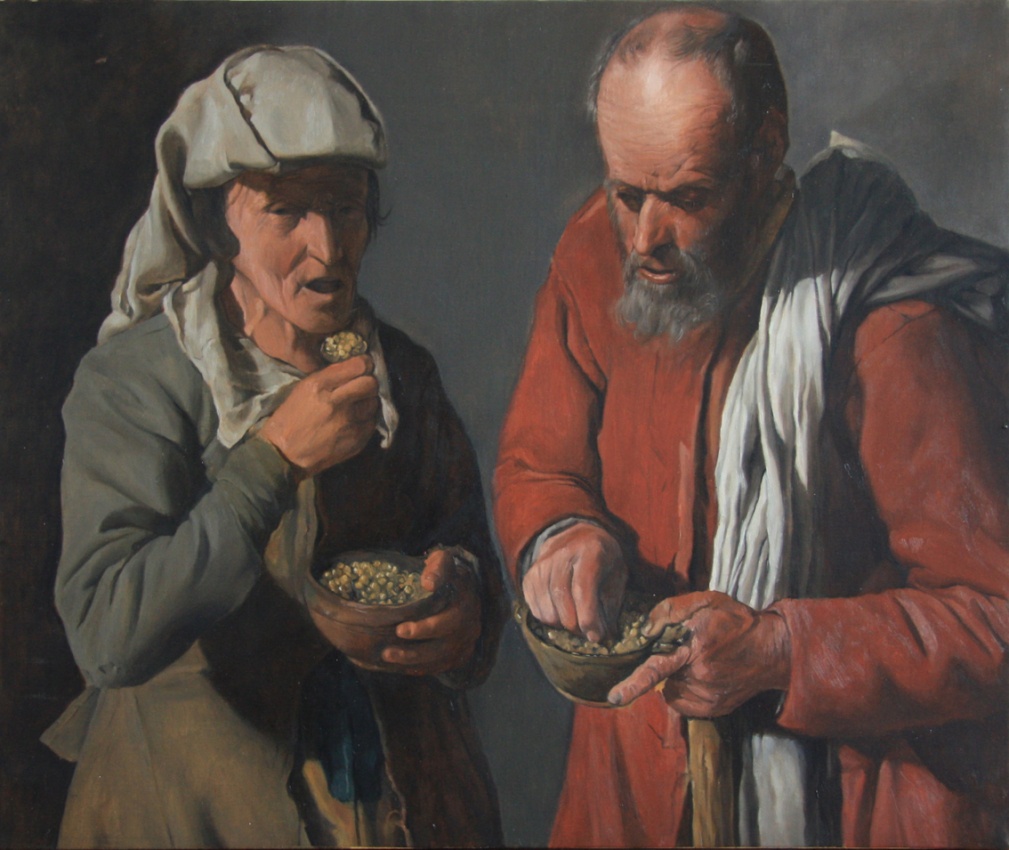 After 'The Porridge Eaters' - Georges de la Tour (2010, oil on linen)
These days my approach to copying is less to make a replica of the original or to emulate a 'great work', but to see an artwork no matter how old, how revered, as a living being – something that creates a direct link between myself and the artist; something that can reveal important lessons about the formal language of the visual world. At the Jerusalem Studio School, I worked alongside students who spent two years engaged in "ambitious pictorial research based on copying, transcription, variation and adaption". The 'master copies' on the students' walls were alive, fresh and original. Students were deconstructing the paintings before them, trying to discover the formal properties that are hidden from the passive viewer. It seemed to be a way to experiment and explore, to deepen knowledge and understanding and a way to gain perspective on the artistic process. The end result or likeness was never as important as exploring, engaging and asking questions. Students were weaving together the centuries as they discovered connections between artists, found familiar composition and repeated motifs, and adding their works to a long tradition of artists learning from each other.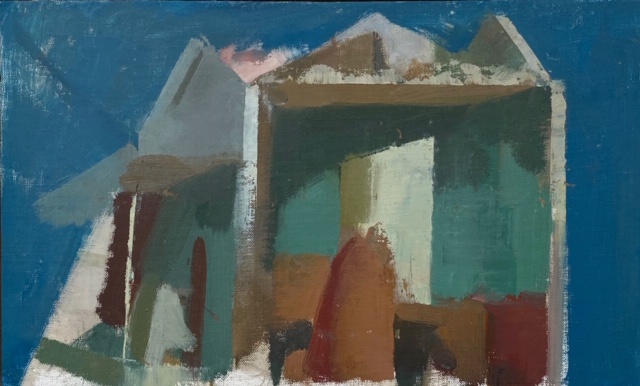 'After Giotto I' (2019, oil on linen)
Recently, I have been working with the figure, trying something more ambitious in scale and narrative than I have done before. Where do I start? Drawing in the National Gallery and diving into some of my art books of course! Drawing from Titian and Balthus in museums in Madrid, making thumbnail sketches of Stanley Spencer and Winifred Knights in my studio, making small gouache colour studies from reproductions of Piero and Giotto. Using copying as a way to understand the compositional possibilities of figure painting, as a way experiment with narrative and colour relationships. Time spent with a work, drawing from it or painting from it, whether from life or from reproductions, opens up new conversations and means that I am never really alone in my studio. When I am stuck, I can find freedom in drawing from another work and although it is sometimes intimidating, I can face the artist as a peer and give myself a license to pull apart their painting and to reconstruct it in my own fashion. Rather than being a barrier to the future, it can be seen as a gateway."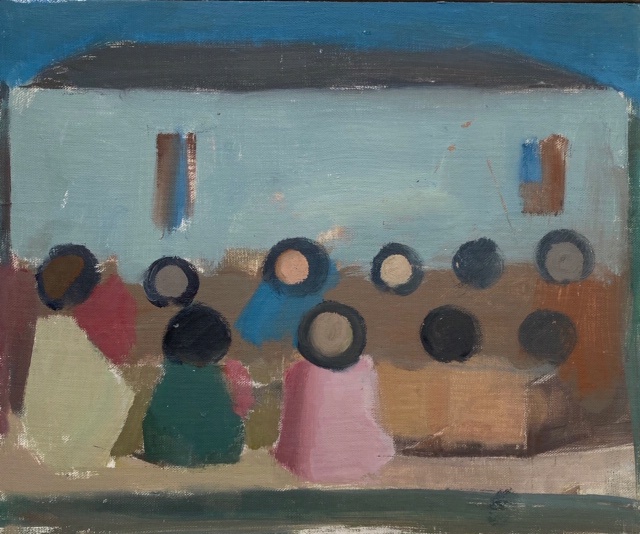 'After Giotto II' (2019, oil on linen)
Find out more about Clare on her NEAC artist profile page where you will also find a small selection of original paintings for sale and on her website.
November 1, 2019